Why the toxins from the Ohio train derailment could have posed deadly threats for residents nearby
It was critical that residents within one mile of the accident leave the area.
The toxins that burned in the wreckage of the train derailment in Ohio had the potential to be deadly if officials did not order evacuations in the region, experts told ABC News.
An air quality disaster resulted on Friday night after about 50 cars on a Norfolk Southern Railroad train traveling from Illinois to Pennsylvania derailed in East Palestine, Ohio. Ten of those cars contained hazardous materials, five of which contained vinyl chloride, a highly volatile colorless gas produced for commercial uses.
For days, large plumes of smoke containing vinyl chloride, phosgene, hydrogen chloride and other gases were emitted during a controlled release and burn, prompting officials to issue mandatory evacuation orders in a one-mile radius of the crash site.
Although the controlled releases were considered "low-level," the inhalation of fumes of vinyl chloride could cause dizziness, nausea, headache, visual disturbances, respiratory problems and other health-related issues, Ashok Kumar, a professor in the University of Toledo's department of civil and environmental engineering, told ABC News.
In addition, hydrogen chloride fumes could irritate the throat and cause skin problems, while phosgene fumes may lead to chest constriction and choking, Kumar said.
Long-term carcinogens like vinyl chloride can also cause cancer in organs like the liver, Kevin Crist, professor of chemical and biomolecular engineering and director of Ohio University's Air Quality Center, told ABC News.
"Breathe those in under heavy concentrations, and it's really bad for you," Crist said. "It's like an acid mist. It's not something that you want to be around in high concentrations."
Crist, who worked with the Ohio Environmental Protection Agency while serving on the Ohio State Emergency Response Commission under former Gov. John Kasich, said the state prepares tremendously for these types of accidents, even training local fire departments to handle issues like chemical spills.
Health officials were able to use dispersion modeling to see which way the winds are blowing and estimate what he concentrations will be downwind, Crist said, adding that the biggest risk is inhalation.
However, there is also risk of coming in contact with the toxins that get embedded in the soil. Health officials will then take soil samples and dig out any of the affected soil, a feat complicated by the fact that much of the toxins were spilled into a ditch, Crist said.
Some of the toxins spilled into the Ohio River near the northern panhandle of West Virginia, prompting officials to shut down water production in the area and transfer to an alternate source of water supply, West Virginia Gov. Jim Justice told reporters during a news conference on Wednesday.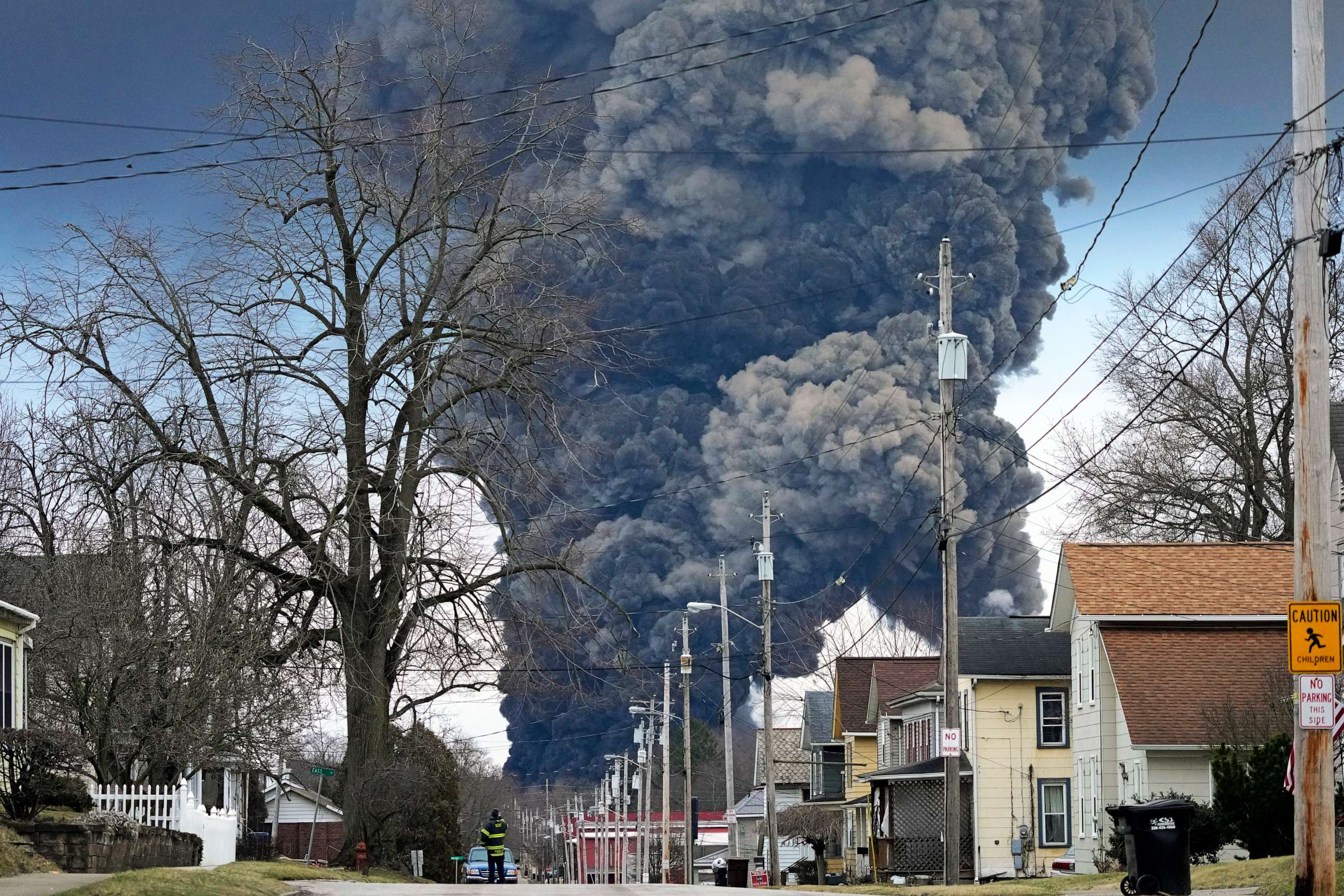 Justice emphasized that "everything is fine here" due to the immediate action from agencies like the state's Department of Environmental Protection and the National Guard.
The controlled release and burn went "as planned," Pennsylvania Gov. Josh Shapiro announced on Monday, advising those who live within two miles of East Palestine to shelter in place and keep windows and doors closed.
But as of Tuesday, the residents were not permitted to return home.
It is "absolutely critical" for people to follow evacuation orders of any kind, but especially when having to do with "highly toxic" chemicals that could be deadly with high elevations of exposure, Karen Dannemiller, professor in the college of engineering and college of public health at the Ohio State University, told ABC News.
"It is a matter of life and death," Dannemiller said, "People have to evacuate as ordered by authorities."