An Oklahoma school board has paved the way for the nation's first religious charter school -- opening the door to potential legal action over the plan's constitutionality.
The Oklahoma Statewide Virtual Charter School Board voted 3-2 during a special meeting on Monday to accept the Catholic Archdiocese of Oklahoma City and Diocese of Tulsa's application for an online public charter school, which as a public school would be funded by state tax dollars.
Oklahoma Gov. Kevin Stitt applauded the board's "courage" to approve the St. Isidore of Seville Catholic Virtual School.
"This is a win for religious liberty and education freedom in our great state, and I am encouraged by these efforts to give parents more options when it comes to their child's education," Stitt said in a statement. "Oklahomans support religious liberty for all and support an increasingly innovative educational system that expands choice."
Meanwhile, Oklahoma Attorney General Gentner Drummond expressed disapproval and concern about the legal implications of the board's approval.
"The approval of any publicly funded religious school is contrary to Oklahoma law and not in the best interest of taxpayers," Drummond said in a statement. "It's extremely disappointing that board members violated their oath in order to fund religious schools with our tax dollars. In doing so, these members have exposed themselves and the State to potential legal action that could be costly."
Robert Franklin, the chair of the Oklahoma Statewide Virtual Charter School Board, was among the two board members to vote against the school's application.
"This pathway of teaching religion in a public school does, I think, put the first step in motion for the dam to be broken of separation of church and state," Franklin told Oklahoma City ABC affiliate KOCO.
"The question was did we stay in accordance with the oath that we signed, which was to follow the state constitution, and the answer for me, it was a no, an absolute no," Franklin told the station.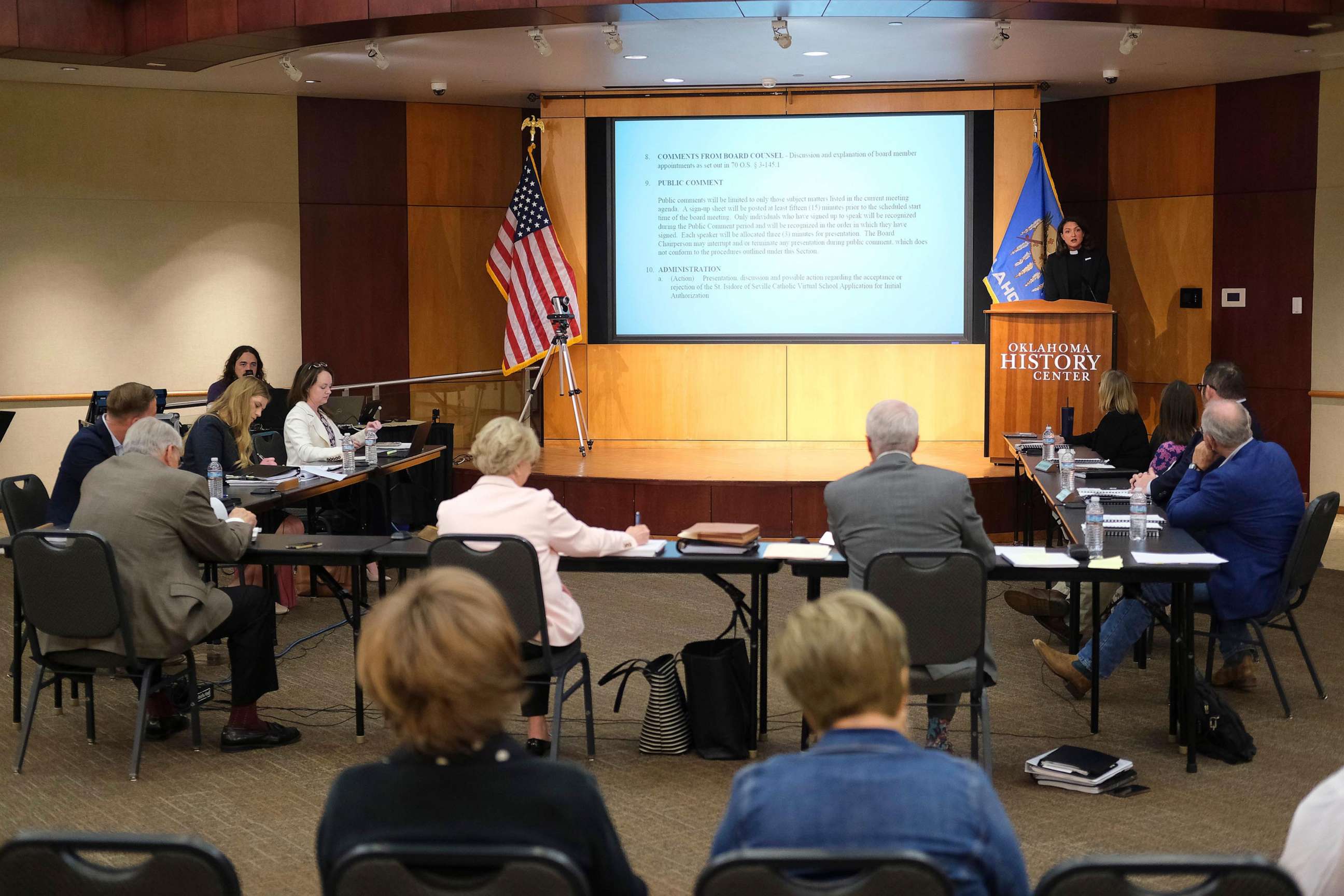 Oklahoma statutes require that charter schools be nonsectarian in their "programs, admission policies, employment practices, and all other operations."
Oklahoma Superintendent of Public Instruction Ryan Walters supported the board's approval of the school, saying, "I have fought for school choice in all forms and this further empowers parents."
A contract will now need to be formally approved for the proposed Catholic virtual charter school, which aims to open for the 2024-25 academic year. Drummond warned following Monday's vote that legal action will likely follow if a contract for the school is signed.
Following the board's vote on Monday, the American Civil Liberties Union and Americans United for Separation of Church and State said they are planning legal action to "stop the unconstitutional plan" of opening a non-secular public school.
"It's hard to think of a clearer violation of the religious freedom of Oklahoma taxpayers and public-school families than the state establishing the nation's first religious public charter school," Rachel Laser, Americans United for Separation of Church and State's president and CEO, said in a statement. "Americans United will work with our Oklahoma and national partners to take all possible legal action to fight this decision and defend the separation of church and state that's promised in both the Oklahoma and U.S. Constitutions."
Oklahoma has six virtual charter schools authorized by the Statewide Virtual Charter School Board.
The Catholic Archdiocese of Oklahoma City has previously said that more families are likely to enroll in their virtual school if they don't have to pay tuition.
"If we're competing against all the other virtual schools, but all the others are free, that's a problem," Laura Schuler, senior director of Catholic education for the Catholic Archdiocese of Oklahoma City, said during a presentation before the school board in February. "And the taxpayer dollars are paying for all those other ones but our parents are paying taxes, too."