— -- Conservators from the Boston Museum of Fine Arts labored in the chill and snow for hours today to unearth what is believed to be the oldest unopened time capsule in the country, buried under the Golden Dome of the Massachusetts State House in 1795 by then-Governor Samuel Adams and Paul Revere, according to state records.
The 219-year-old capsule is made of cowhide and was initially discovered during State House renovations in 1855. When the repairs were complete, the state's 23rd governor, Henry Gardner, re-buried it in the granite cornerstone of the historic building, adding new items, including coins.
Four coins clinked on the cold ground today as conservator Pam Hitchfield laid on her back and chiseled at the cornerstone. The silver pieces were picked up and displayed to reporters who stood in the mud around the fenced-in dig site.
Massachusetts Secretary of State William Galvin oversaw the painstaking efforts to preserve the capsule's contents for much of today. He told ABC News that after the capsule was found by workers overhauling a water irrigation system in the building, state records were uncovered about the capsule that indicate it contained coins that date between 1652 and 1855, an engraved silver Paul Revere plate, newspapers, a Commonwealth seal and a title page from the Massachusetts Colony Records.
"We know that some of the items were washed with acid in 1855 because of the humidity. We don't know if that caused deterioration. We are still hopeful that the contents are in good condition," Galvin said. "It's hard work. Back then they probably had a horse and buggy transport that cornerstone and it is still solid today."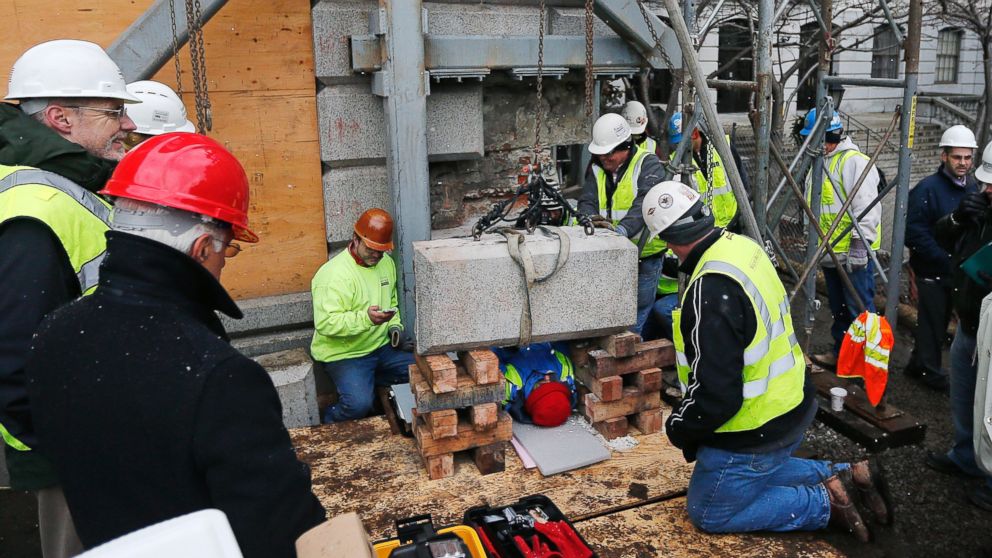 By 2:30 p.m. the capsule remained entombed in the granite. This is the second significant historical discovery associated with the State House on Boston's Beacon Hill, which played a key role in the launching of the American Revolution.
Earlier this year, workers found a time capsule from 1901 hidden beneath statues of a lion and a unicorn. Inside were photographs, letters, and newspaper articles that were in legible condition.
When the capsule is removed from the cornerstone, it will be X-rayed at the Museum of Fine Arts and then opened. The public will have an opportunity to view a display of the artifacts found.
"It's a great piece of Boston history," Galvin said.