— -- Olympic gymnastics star Aly Raisman showed up in a Michigan courtroom Friday and faced down Larry Nassar, the former doctor who molested her and scores of other elite female athletes, calling him "sick" and telling him that "the tables have turned."
Raisman, 23, appeared in Ingram County Circuit Court in Lansing and took a seat in the courtroom gallery next to Jordyn Wieber, her teammate on the "Fierce Five" USA gymnastics squad that won the gold medal at the 2012 Olympics in London. They were just feet away from the disgraced doctor who sexually abused them, all under the guise that he was providing legitimate medical treatment.
The two-time Olympian and captain of the 2012 women's Olympic gymnastics team spoke on the fourth day of Nassar's sentencing hearing. She is one of at least 120 victims that have been asked to address the court.
"I didn't think I would be here today. I was scared and nervous," said Raisman, who contacted prosecutors overnight to ask to speak in court. "It wasn't until I started watching the impact statements from the other brave survivors that I realized I, too, needed to be here. Larry, you do realize now that we, this group of women, you so heartlessly abused over such a long period of time are now a force and you are nothing."
She went on, "The tables have turned Larry. We are here, we have our voices, and we are not going anywhere. And now, Larry, it's your turn to listen to me. There is no map that shows you the pathway to healing. Realizing that you are a survivor of sexual abuse is really hard to put into words. I cannot adequately capture the level of disgust I feel when I think about how this happened. Larry, you abused the power and trust I and so many others placed in you, and I am not sure I will ever come to terms with how horribly you manipulated and violated me."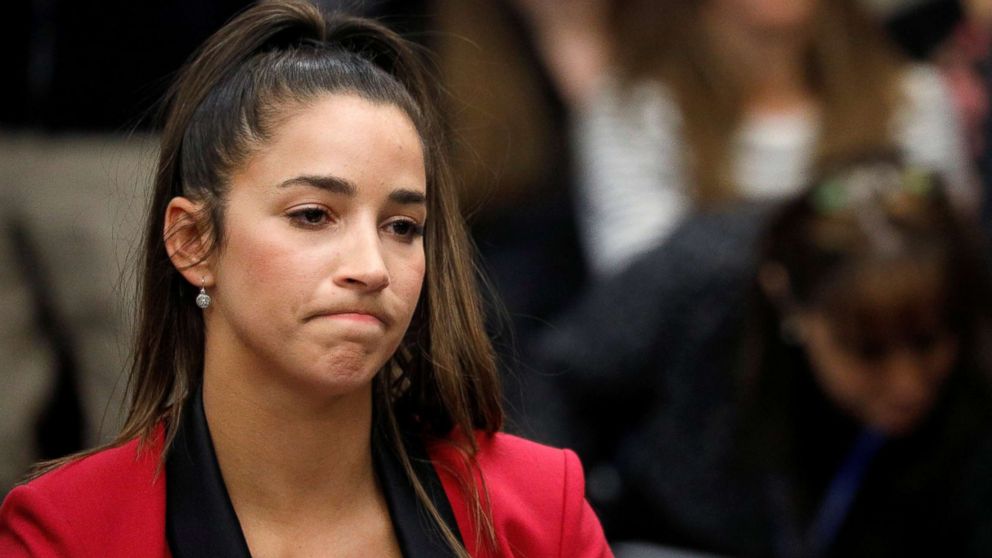 In her no-holds-barred statement, Raisman ridiculed Nassar for writing a letter to Judge Rosemarie Aquilina in which he expressed concern that listening to his victims was mentally taxing for him.
"You are pathetic to think that anyone would have any sympathy for you," Raisman told Nassar. "You think this is hard for you? Imagine how all of us feel. Imagine how it feels to be an innocent teenager in a foreign country. Hearing a knock on the door and it's you. I don't want you to be there, but I don't have a choice."
She recalled the abuse at the hands of Nassar, telling the court she was forced by her coaches to go see him for treatment.
"Lying on my stomach with you on my bed, insisting that your inappropriate touch would help to heal my pain," she said. "The reality is you caused me a great deal of physical, mental, and emotional pain. You never healed me, you took advantage of our passions and our dreams."
She added, "You are so sick, I can't even comprehend how angry I feel when I think of you. You lied to me and manipulated me to think that when you treated me, you were closing your eyes because you had been working hard when you were really touching me, an innocent child, to pleasure yourself. Imagine feeling like you have no power and no voice. Well you know what Larry? I have power and voice, and I am only beginning to just use them."
She also took aim at USA Gymnastics and the US Olympic Committee for ignoring years of complaints against Nassar and for allowing him to sit on boards that came up with policies that still exist today to protect athletes.
"But I am here to tell you that I will not rest until every last trace of your influence on this sport has been destroyed, like the cancer it is," Raisman said. "Your abuse started 30 years ago, but that's just the first reported incident we know of. If over these many years just one adult listened, and had the courage and character to act, this tragedy could have been avoided."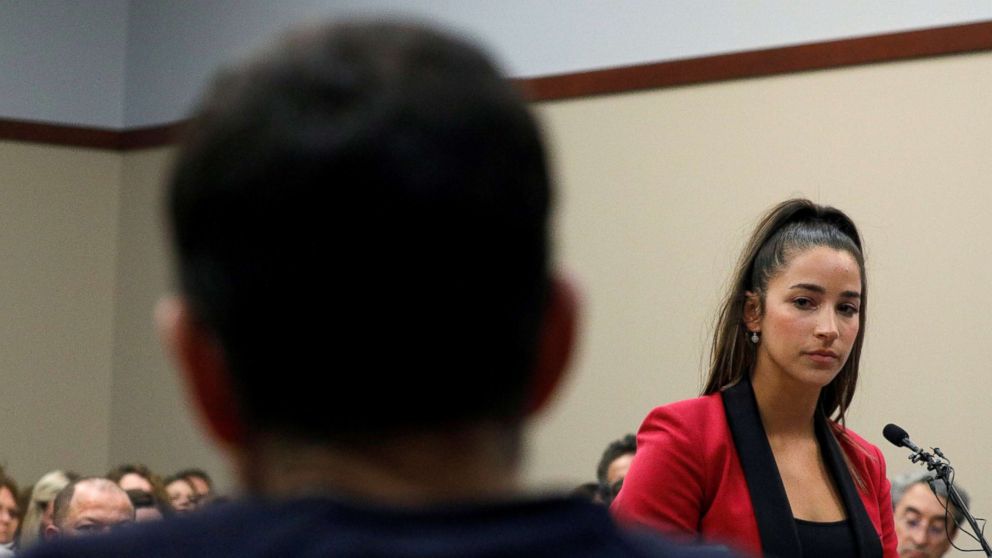 She scoffed at USA Gymnastics' decision on Thursday to cut ties with the famed Karolyi Ranch training facility in Texas, where many athletes were allegedly abused by Nassar.
"USA Gymnastics neglected to mention that they had athletes training there the day they released the statement," Raisman said.
"So at this point, talk is worthless to me. We're dealing with real lives and the future of our sport. We need to believe this won't happen again," she said. "For this sport to go on, we need to demand real change, and we need to be willing to fight for it. It's clear now that if we leave it up to these organizations, history is likely to repeat itself."
She asked the judge to give Nassar the maximum sentence, saying he "perpetrated the worst epidemic of sexual abuse in the history of sports."
"Let this sentence strike fear in anyone who thinks it is OK to hurt another person," Raisman said. "Abusers, your time is up. The survivors are here, standing tall, and we are not going anywhere."
Raisman spoke after her former teammate Wieber stood at the podium Friday and explained how Nassar groomed her for abuse with compliments and by bringing her food and coffee when her coaches had placed her and her teammates on restrictive diets. She said Nassar began sexually assaulting her when she was 14 years old and trying to recover from a torn hamstring.
"It has caused me to feel shame and confusion and I've spent months trying to think back on my experience and wonder how I didn't even know this was happening to me and how I became so brainwashed by Larry and everyone at USA Gymnastics, both of whom I thought were supposed to be on my side," Wieber, 22, said.
"Nobody was protecting us from being taken advantage of. Nobody was even concerned whether or not we were being sexually abused. I was not protected and neither were my teammates," Wieber said.
While she said she is still angry at herself for not recognizing sooner that Nassar's treatments were just a ploy to sexually abuse young girls, she said she will not live her life as a victim.
"I'm an Olympian," she said. "Despite being abused, I've worked so hard and managed to achieve my goal."
Nassar pleaded guilty in November to sexually assaulting seven girls, but Aquilina is allowing many more victims to speak in court. The sentencing hearing was to wrap up on Friday, but Aquilina said it could stretch into next Tuesday to allow all the victims to speak.
The disgraced doctor has already been sentenced to 60 years in prison after pleading guilty to federal child pornography charges. He has been accused of sexual misconduct by more than 125 women and girls in civil lawsuits.
Among the young women who say they were molested by Nassar are Olympic medalists McKayla Maroney, Gabby Douglas, Jamie Dantzscher and Simone Biles.
Dr. Brad Johnson, whose two daughters, Madeline and Kara, were molested by Nassar, also spoke, saying true physicians treat their patients with "compassion and respect and love." He said sometimes doctors make mistakes but they are usually not intentional.
"This is not your story, Larry," Johnson said. "The pain you caused was intentional. You do not care for these young girls with compassion, respect and love. Your care was selfish, not selfless. Your story is dark sinister and pure evil."
"You preyed on the most vulnerable. You preyed on innocence and you preyed on trust," he continued. "You preyed on little girls and young women, God's children. And he weeps with us. Your story is very different Larry, your story starts with sick, perverse and ungodly intentions. You are not a physician. You are a pedofile. You only used your degree as a platform to sexually abuse your patients, one by one for your sick and your very perverse pleasure."