— -- The Chicago police officer charged in connection to the fatal shooting of 17-year-old Laquan McDonald has a history of civilian complaints of misconduct, according to data provided by the Chicago Police Department to Invisible Institute, a Chicago-based journalistic production company and watchdog group.
The database -- which includes police reports from 2002 to 2008, and from 2011 to 2015 -- shows the Chicago Police Department received 20 civilian complaints against Officer Jason Van Dyke, 37, who is being held without bail after being charged Tuesday with first-degree murder. He has not yet entered a plea.
The charges from Cook County State's Attorney Anita Alvarez came hours before a graphic dash-cam video, apparently showing the officer firing 16 shots at the teenager in October 2014, was released a day before a court-ordered deadline to release it.
Of the 20 complaints against Van Dyke, 10 are for alleged excessive force, including two involving the use of a firearm, according to the data collected by Invisible Institute, which said the information on its website is in response to litigation and Freedom of Information Act requests.
Another complaint accuses him of using racial slurs.
No disciplinary action was taken as a result on any of the complaints for which there is information available on the findings. Five were deemed unfounded, five not sustained and Van Dyke was exonerated regarding four complaints. The outcome of the others is not provided, which could mean the complaints are pending a review or waiting for the complainant to submit an affidavit, Alison Flowers of Invisible Institute told ABC News.
The Invisible Institute is an independent organization whose collaborators include the University of Chicago Law School's Mandel Legal Aid Clinic.
Its database does not indicate specific dates for many of the complaints. Invisible Institute notes that the City of Chicago's release of this data was "accompanied by a disclaimer that not all of the information contained in the City's database may be completely accurate. No independent verification of the City's records has taken place and this public database does not purport to be an accurate reflection of either the City's internal database or of its truthfulness."
Flowers said the institute has records of all complaints, including civilian, on all Chicago police officers for the past five years, but a court injunction obtained by the local police union prevents the institute from getting records older than that from the City of Chicago. Invisible Institute uses two other sources, containing complaints older than five years for some -- not all -- city officers, to complement the database, she said.
The Chicago Police Department's press office confirmed 18 complaints against Van Dyke to ABC News but did not give details on them.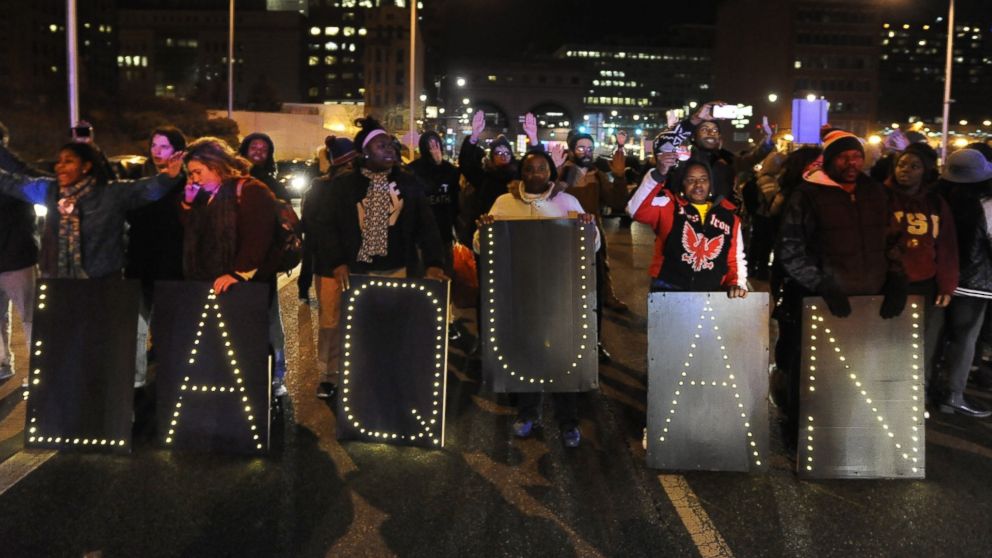 Van Dyke, a police officer for 14 years, was stripped of his police powers after an eight-day conduct review immediately after the Oct. 20, 2014, shooting of McDonald, according to police.
He had been on paid administrative leave since the shooting, police said.
Van Dyke's attorney Dan Herbert gave a statement after the bond hearing, saying that he anticipates that people will form opinions "about the split-second actions of my client."
"It's certainly everyone's right to make a judgment about it but I would just state that the judgment made by individuals who have viewed this tape from the comfort of their living room, on their sofa ... it's not the same," Herbert said.
Herbert also said politicians judging his client were "irresponsible" and that his client "should be afforded the same presumption of innocence that every American charged with a crime is afforded."
"This is not a murder case," he said. "Despite what you heard in the courtroom, it's truly not a murder case and we feel we will be very successful in defending this case."
Van Dyke was suspended without pay Tuesday after being charged with murder, according to a statement from the department.
A group of investigators -- including the Independent Police Review Authority in Chicago, the Cook County State's Attorney's Office, the FBI and the U.S. Attorney -- reviewed the evidence collected from the scene.
Van Dyke is the first Chicago police officer in decades to be charged with murder in an on-duty shooting. The Invisible Institute database shows that of the 28,567 misconduct complaints filed against police from 2011 through September 2015, less than 2 percent resulted in disciplinary actions. Only 33 officers have been terminated in that time, according to the database.
His next court appearance is set for Monday, when the prosecutor is expected to show the dash-cam video. The video appears to show Van Dyke started shooting a few seconds after getting out of his squad car Oct. 20, 2014. He apparently fired 16 shots in the span of 14 to 15 seconds.
The video apparently shows that McDonald never made a move toward Van Dyke, but the officer did appear to take at least one step toward McDonald, who was allegedly armed with a knife with a 3-inch blade. The teenager died later at a hospital.
The city previously fought to keep the video private, citing a continuing investigation into the shooting, but a court ordered it released by today. The McDonald family had also asked for the video to be kept private, according to a statement from their lawyer.