— -- A 75-pound pet tortoise has been reunited with his family in Santa Clarita, California, after he was discovered on a nearby street Saturday fleeing wildfires ravaging the nearby area, a fire department official said.
Well, "fleeing" may be a bit of an overstatement: The reptile was "walking as quickly as he could away from the fires," said Aaron Reyes, deputy director of the County of Los Angeles Department of Animal Care and Control (DACC).
Wendy Collins, the tortoise's self-proclaimed "mommy," told ABC News today her beloved "Tank," whom she also calls "Pebbles," was left behind early Saturday afternoon by her husband after the family was ordered by sheriff's deputies to evacuate their home.
"Because of the tight time frame he was given, my husband was only able to take our two dogs, his bearded dragon and the essentials," Collins said. "I had been trying to come home from work at the time but got stuck in traffic."
Collins said she became "worried to death" after learning her beloved tortoise was left behind. She explained he had been with them since he was a baby "the size of a small pin."
After one of Collins' employees learned what happened, the employee contacted a friend who had contacts at the Los Angeles County Sheriff's Department. That friend contacted deputies, who then liaised with the county animal care and control officers to locate and rescue Tank, a.k.a. Pebbles.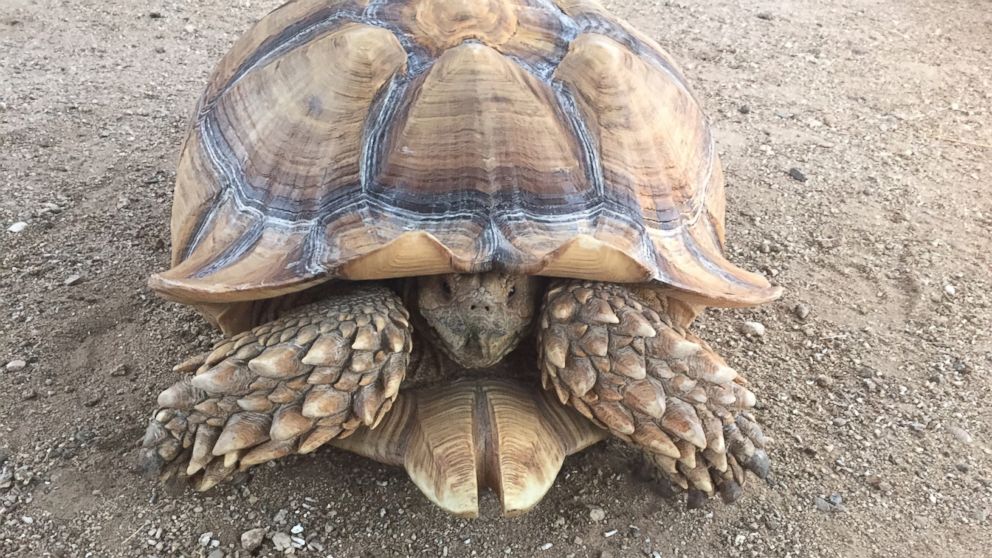 Pebbles was transported to Castaic Animal Care Center, where staff "had a pleasure looking after him," DACC's Reyes told ABC News today.
"He was such a sweetheart and had a big personality," he said. "He minded his manners, and though he was a very alert fella, he was not snappy at all. He was obviously a well-raised, perfect lil' gentleman."
Collins said as soon as she heard her tortoise was safe, she immediately got her keys and drove to the center.
"While the evacuation was still in place, we were at my mom's condo, and he just terrorized her backyard," Collins said with a laugh. "He took down her plants and totally wiped out any vegetation in her small backyard."
Collins said the evacuation for her home was lifted on Monday, and they were overjoyed to learn that the fire hadn't reached their neighborhood.
"When he got home, the first thing he did was go straight to bed," she said. "He's adorable. We're so glad this had a happy ending."