2 Police Officers Shot, Killed in Ambush Attacks in Iowa
The suspect, identified as 46-year-old Scott Michael Greene, has been caught
November 2, 2016, 2:56 PM
— -- The man who officials say shot and killed two police officers in an ambush-style attack this morning in central Iowa has been captured.
The suspect, identified as 46-year-old Urbandale resident Scott Michael Greene, was located in Dallas County, just west of Des Moines, where he surrendered to the Dallas County Sheriff's Department and Iowa State Patrol this morning after officials launched a statewide manhunt, according to Sgt. Chad Underwood of the Urbandale Police Department. Greene was taken into custody and is being transported to Des Moines. He has not been charged, police said.
Greene was wanted in connection to separate shootings that left two police officers dead in the Des Moines area.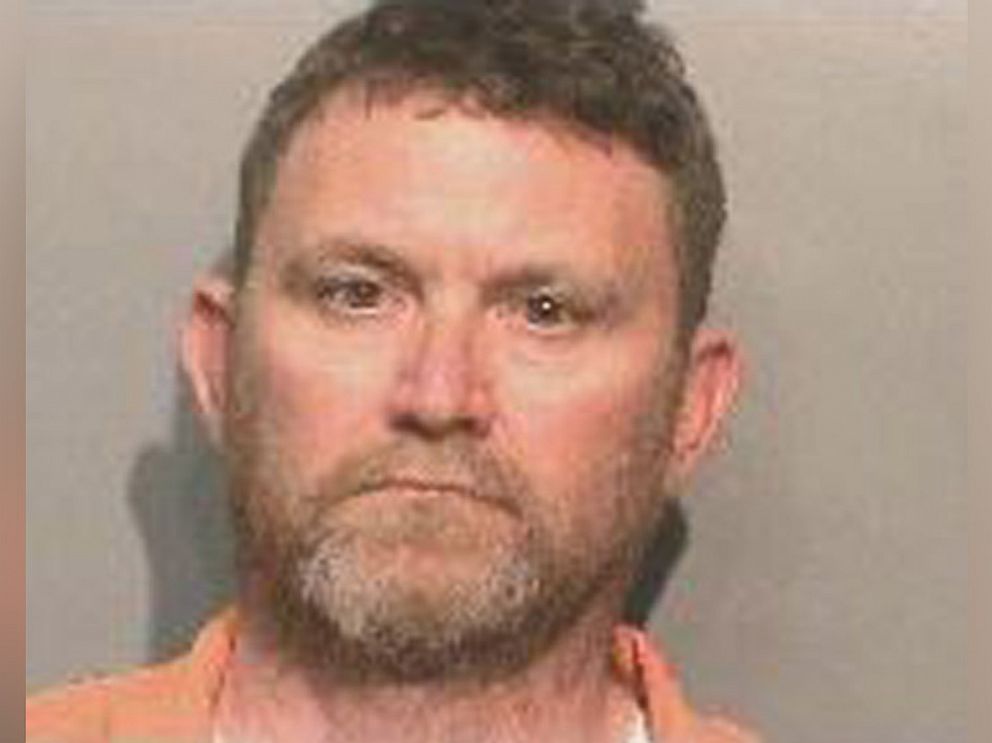 Shortly after 1 a.m. local time, officers responded to a report of shots fired in the suburb of Urbandale, a few miles from Des Moines. They found an Urbandale police officer who had been fatally shot sitting alone in his patrol vehicle, police said. The officer has been identified as 24-year-old Justin Martin, who had been with the Urbandale Police Department since 2015.
Minutes later, officers found a Des Moines police officer who had also been shot in his squad car at an intersection in the city. The wounded officer was transported to a local hospital where he died, police said. The officer has been identified as 39-year-old Sgt. Anthony "Tony" Beminio, who had been with the Des Moines Police Department since 2005.
"In all appearances it looks just like that, the officers were ambushed," Sgt. Paul Parizek of the Des Moines Police Department said at a press conference this morning. "On the surface right now, like I said, we are just a few hours into this. It doesn't look like there was any interaction between these officers and whoever the coward is who shot that while they sat in their cars."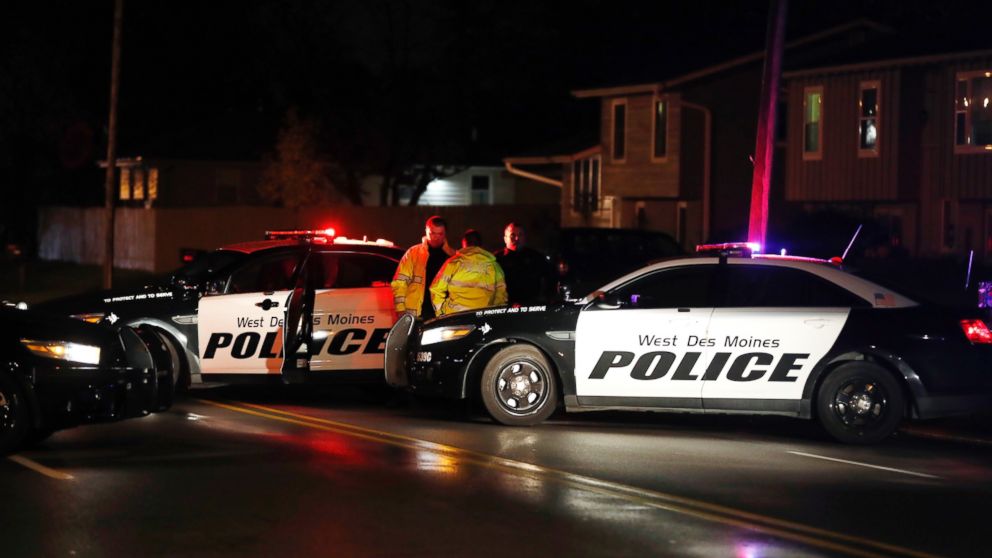 Parizek expressed grave concern for the safety of police officers in the area.
"There is clearly danger if you are a police officer. These guys were gunned down, sitting in their car, doing nothing wrong," he said. "So there is definitely some danger out there, there is someone out there shooting police officers. We hope we find him before anyone else gets hurt. We definitely don't want anyone in the public or in the community to get hurt, but there is a clear and present danger to police officers right now."
Parizek said the law enforcement agency has doubled up its officers on patrol in the meantime.
"We are very well aware that the society that we are living in right now and the time, there are some not so positive views of law enforcement that a certain segment of our population holds. So we are as vigilant as we can be and still provide the service we need to provide," Parizek told reporters.
There was no radio traffic between the fallen officers and dispatch during the shootings, police said. It is unclear if the officers were equipped with dashboard or body cameras at the time they were shot.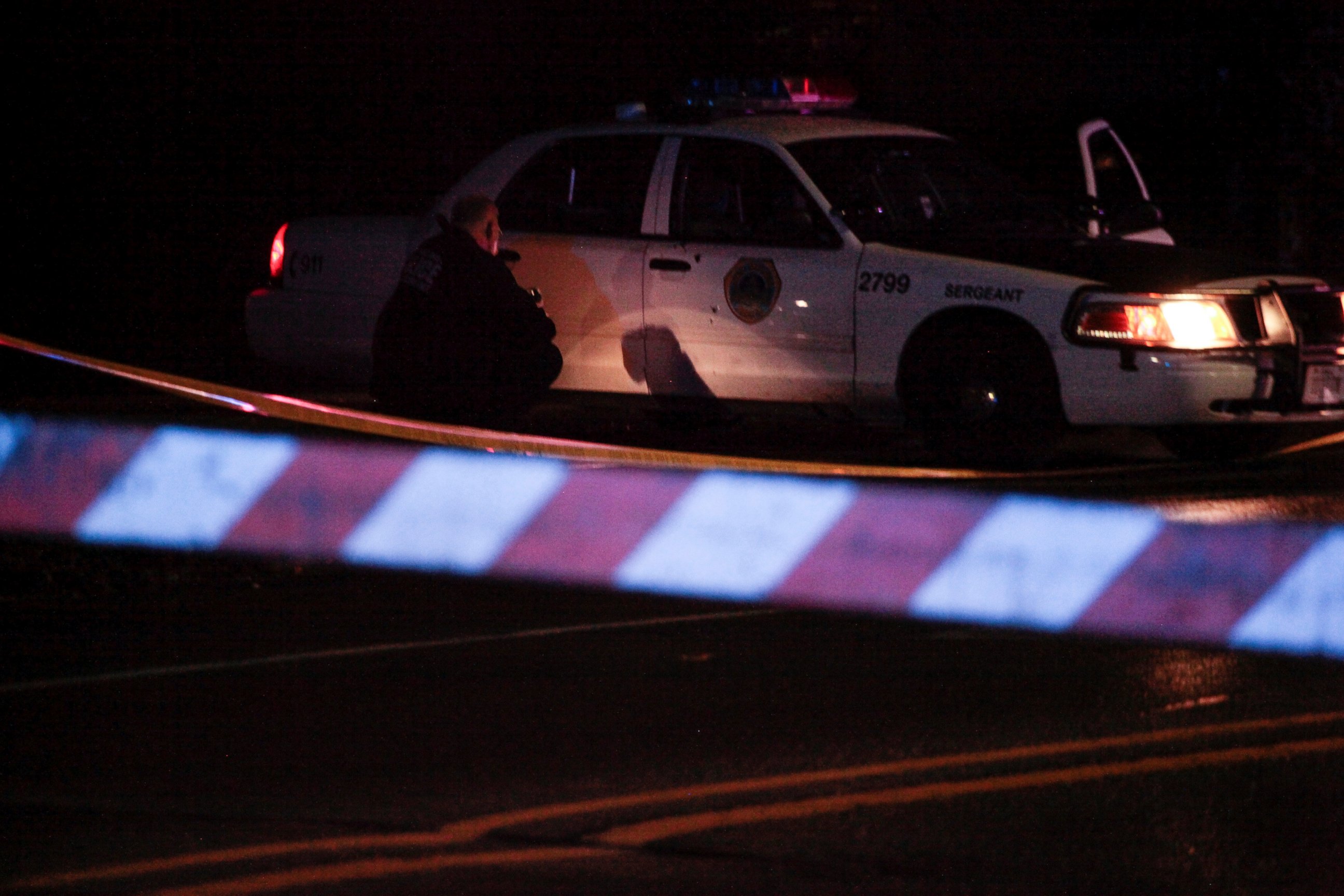 Gov. Terry Branstad and Lt. Gov. Kim Reynolds of Iowa were both briefed on the shootings this morning by the Department of Public Safety, which is working hand in hand with local law enforcement in the investigation.
"An attack on public safety officers is an attack on the public safety of all Iowans," Ben Hammes, communications director for Branstad and Reynolds, said in a statement. "We call on Iowans to support our law enforcement officials in bringing this suspect to justice."
U.S. Sen. Joni Ernst of Iowa called the shootings "a senseless act of violence."
"Although the investigation is still unfolding, what appears to be an ambush attack of police in the line of duty is an attack on the community at large and all of the men and women who risk their lives every day to protect us," Ernst said in a statement. "This was a senseless act of violence and it cannot be tolerated."
ABC News' Rachel Katz, Rex Sakamoto, Devil Villacis and Jason Volack contributed to this report.