— -- Police investigating the slayings of two girls in Indiana released evidence today in hopes it will lead to the killer's capture.
The evidence was a video clip retrieved from the cellphone of one of the victims. When police played some audio from the clip at a news conference in the town of Delphi this morning, reporters heard just three words from a deep voice: "Down the hill."
The audio quality is not great, but police said it's enough for someone to recognize the person's voice. Investigators believe the clip was recorded as criminal behavior was about to occur.
"Libby had the presence of mind to turn on her video camera," Indiana State Police spokesman Capt. David Bursten told reporters, referring to one of the girls, Liberty "Libby" German. "There's no doubt in our minds that that young lady is a hero."
The rest of the video will not be released at this time because of the ongoing investigation. Investigators recovered other evidence from the girl's phone that is also not being released, Bursten said.
The girls — German, 14, and Abigail "Abby" Williams, 13, both of Carroll County — were reported missing by their families Feb. 13 after the two did not return from a hike.
After organized searches, the bodies of the two girls were found Feb. 14 outside Delphi in the woods near Deer Creek, about three-quarters of a mile from an abandoned railroad bridge where they were dropped off the day before to go hiking. An autopsy revealed their identities.
"Evidence in this case has led investigators to believe that this is a double homicide, and that's what we're investigating at this time," Indiana State Police spokesman Sgt. Tony Slocum told reporters this morning.
Indiana State Police on Monday said a man in a photograph is the primary suspect in the double homicide investigation, but nothing is known about him at this time outside of a single image. The man — dressed in blue jeans, a blue jacket and a hoodie — was photographed on a nature trial around the same time the two girls disappeared.
Previously he was labeled a person of interest, and police had said he might be only a witness to the crime.
But this morning Slocum said at the news conference, "We are actively looking for this person. We believe this person is our suspect."
Police said that there is the possibility of more than one suspect and that it's unclear whether the voice in the audio clip belongs to the man in the photograph.
The FBI has been assisting local authorities in the double homicide probe since last week. Agents have briefed FBI director James Comey on the case on two occasions.
"We're not going anywhere," Gregory Massa, the FBI assistant special agent in charge in Indianapolis, said at the news conference this morning. "We will be here until this case is solved, and I am confident this case will be solved."
About 20 FBI agents are on site each day providing support to local authorities, Massa said.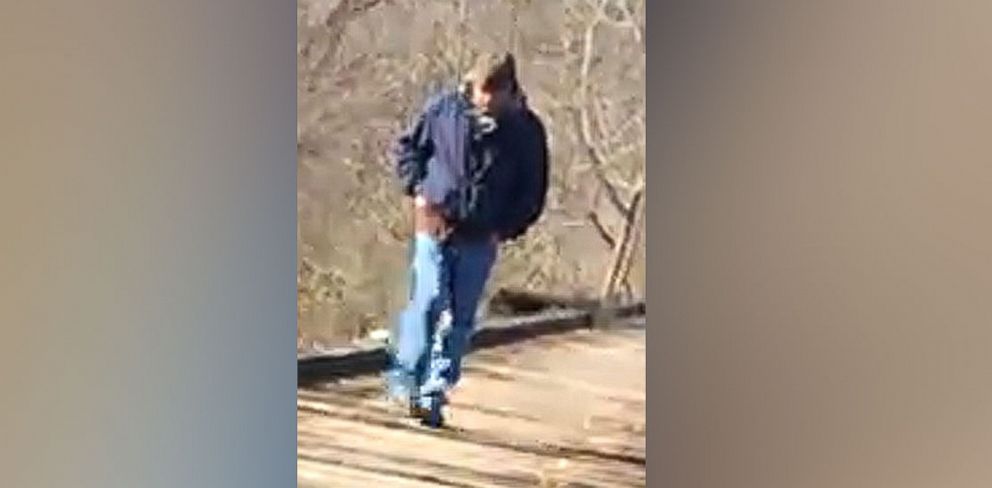 Investigators spent much of this morning's news conference delivering an impassioned appeal to the public to submit tips to track down the man in the photograph and the person whose voice is in the audio clip.
"Someone knows who this individual is," Indiana State Police Superintendent Douglas Carter said. "And if you're watching, we'll find you."
While holding back tears, Carter described how he and his colleagues were struggling to make sense of this tragedy.
"This is a classic example and clear example that evil lives amongst us," he told reporters at the Delphi Methodist Church this morning. "Every time something like this happens, a little piece of us dies as well."
Citizens can provide information about this case by calling the Delphi murder tip line at 844-459-5786. Information can be reported anonymously. Tips can also be emailed to abbyandlibbytip@cacoshrf.com.
Authorities and community leaders are offering a $41,000 reward for any information leading to an arrest.
"We must keep our resolve for Libby and Abby, for this community and, frankly, to ensure that good trumps evil," Carter said. "And it will."
ABC News' Andrew Fies, Michael Edison Hayden, Alex Perez and Avianne Tan contributed to this report.