— -- Pope Francis gave remarks today at a Washington, D.C., church where homeless people were invited to hear him speak.
He started by saying how the Bible "is very clear about this: There was no room" for Jesus, Mary and Joseph, who were homeless at the time of Jesus' birth.
"I can imagine Joseph, with his wife about to have a child, with no shelter, no home, no place to stay," the pontiff said in Spanish.
"We can imagine what Joseph must have been thinking. How is it that the Son of God has no home? Why are we homeless, why don't we have housing? These are questions which many of you may ask daily," he said.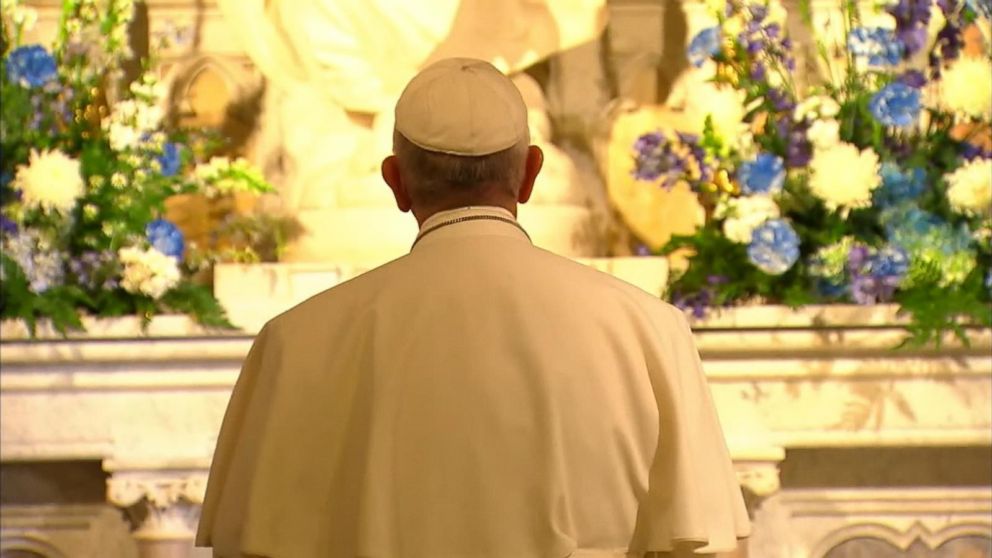 The pope addressed the group at St. Patrick's Catholic Church, the oldest Catholic church in Washington before giving them a blessing and heading to a lunch run through St. Maria's Meals, a charity program.
Pope Francis was originally scheduled to eat lunch with the homeless-- a meal of chicken, green beans, carrots and pasta salad -- but the crowds appeared to have been too much. After blessing the meal and saying "bon appetit," the pontiff made his way through the throngs of fans towards his Fiat.
Originally, the pope was scheduled to stay, eat lunch, and bless a statue of a homeless Jesus after the meal.
He has since returned to the nunciature where he has been staying while in D.C. He is set to take off from Andrews Air Force Base at 4 p.m. to head to New York.