— -- Owen Labrie was found not guilty of felony sexual assault, and guilty of a felony related to computer use and four misdemeanors, in a case at St. Paul's School, a prestigious New Hampshire prep school.
The jury of nine men and three women delivered a not-guilty verdict on the three felony sexual assault charges on the second day of deliberations.
He also was found not guilty of simple assault, a misdemeanor. 
Labrie was found guilty of four misdemeanors relating to sexual assault and endangering the welfare of a child. He was also found guilty of one felony for using a computer to "seduce, solicit, lure or entice a child under the age of 16."
Labrie, now 19, was accused of raping a fellow student in May 2014 at the school in Concord, New Hampshire. He was charged with multiple felonies relating to the encounter and had entered a not-guilty plea.
Labrie broke down halfway through today's proceedings. After the jury left, he turned to look at his family with tears in his eyes and his hands over his mouth.
There is no legal minimum for Labrie's sentence. In New Hampshire, the judge can decide to impose no prison or jail time for all of the charges, including the computer felony. The maximum time Labrie could face in prison is 11 years.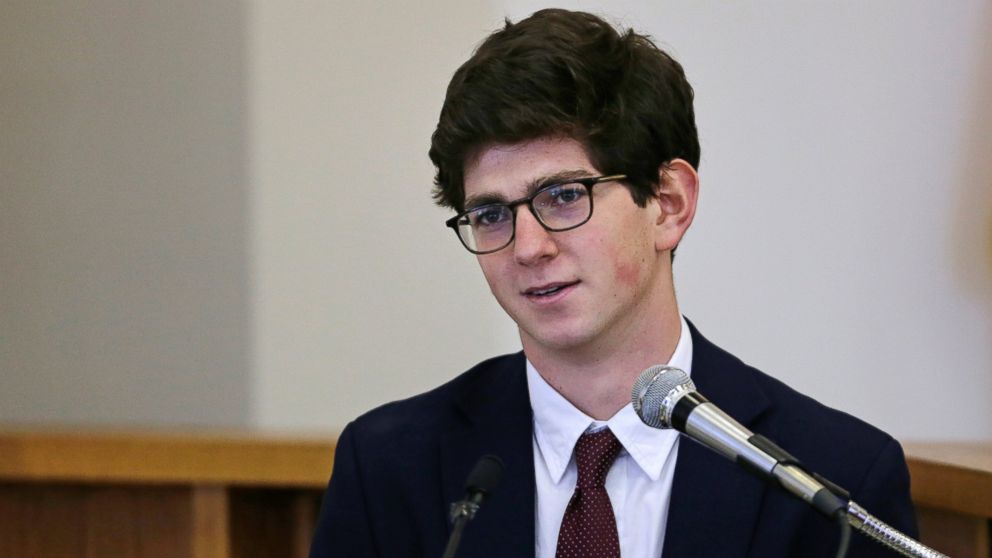 The girl's family had arms around her as she cried softly.
The girl's family said in a statement: "Today, a measure of justice has been served for victims of sexual violence. While he was not convicted on all charges, Owen Labrie was held accountable in some way by a jury of his peers for crimes he committed against our daughter. This conviction requires him to take ownership for his actions and gives him the opportunity to reflect upon the harm he has caused."
The family added, "While we stood together as a family through this process, it was our young daughter who took the stand to speak the truth and request justice. We admire her bravery in coming forward and speaking out in the face of great adversity. It is truly her courage that has made this measure of justice possible today."
St. Paul's School said in a statement: "We must first commend the remarkable moral courage and strength demonstrated by the young woman who has suffered through this nightmare. Her resolve and unwavering commitment to the truth have been inspiring to us and to many outside our School community. We can only hope that time will bring some measure of healing and comfort to both her and her family."
The school added, "The entire St. Paul's School community has been deeply affected by this incident. It is our responsibility to ensure that our students live and learn together in a community that is built on respect, caring, and support for one another."
The girl, whose name is being withheld because of the nature of the crime, testified last week. "I was raped!" she said loudly amid tears. "I was violated in so many ways."
When Labrie took the stand this week, he described their activity, which he said was mutual, but he denied having sex with her.
"It wouldn't have been a good move to have sex with this girl," he recalled thinking at the time when he said he and the girl were making out in a school tower.
Prosecutor Catherine Ruffle said in court that the encounter at the center of the case was part of a "senior salute," a tradition at the prep school. Ruffle said that the "senior salute" practice was largely intended as a way for graduating seniors "to be with someone that they might have wanted to be with throughout" high school, and could include activities like walking to class together or kissing but "it might include a little bit more."
She also said some students believed Labrie and some of his friends had turned the tradition into a competition.
Get real-time updates as this story unfolds. To start, just "star" this story in ABC News' phone app. Download ABC News for iPhone here or ABC News for Android here.