Puppy Found Beaten, Buried Alive in Georgia Gets 2nd Chance at Life
Four-month-old Moxie was found "nearly comatose," his veterinarian said.
— -- A puppy found badly beaten and buried alive in Augusta, Georgia, is now getting a second chance at life.
The four-month-old dog was originally found "trying to dig his way out of what appeared to be a little grave" by Augusta Animal Services last week, according to Dr. Scarlett Timmons, the veterinarian treating the pup at Westside Animal Hospital.
"He was nearly comatose when he first came in, and he wasn't responsive at all" Timmons told ABC News. "He had a pretty significant head injury, a lot of swelling in his head. He also had been bitten by ants and had a respiratory infection from all the dirt that got caught in his nasal passages."
The medium-sized mixed breed puppy has been fittingly named "Moxie," a word referring to the ability to face difficulty with spirit and courage, Timmons added.
The veterinary staff wasn't sure if Moxie was going to make it when he first came in, but now, after five days of treatment, Timmons said they're hopeful.
"Before, he was complete blank with no reactions, but now he comes up to kiss people, and he's very affectionate and he's enjoying the attention he's receiving," she said. "He's now also eating and drinking with us. He still can't stand on his own -- he's pretty wobbly -- but he's making progress and we're praying he can make a full recovery. "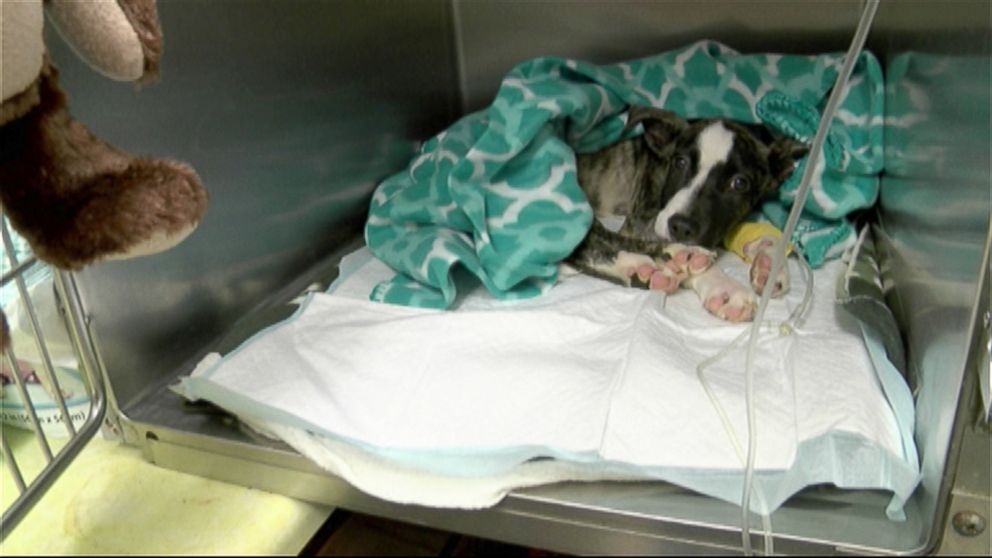 Though Timmons said she's not sure about how long Moxie will have to stay under the hospital's care, she said the staff will be working to make sure he gets "the loving family and home he deserves once he's all better."
The Richmond County Sheriff's Office did not receive a report filed about Moxie's case, Sgt. Shane McDaniel told ABC affiliate WJBF, but he did say that anyone who harms an animal is looking at a $1,000 to $15,000 fine and possible jail time.
McDaniel added that anyone with information about Moxie's incident can call Augusta Animal Services or the Richmond County Sheriff's Office.
Augusta Animal Services did not immediately respond to ABC News' calls and message on its Facebook page requesting additional information such as how Moxie was found.