— -- A Florida woman said she recently found out that the purring of her car's engine actually turned out to be the meow of a kitten who'd been hiding under her car's hood for at least two days.
Lilian Stewart, from Jacksonville, Florida, told ABC News today that she first "heard meowing" that seemed to come from her car on Wednesday night but she "didn't think much of it" because a lot of stray cats lived in her area.
But on Thursday, after work, she found a note on her windshield that read, "I think there is a cat stuck under (inside) your car. I keep hearing a meow. Please check."
A couple of people "helped me search the car," Stewart said, but they "couldn't find anything or hear anything," so she assumed the cat "must have gotten out."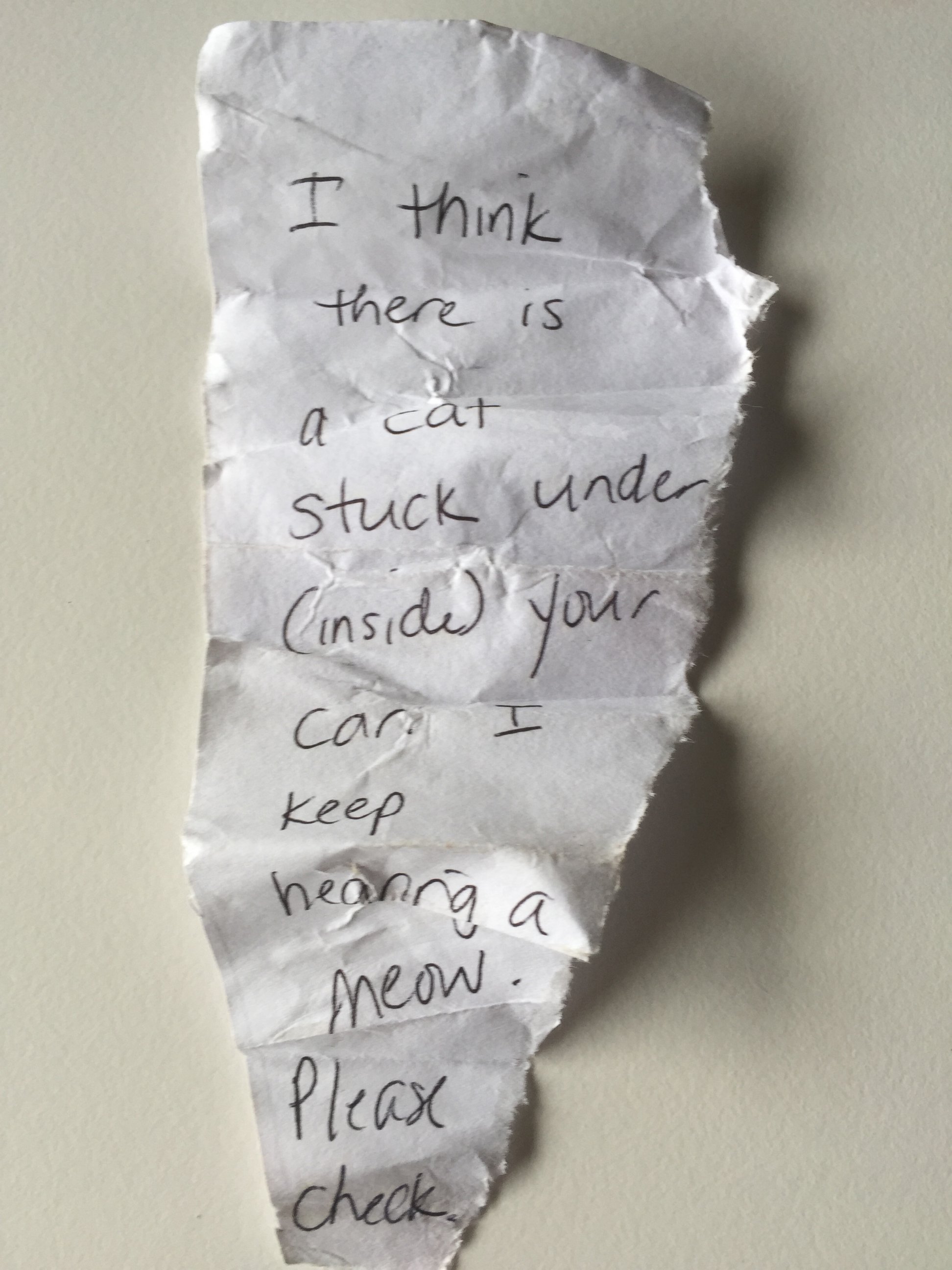 But after she drove the few miles to her home, the 24-year-old started hearing the meows again, so she said she called her boyfriend, who found the cat peering out from deep inside by the back of the engine under the car's hood.
"We were concerned about his safety and about whether or not he was hurt," Stewart said. "We tried to lure him out and get him, but he was really scared."
The couple fed the kitten water through a straw, but it refused to come out.
"Ultimately, what happened was, we left out a bowl of cat food near the car, and when we came out a few minutes later, we realized he had eaten the food and he had come out of the car on his own," Stewart said.
But when the couple went to get gas a few minutes later, they started hearing meowing again and lo and behold, the kitten was found by the engine under the hood again.
"When we came home that night, we left the cat food there again," Stewart said. "We heard him just meowing throughout the night. We assumed he would come out and eat the cat food again at night. Our plan was to call animal control."
But when they woke up Friday, the kitten was gone again.
Stewart said she plans to keep an eye out for the cat and call local animal service for helps if she spots it.
"My main concern was that the cat would be hurt," she said. "I was really concerned after I drove around for two days without knowing he was in there."