— -- Torrential rainfall continues to overwhelm rivers in Texas, and a slow-moving storm system will add even more water to flood-ravaged towns through the weekend.
In the past 60 days, about three feet of rain has fallen in eastern Texas, even closing down parts of Interstate 35 near San Pedro after six inches of rainfall fell Thursday morning alone. Areas west of San Antonio also received up to a half of foot of rain this morning, producing flash flooding.
Video taken near Cibolo, east of San Antonio, shows lightning illuminating a pitch-black sky as thunderstorms hit at 3 a.m. The resident called the weather event a "mesmerizing display of lightning and loud thunder."
The Brazos River at Richmond has crested at a historic level at 55 feet, more than five feet about the previous record set in 1994. The river is so overcapacity that it is spilling into typically untouched areas, according to the Fort Bend County Office of Emergency Management. It will remain in major flood stage through the weekend.
More than 1,400 homes have been affected by the flooded Brazos River. The Fort Bend County Sheriff's Office is urging residents not to return to their homes. Four hundred and fifty-four rescues have taken place in the area so far.
Six people died from floods along the Brazos River after four days of heavy rain over the weekend, The Associated Press reported.
Texas Grapples With Severe Weather
An aerial view of homes in the Horseshoe Bend area on the banks of the Brazos River, June 1, 2016.
Brandon Wade/Star-Telegram via AP Photos
Parts of Southeastern Texas got a small break from the rain after almost 20 inches of rain fell over the Memorial Day weekend. Overnight, up to eight inches of rain fell in parts of northern Texas northwest of Dallas, producing flash floods.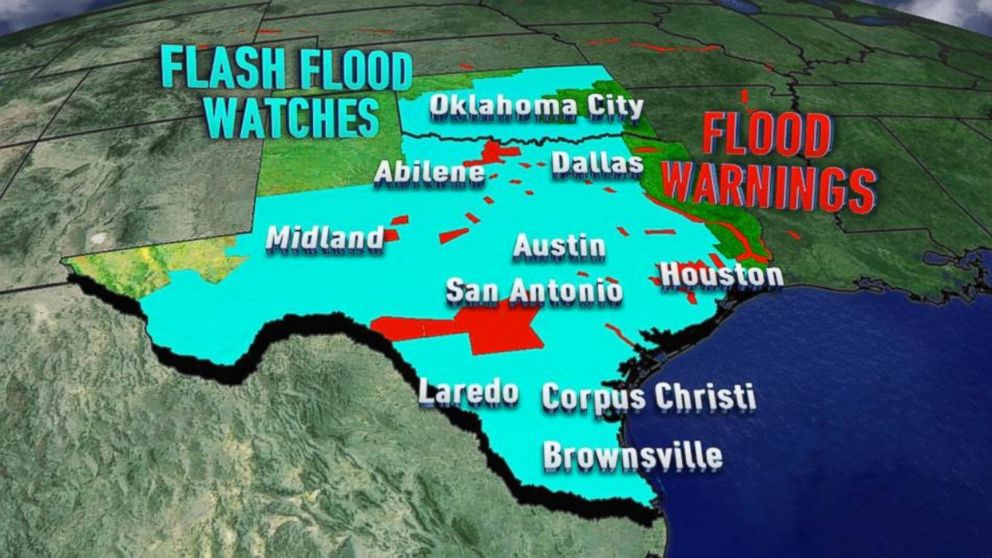 Most of the state of Texas and Oklahoma, and parts of Louisiana, are currently under Flash Flood Watches and Warnings, affecting 25 million people.
An additional six inches of rain is possible for Texas and Oklahoma, and the National Weather Service in Austin is predicting up to 10 inches of rain in the state's capital.
Texas Gov. Greg Abbott has declared a State of Disaster in 31 counties, urging all residents to stay on high alert and immediately heed warnings from their local officials.
Dangerous waters can be "deceptively calm," Abbott said, cautioning Texans to move to higher ground if they encounter floods.
Houston is having their second wettest spring on record with 24.84 inches. Last year was Houston's wettest spring on record with 26.61 inches.
Parts of Central Texas, including San Angelo, College Station and Austin, are having their wettest spring on record as well. Austin has picked up 26.11 inches of rainfall, with 15 inches in May alone.