New apps help recovering alcoholics by providing instant access to support -- a game-changer when it comes to recovery, according to one addiction expert.
"In AA, those people who are most likely to stay sober are the ones who have a really good support system that's available when they need it," Dr. Tom Wright told ABCNews.com.
Consider new apps like A-CHESS a sponsor who's available at any time of the day -- from anywhere. If a recovering addict can't get to an AA meeting, it works for that, too.
With a click of a button, users can speak to a counselor, get research or log on to a discussion board.
It also sends a sponsor a red flag if someone is getting close to "danger zones" such as bars.
"We can track the location of a person and be able to tell whether they're near their favorite bar or a place they used to score," said David Gustafson, a professor at the University of Wisconsin who developed the app, which will be available to the public in early fall.
The app can be personalized, so someone in New York City won't get flagged every time they walk down a busy block of bars. Or a father can set it up so a video of his daughter plays any time he approaches a pub he used to visit, Gustafson said.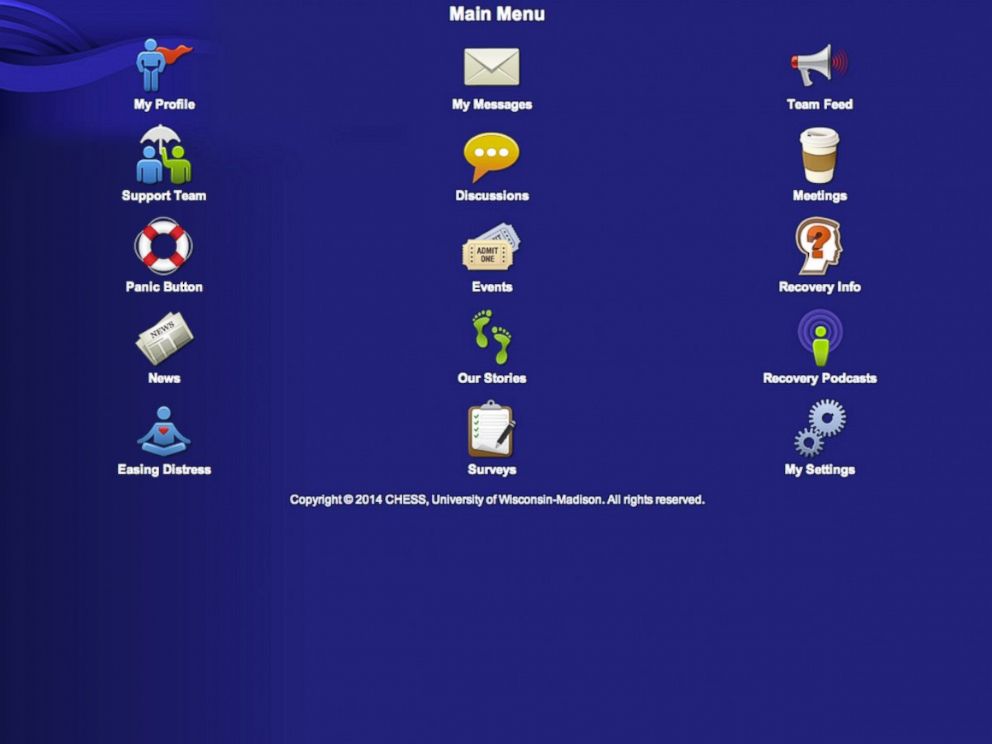 In a clinical trial, researchers found recovering alcoholics who used the A-CHESS app had significantly fewer "risky drinking days" than people who didn't. The findings were published March 26 in the journal JAMA Psychiatry.
Like AA meetings, A-CHESS is designed to be used after treatment to keep recovering alcoholics sober, Gustafson said.
"We think those meetings can be really important, but they're held on a periodic basis [so] even if you go once a week or once a day there's a long period between those meetings," he said. "But this is with you all the time."
Wright, the chief medical officer of Rosecrance Health Network, a substance abuse treatment center in Illinois, called A-CHESS one of the best apps he's seen.
Other apps have launched to help recovering addicts find meetings or provide information, but none have been so comprehensive, he said.
"The beautiful part about it is that it's so interactive," Wright said.
It's also ideal for the tech generation.
"Most young people who leave Rosecrance, they really want to stay sober," he said. "This gives them a tool that fits their lifestyle, the millennial generation. It's great, individualized treatment."