— -- Rescue crews, some working with cadaver-sniffing dogs, scrambled Saturday to find several residents still missing in Southern California, where torrential rains and mudslides have crushed homes and killed at least 19 people.
Multiple agencies using boats and helicopters, including the U.S. Coast Guard and Navy, fanned out across Santa Barbara County hoping to find people alive. Firefighters, who battled blazes that swept through the area in December, went from flattened home to flattened home looking for survivors.
Santa Barbara County officials said the body of 25-year-old Morgan Corey was found Saturday. A 62-year-old man who was listed as missing was located safely, Sheriff Bill Brown said at a press conference.
At least five people remained missing as of Saturday morning, but that number will continue to fluctuate as search efforts continue.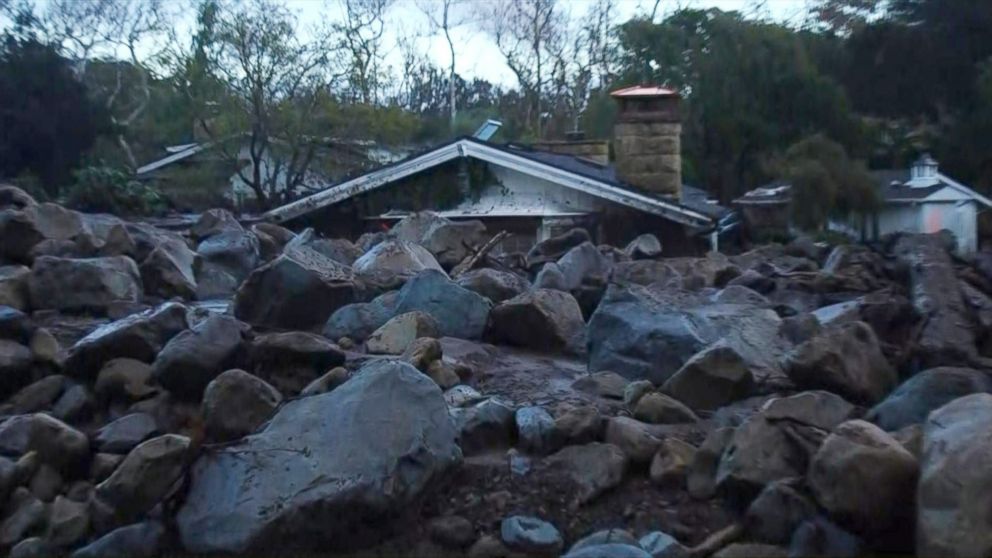 Rescue crews were focusing on Montecito, an unincorporated area near the city of Santa Barbara, which was devastated by flooding and mudslides that wiped out dozens of homes and dislodged boulders the size of cars and sent them crashing into homes. Parts of Highway 101 in the area remained closed, swamped by debris flows that slid down fire-scarred mountains in the area.
Montecito was placed under a new evacuation order at 6 p.m. local time Thursday. Almost the entire community -- about 10,000 people -- is now under mandatory evacuation orders, which could last "one to two weeks," according to the Santa Barbara County fire chief.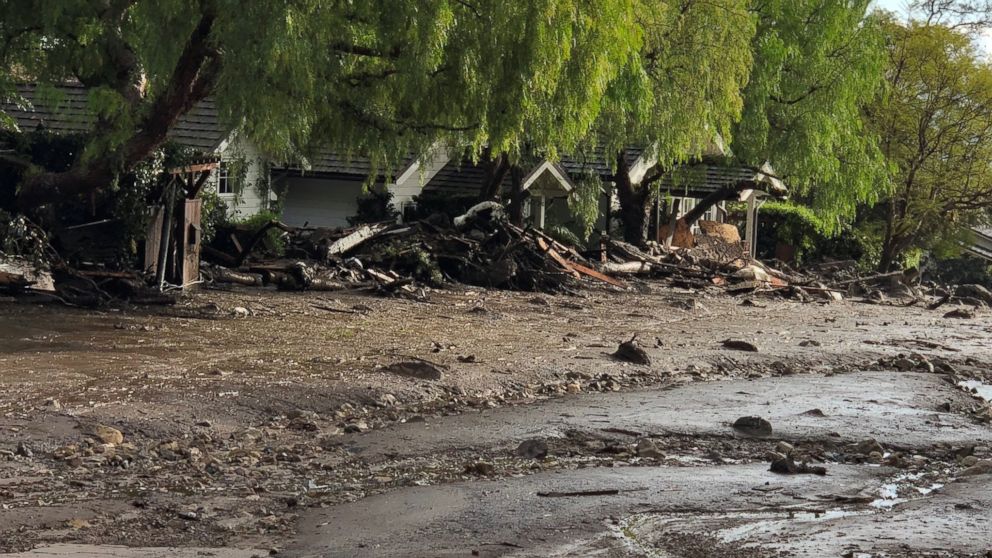 At least 65 homes in Santa Barbara County were destroyed in the storm and another 462 were damaged, while eight commercial buildings were flattened, according to the latest count by Santa Barbara County Fire Department.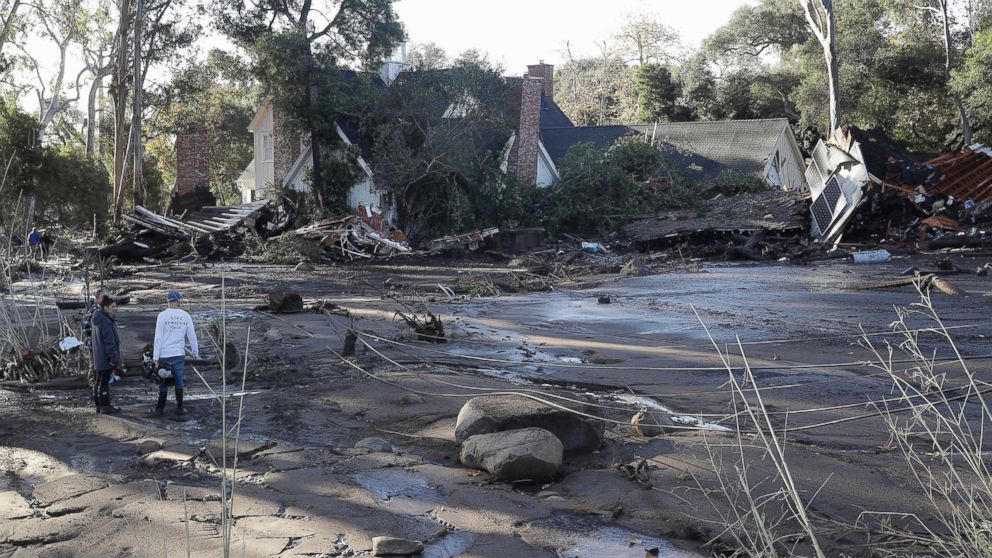 Anne Marie Cullen was one of the rescue workers combing through homes with a cadaver-sniffing dog, looking for people who vanished in the mudslides.
"So obviously, she's looking for human remains," Cullen told ABC News, referring to her canine partner. "Which could be an entire body or it could be part of a body. So she's doing a meticulous search where she sniffs little nooks and crannies and sometimes it could be a person and the scent can trickle its way up."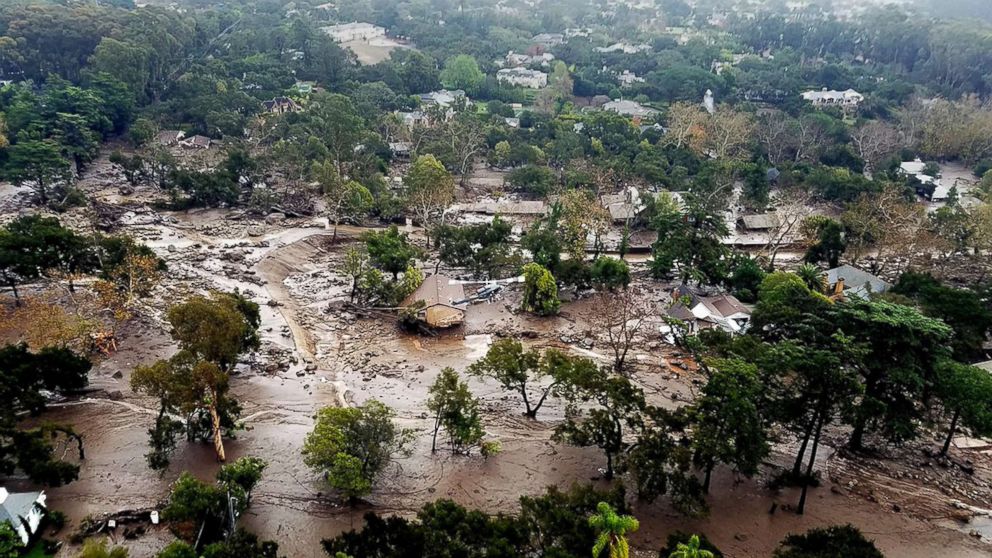 Cullen said the work has been exhausting and, at times, emotional.
"It overwhelms everybody ... but in search and rescue you distance yourself," Cullen said. "You have to put a shield up and do your job and just remember ... that's not to say that it doesn't upset us but when we're out here we just do our job."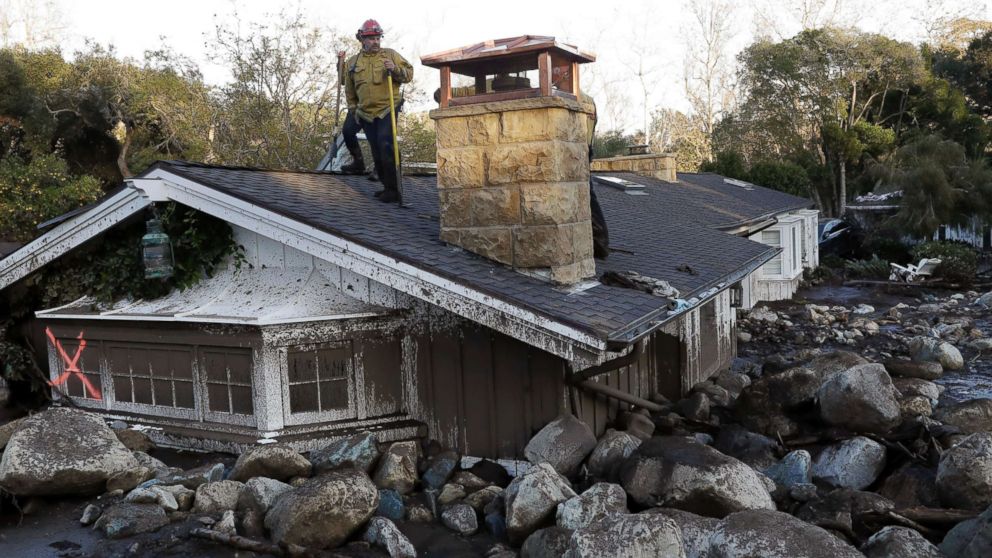 Deputy Dan Page, chief of a Los Angeles County Sheriff's Department rescue team, said the search effort was dangerous for rescuers, who had to trudge through debris and knee-deep water littered with nails, broken glass and splintered wood.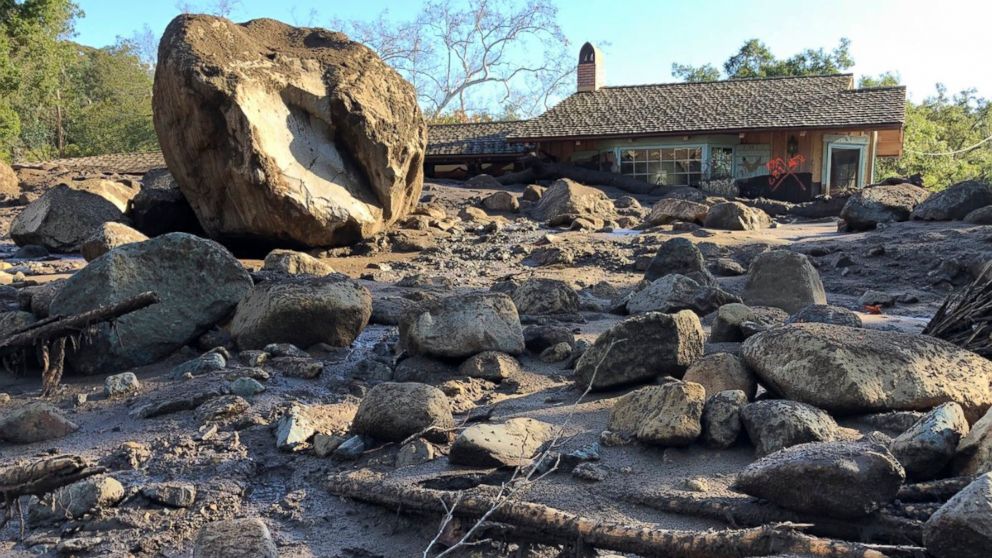 "We've gotten multiple reports of rescuers falling through manholes that were covered with mud, swimming pools that were covered up with mud," Anthony Buzzerio, a Los Angeles County fire battalion chief, told ABC station KABC. "The mud is acting like a candy shell on ice cream. It's crusty on top but soft underneath, so we're having to be very careful."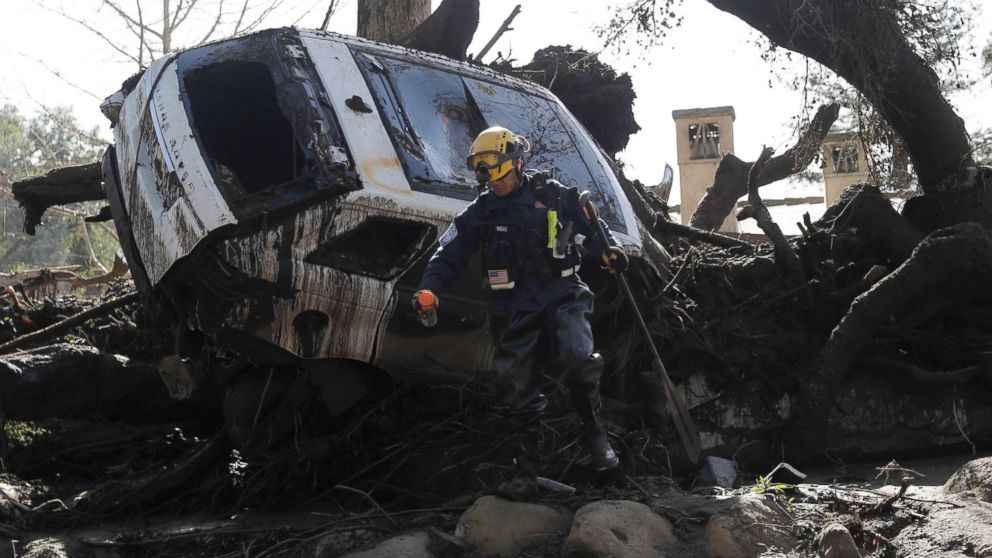 The rate of rainfall in Southern California on Tuesday was 18 times more than required to produce debris flow, according to an analysis by ABC News meteorologists.
Montecito alone saw heavy rainfall in a short amount of time. Because hundreds of thousands of acres were charred in the fires, the influx of water has nowhere to go.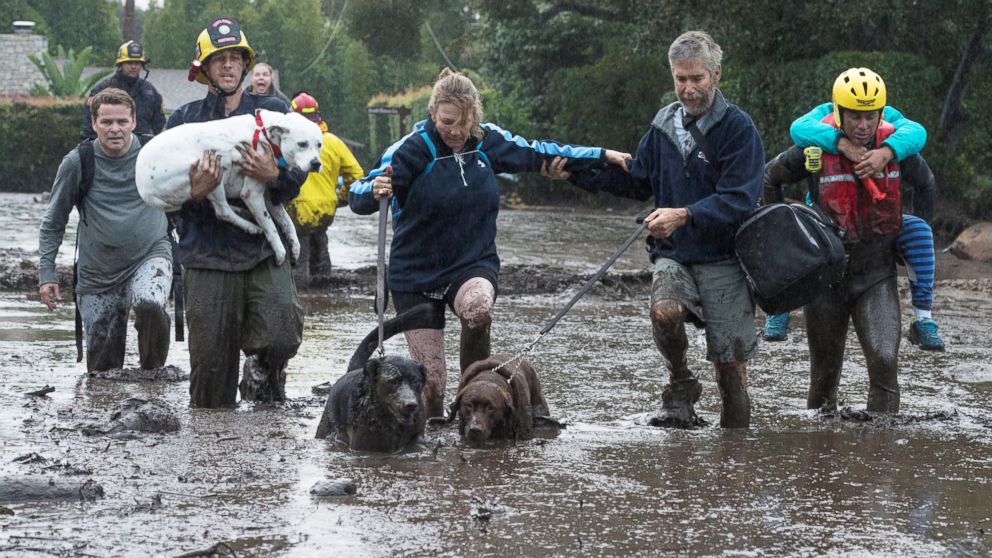 Aerial footage over Montecito showed a contrast of widespread damage next to homes completely untouched by the disaster. The roofs of some homes in canyon runoff areas were encased in mud, which has now dried.
The Santa Barbara County Office of Emergency Management said Montecito would be without potable water, electricity and sanitation "for an extended period of time."
ABC News' Morgan Winsor contributed to this report.