— -- Nathan Carman, the 22-year-old man rescued after eight days at sea, denied today that he had anything to do with the disappearance of his mother, who is presumed dead after their boat sank in the Atlantic Ocean.
"I know I wasn't responsible for the boat sinking. I know that I wasn't responsible for anything that resulted from the boat sinking. I know I wasn't responsible for my mom's death," he told ABC News' Linzie Janis today. "But at the same time I feel like I was responsible for my mom and I being out there and in the situation. If I hadn't asked my mom to go fishing with me that weekend, she would still be alive with me today."
Just hours after Carman arrived on shore Tuesday morning, however, police in Vermont seized items from his Vernon home. A search warrant indicated that he was under investigation for reckless endangerment for allegedly taking his mom, Linda Carman, out on the boat when it was in need of repair and taking her to a "different location than what were his mother's intentions and understanding," the documents say.
"The investigation revealed that Nathan's boat was in need of mechanical repair and that Nathan had been conducting a portion of these repairs upon his own volition which could have potentially rendered his boat unsafe," the affidavit supporting the warrant says. He has not been charged in this case.
Nathan Carman and his mom were first reported missing Sept. 18, after failing to return from a fishing trip they began from Point Judith, RI, the previous day, according to the Coast Guard. He said the two were offshore fishing for tuna when he heard a strange noise and saw water in the boat.
Nathan Carman told ABC News today that he did not activate the distress signal when the boat started taking on water because he did not realize they were in danger.
"I didn't know that we were sinking. I knew that we had a problem but I didn't know that we were sinking until we sank," he said in an interview with ABC News today. "I did not realize we were in distress. I wasn't certain that we were in distress."
Son Found After 8 Days Lost at Sea, Mother's Fate a Mystery
1 of 2 Missing Boaters Found After 8 Days Adrift at Sea
"I didn't think we were sinking. ... I thought I was going to diagnose the problem and that we were going to go back to shore," he said. "As I was carrying one of the pieces of safety equipment, the boat sank and I felt the boat was sinking very rapidly. ... I was walking on the deck and it was there and then it wasn't."
He said his mother was in the cockpit and he was at the front of the boat.
"The whole time from when I saw water in the boat to when the boat sank was probably three to five minutes," Nathan Carman said. "I did not see or hear my mom."
He was found alive Sunday after eight days at sea. His mother, 54, of Middletown, Conn., remained missing, according to the Coast Guard.
A Chinese freighter called the Orient Lucky found Nathan Carman more than 100 nautical miles from Martha's Vineyard, the Coast Guard said. He was reportedly found in a life raft with food and water.
The Coast Guard said Nathan had told them that the pair's 32-foot boat had taken on water on Sept. 18 off the coast of New York, near Block Canyon. When he escaped to the raft, he told the Coast Guard he could not find his mother.
On Monday, the Coast Guard said that it would not reopen a search for his mother.
Today Carman said that while he'd done repairs on the boat before their trip, the boat was safe.
"I would not have taken my mom out fishing with me had I not believed the boat was seaworthy," he said.
Also today, Nathan's father, Clark Carman, addressed recent reports that Nathan had been investigated in the December 2013 killing of his 87-year-old maternal grandfather, John Chakalos. His son was not charged in Chakalos death and the case remains unsolved.
"None of us really know what he went through, and I'm sure it was traumatic, and so we have to bear with that and debrief by the Coast Guard, police. ... I wish the press would leave it alone because he was not involved, with his grandfather, with his mother, it's pure accident. He could never do anything like that," Nathan's father, Clark Carman, told CBS News affiliate WFSB-TV.
A firearms seizure warrant from 2014 allegedly implicated Nathan in the unsolved December 2013 murder of Chakalos, Nathan's grandfather and the father of Linda Carman.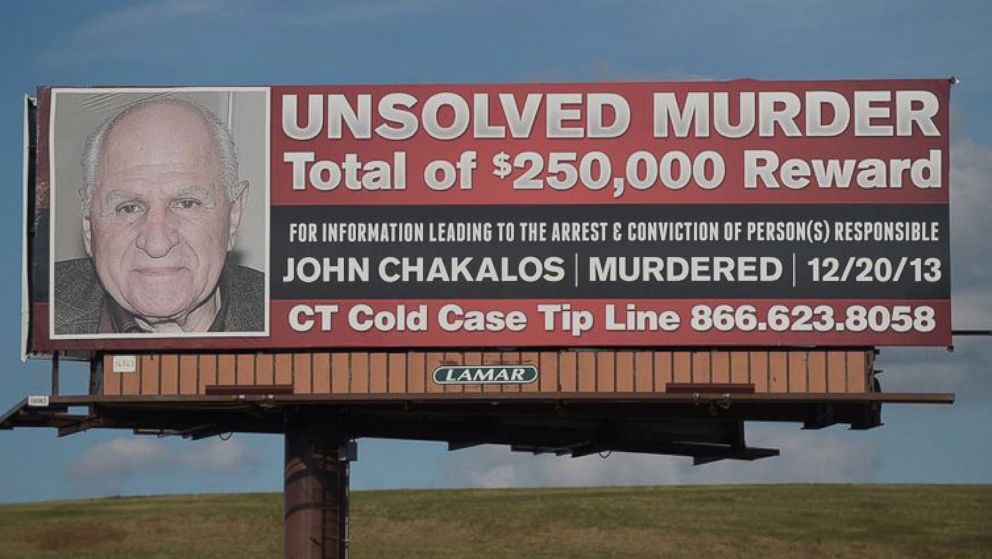 According to the warrant, Nathan Carman was the last person known to see Chakalos alive around 8:30 p.m. in December 2013. Authorities also said that during their investigation, there were "several inconsistencies" in Nathan Carman's "depiction of his activities" during the time of the murder from 10 p.m. Dec. 19, 2013 to 8 a.m. Dec. 20, 2013, in particular one hour from 2:57 a.m. to 4 a.m. when Nathan Carman was unaccounted for.
Nathan Carman also allegedly discarded the hard drive of his computer as well as the GPS unit used the morning of Dec. 20, 2013, according to the warrant.
Authorities say he purchased a Sig Sauer 716 Patrol .308 caliber rifle from a gun store in NH that is consistent with the murder weapon and concealed this purchase from investigators. Authorities also said that at least one of the three bullets that hit Chakalos had come from a .308 caliber class, the kind the victim kept in his home.
Today Nathan said he had "absolutely nothing" to do with the slaying of his grandfather.
"My grandfather was the closest person to me. He was like a father to me and I know I was like a son to him," Nathan said. "I know that my grandfather was the biggest victim in his homicide but it feels like I was the second biggest victim cause I lost the most important person in my world totally."
He said he'd tried his best to work with the police.
"It was very, very difficult to deal with," Nathan said.
Heidi Jensen contributed reporting.