Search for survivors continues at Mexico City school
A 7.1 magnitude earthquake struck Tuesday, killing hundreds.
September 21, 2017, 5:13 PM
Mexico City, Mexico -- Rescuers continue to frantically dig through the rubble of a collapsed school in Mexico City two days after a 7.1 magnitude earthquake struck, killing hundreds.
Officials offered conflicting information on how many died and who was still trapped inside the building. Today, Mexico's deputy minister of information told ABC News that one maintenance worker was still stuck inside the school. He added that 19 children and six teachers were killed in the collapse, while 11 were hospitalized for treatment.
On Wednesday, however, Mexico's Education Minister Aurelio Nuno said that multiple students -- including a 12-year-old girl -- were still trapped alive under the rubble.
Nuno also said the bodies of 21 children and four adults had been discovered at the site.
The deputy minister of information couldn't explain the discrepancy but said that after cross-referencing all of the names of students and talking to parents, it appeared that no children remained trapped inside.
The Mexican military earlier delivered an on-camera appeal to parents of children who are still missing to come to the school. Perplexed officials told ABC News on Thursday morning that no parents had reported their children missing.
Pictures from the Mexico earthquake and the race for survival
The coffins of Agueda Mendoza and Gabriel Morales, a couple who died in the September 19 earthquake are taken out of the the hearse for their funeral in Mexico City on September 22, 2017.
Pedro Pardo/AFP/Getty Images
A pediatrician who is caring for those extricated told ABC News hypothermia is the biggest threat that faced those beneath the rubble.
Earlier, a rescuer, who was caked with dust after emerging from a pile of cinderblock and rebar that once made up a wing of the Enrique Rebsamen primary and secondary school, told ABC News that rescuers were just 3 to 4 feet away from a victim trapped beneath the rubble but were blocked by a chunk of concrete. He's heard knocks and multiple voices, but the noise has grown fainter over the past 12 hours, he said.
The rescuer said he was tunneling inside when the pile began to collapse, triggering panic to get out. The crawl space for rescuers is only about 16 inches high. Rescue work was then temporarily suspended.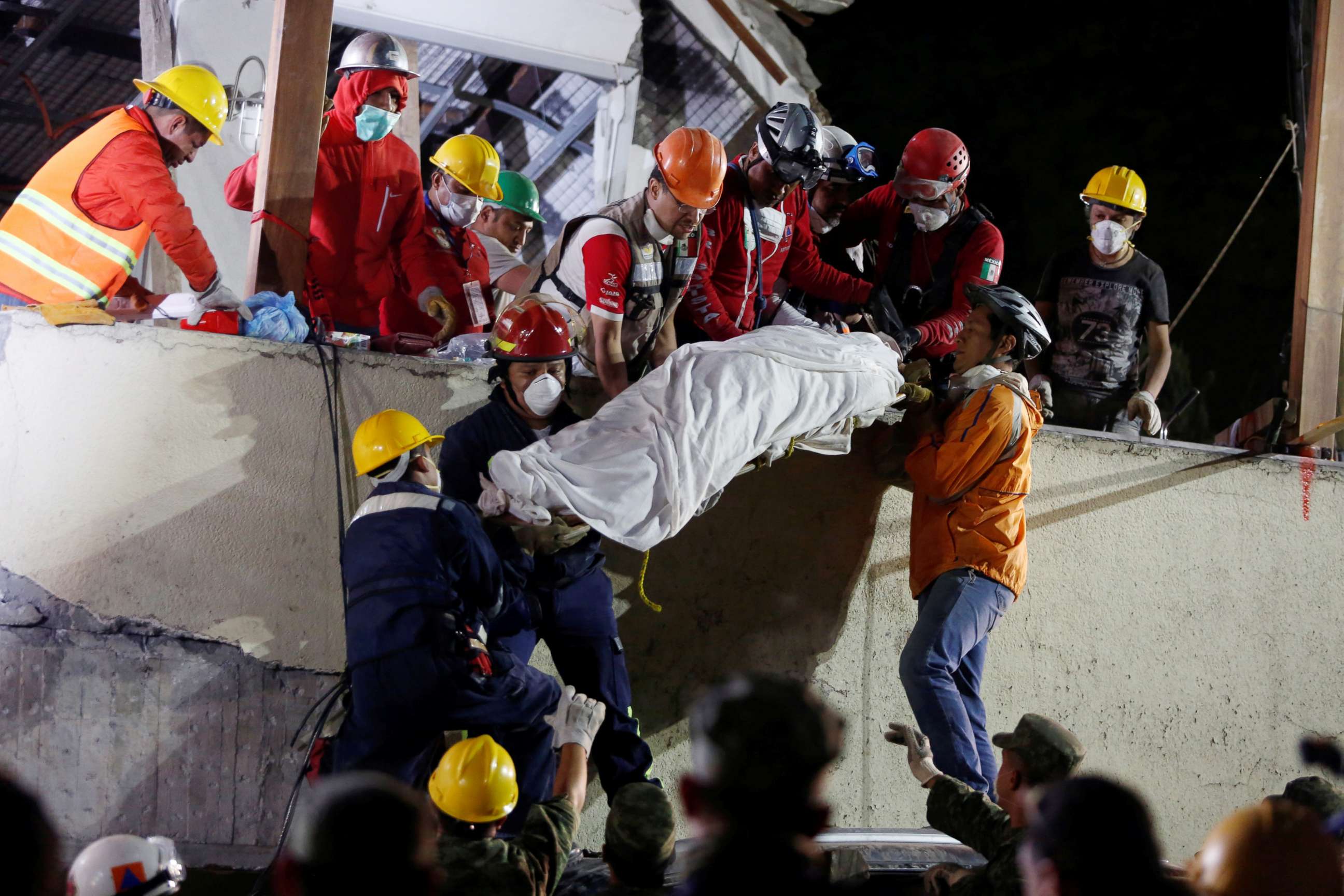 Rescue workers were seen rolling in a crane in an attempt to gingerly raise the roof of the collapsed school, hopefully enabling them to reach those still trapped inside.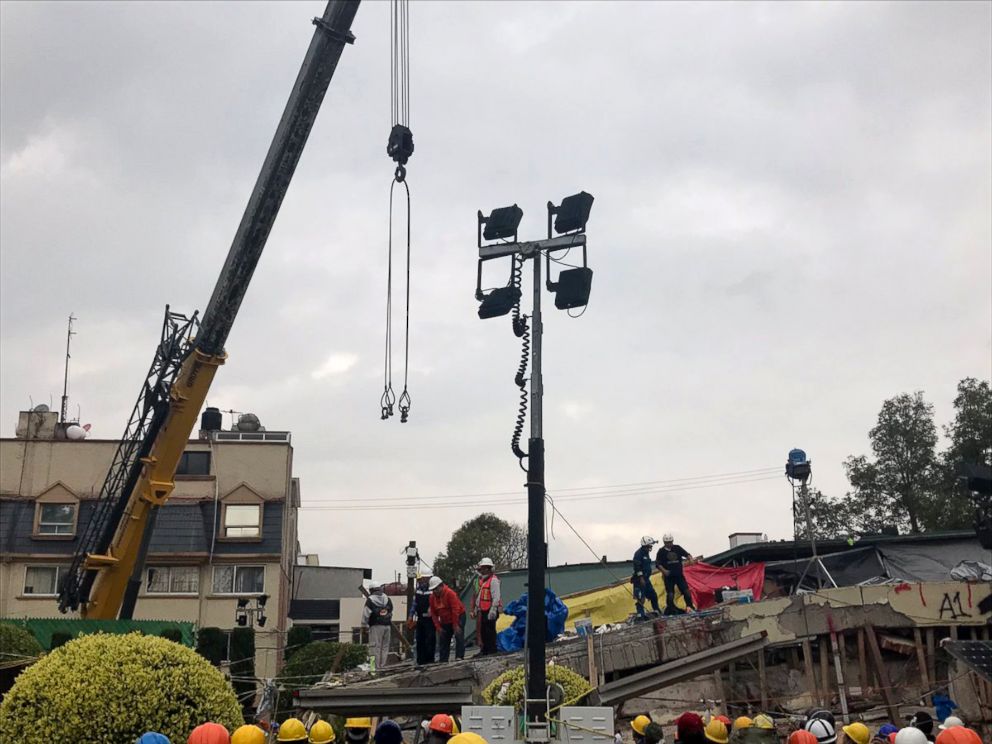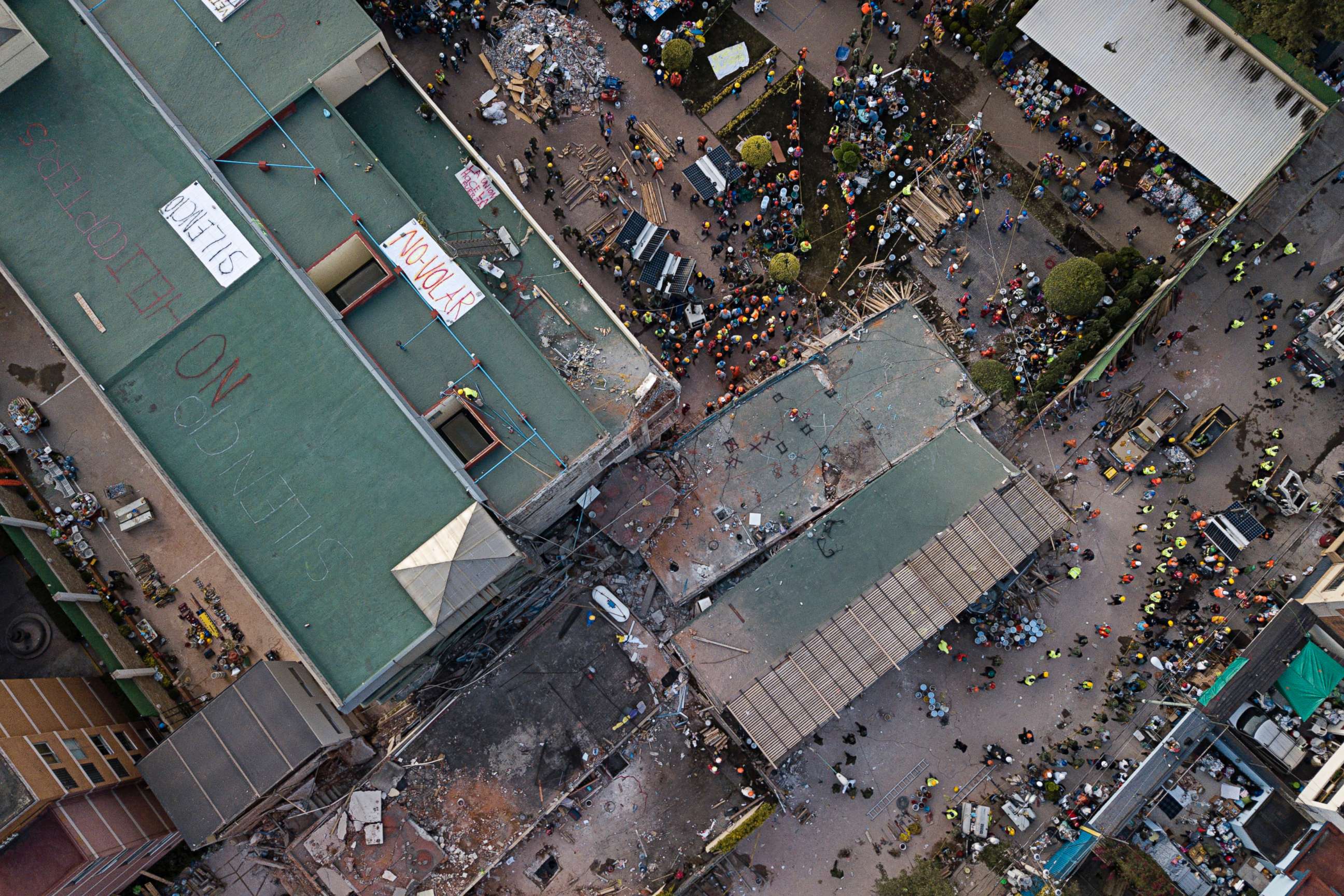 Neighbors, police, soldiers and firefighters alike could be seen forming an assembly line, tirelessly clawing through the wreckage all day Wednesday. Rescue dogs and harnessed workers wearing helmets were on site to search for survivors.
At one point, the rescue crews dropped listening devices into a hole amid the rubble of the collapsed structure and attempted to send in a rescue dog to sniff for survivors.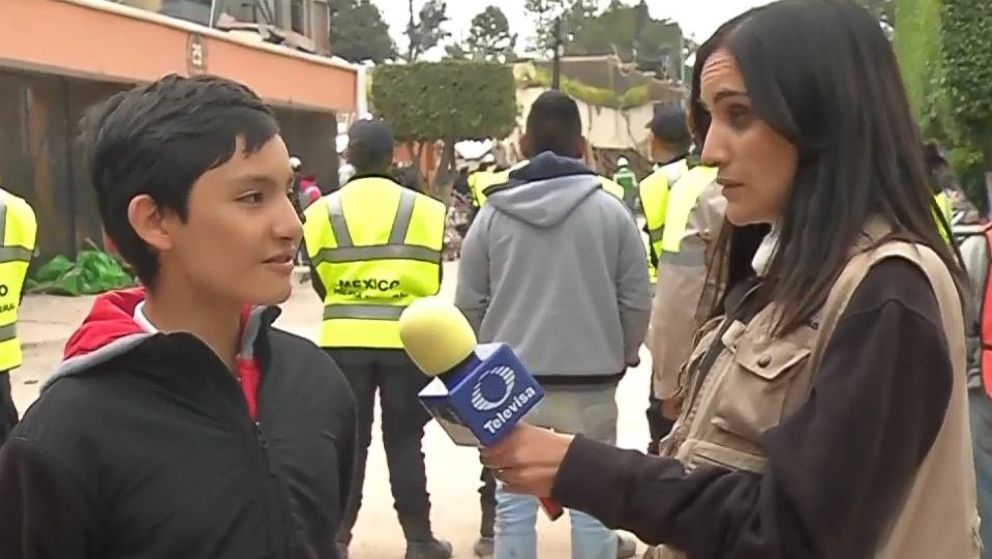 Every few minutes, the near silence was punctuated by whistles demanding silence, the call for dogs and screams for doctors. The Herculean effort was being performed before hundreds of people thronged a block away.
In between the pockets of quiet, a generator's drone can be heard under the repetitive clanking of shopping carts caused by strangers delivering bottles of water and tortillas to rescuers.
A 13-year-old boy named Rogelio Heredia managed to claw his way out of the debris. He told Televisa it felt "like a dream" and described scaling a wall that had collapsed to get to safety on the street.
Meanwhile, video posted to social media showed young students being pulled from the rubble.
The school was among dozens of buildings in central Mexico leveled by the pulverizing power of the quake, which struck Tuesday afternoon some 75 miles from the capital. Mexico City's foundations were built on a lake bed, making many structures especially unstable during an earthquake.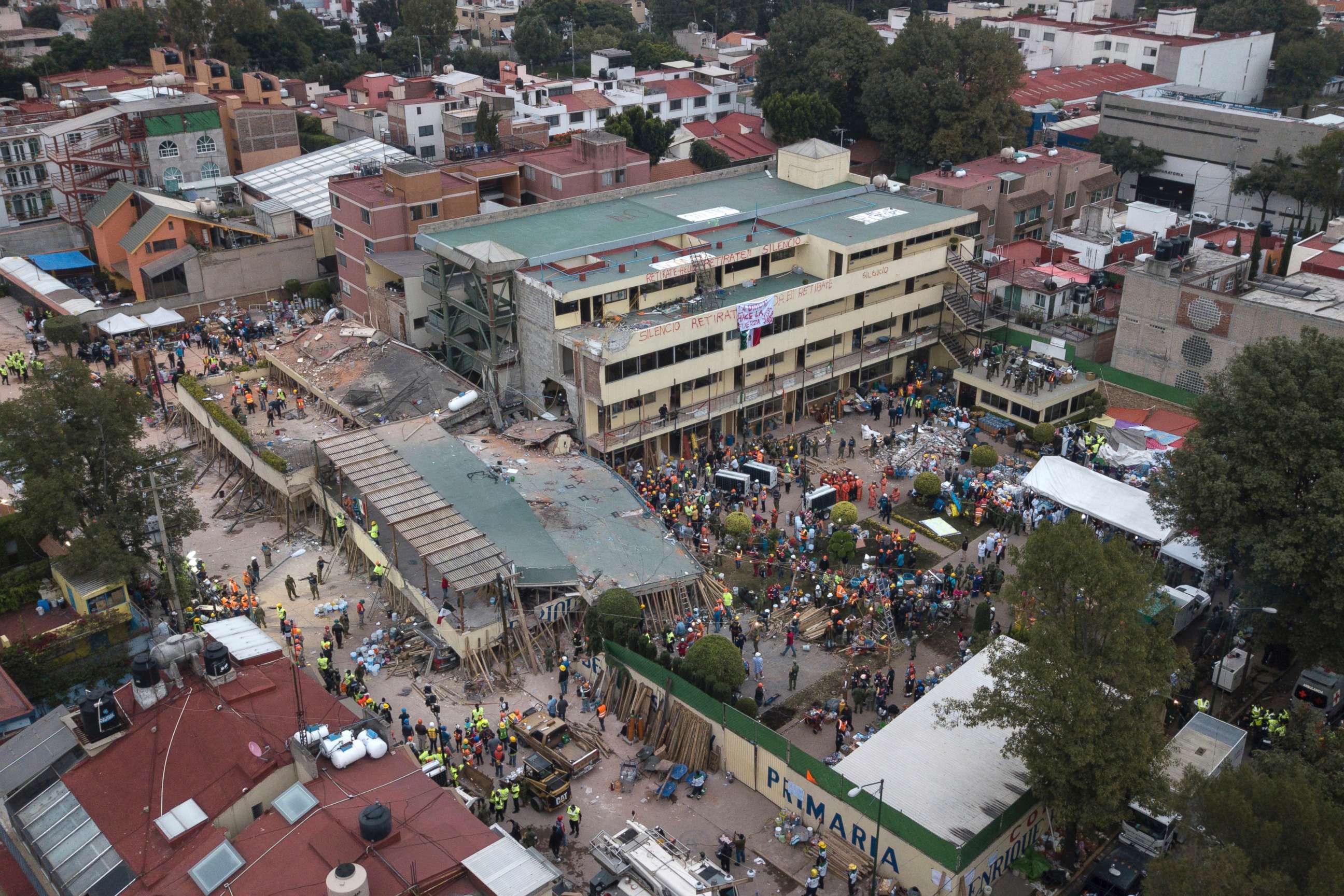 The region was engaging in earthquake drills just hours before the quake hit on the 32nd anniversary of a 1985 earthquake that claimed thousands of lives in Mexico.
On Thursday, the United States Agency for International Development's Office of Foreign Disaster Assistance tweeted a photo of its Air Force plane arriving in Mexico. Onboard were more than 67 urban search-and-rescue members of the Los Angeles County Fire Department along with five canines and 62,000 pounds of specialized tools and medical equipment to conduct around-the-clock missions on the ground and assess damage, according to USAID Administrator Mark Green.
Green said the team from Los Angeles was sent because they have the heavy equipment needed in this natural disaster, particularly to deal with collapsed structures.
The United States and Mexico are closely coordinating to ensure crews and resources are deployed "in the right place at the right time applying their capacities," according to Green.
"America is and will remain the world's leading humanitarian donor," Green said. "Whether it's responding to an earthquake, drought or conflict, America is committed to standing shoulder to shoulder with people in their hour of need. It's who we are as Americans."
ABC News' Conor Finnegan, Benjamin Gittleson, Joshua Hoyos, Kirit Radia and Robert Zepeda contributed to this report.