— -- The mother of a 6-year-old who was killed in the Sandy Hook school shooting in 2012 wrote an open letter to the mother of Jacob Hall, the first-grader who died Saturday after he was shot at his South Carolina elementary school, saying she has yet to find peace and forgiveness after more than three years after the death of her son.
Nicole Hockley -- who lost her youngest son, Dylan, after 20-year-old Adam Lanza opened fire on his first grade class at Sandy Hook -- wrote a letter to Renae Hall, which she provided to ABC News.
Hockley wrote she was "horrified" at the news of the shooting at Townville Elementary School and compared it to the mass shooting that took her son's life.
"My first question was, 'Are they OK?'" Hockley wrote, adding that her pain "eased" after she learned that there were no fatalities in the shooting. While it was another "preventable tragedy," she wrote, "immediately pain and fear was lessened because none of the children had been killed."
Drawing on her own experience, Hockley wrote that she "knew" the community would be traumatized and that "families would be left wondering how this could have happened and what they could do to prevent it from happening elsewhere.
Eventually, the details about the "signs and signals the shooter gave off, long before the violence occurred" will emerge, Hockley said.
When Hockley learned of Jacob's death, it "killed" her inside, she wrote, and she still feels that "anguish" today. Hockley said she feels "deeply ashamed" that she accepted the shooting in Townville as just "another day in America."
"For me to be complacent about gun violence, even for a moment, is unforgivable," the mother wrote. "I know that until enough people are actively engaged in preventing firearm deaths and injuries, that change will not come."
Hockley then detailed the similarities between Dylan and Jacob. They were both six weeks early when she were born and 6 years old when they died.
"Jacob was your superhero," Hockley wrote. "Dylan was my Superman."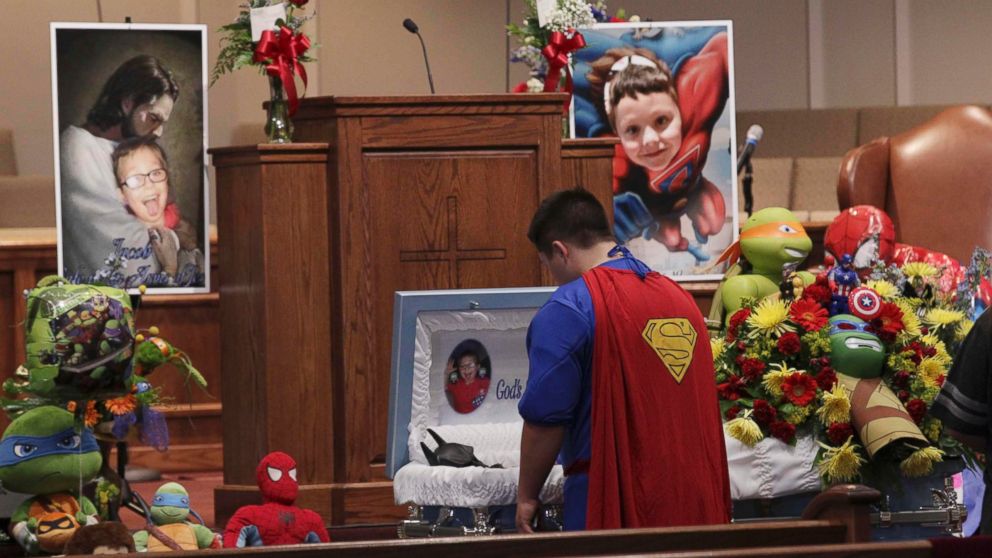 A funeral fit for a superhero was held for Jacob on Wednesday, with pallbearers and mourners donning various costumes ranging from Batman, Superman, the Ninja Turtles and the Hulk. Jacob's own mother dressed up as Batman's sidekick, Robin, and the side of Jacob's casket was adorned with Ninja Turtles and lettering that read "Team Jacob."
After Jacob was pronounced dead on Saturday, his mother spoke to reporters, calling him an "angel" whose purpose on earth was to show love, kindness and forgiveness. Hall said Jacob is smiling down from heaven and that his memory is teaching her how to forgive.
Hockley did not share that sentiment, but said she was "happy" that Hall was able to find peace and forgiveness through her faith.
"I'm sad to say I have not found that yet -- I am still mad at God," she wrote, but added that she still believes "there are good people in the world."