Sculpture commemorates Rev. Martin Luther King Jr. and Coretta Scott King in Boston
Boston unveiled a Rev. Martin Luther King Jr. and Coretta Scott King sculpture.
Nearly 60 years after Rev. Martin Luther King Jr. addressed thousands on the Boston Common, city officials unveiled a sculpture commemorating the civil rights leader and his wife, Coretta Scott King.
The bronze sculpture, which is 20 feet tall and 26 feet wide, is the largest monument in the U.S. dedicated to racial equity and is located in the town where the couple first met. King was studying as a doctoral student in theology at Boston University when he met Coretta, who was studying at the New England Conservatory of Music.
"Boston became the place where they forged a partnership that would change America and make a powerful contribution to the Black freedom struggle. That's what I see in this beautiful monument," said Martin Luther King III, son of Rev. Martin Luther King, Jr., during the unveiling.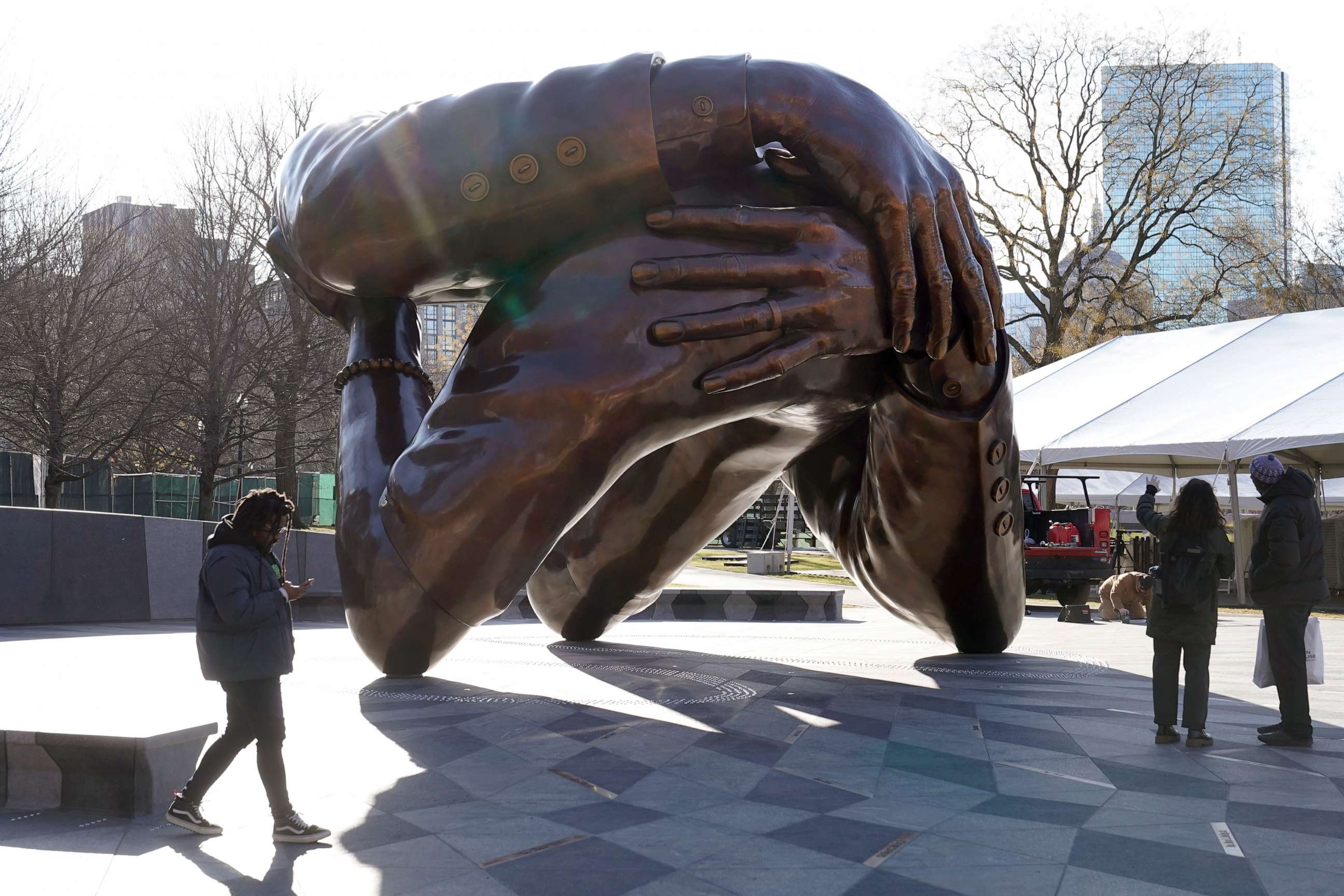 This $10 million sculpture, which took five years to create, celebrates their life together and compliments the 30-foot King memorial at The National Mall.
The Boston piece depicts the arms, shoulders and hands of the two hugging after King won the Nobel Peace Prize in 1964 -- a moment special to Black conceptual artist Hank Willis Thomas, creator of "The Embrace."
"That was really the culmination of over a decade of incredibly hard work that not only Dr. King did, but also Mrs. King," Thomas said in an interview with "Good Morning America."
"In that embrace, I see so much. I see teamwork, I see joy," Thomas said, adding, "I see both of their strengths, but especially hers. I see the way that she is really holding him up in this picture and actually recognizing that that is a symbol for a lot of what she did for him, for the family, but also for the country."
Thomas is experienced when it comes to public art and has practiced the expression for nearly 20 years, finding passion in not just sculpting but in photography, video and printmaking based on elements of history.
"This is a work that's going to be in Boston Common, which has been around for 400 years. So possibly it's going to be in Boston Common for another 400 years," Thomas said. "Rather than it being a monument to a hero of a war or victims of a war -- It's actually a monument to two heroes of nonviolence and so I'm really excited to see a new gesture and a new way of celebrating people."
The sculpture was unveiled by Embrace Boston, a nonprofit with a mission to dismantle structural racism through the intersection of culture and community. The event featured statements from Martin Luther King III, his wife, Andrea Waters King, and their daughter, Yolanda Renee King, the only granddaughter of Martin Luther King Jr. and Coretta Scott King.
"There is a sense in which we are all children and grandchildren of Martin and Coretta Scott King," Yolanda, 14, said during the celebration.
"We are all challenged to carry for their unfinished work. This is the spirit we must keep as we commemorate the 37th Martin Luther King Jr. holiday on Monday."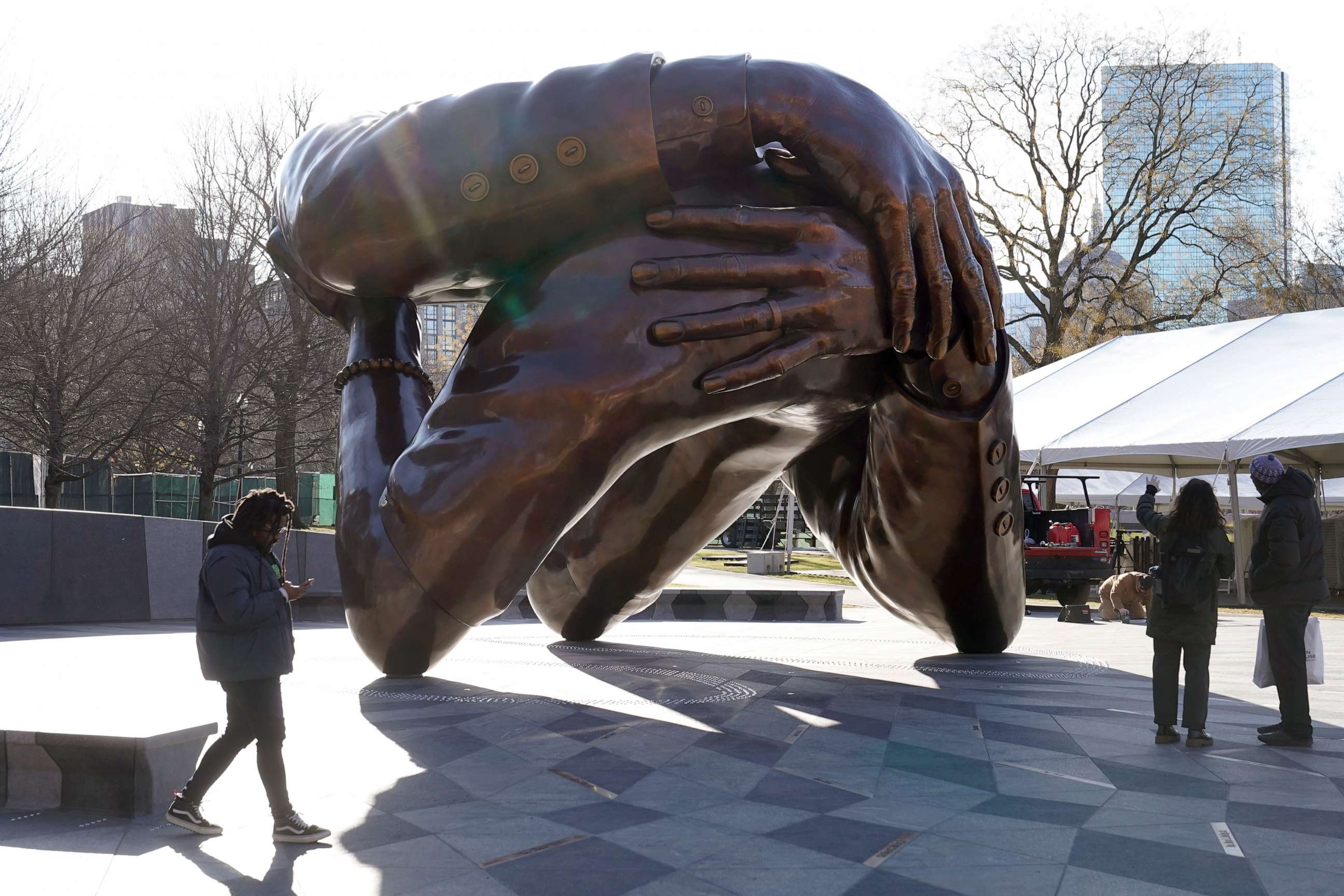 The sculpture has been place near where King led 20,000 people in the civil rights era protest of the segregation of schools. It's attracted many since its unveiling.
"The work of the Kings was so monumental in the United States because it signified a shift in the way that we as a society could address social challenges and so while there were millions of people who were part of this effort," Thomas said.
He added, "For everyone, that was something that shifted everything. That's the reason you and I are here. The reason that any of us are here and have the opportunities we have today, no matter what our ethnicity is, is really a result of that work."
ABC News' Abby Cruz and Nicholas Massenburg-Abraham contributed to this report.