Mystery surrounds Indiana murder of 2 teen girls: 'We cannot fail on this case'
Abby Williams and Libby German were found dead over three weeks ago.
DELPHI, Indiana -- In rural Delphi, Indiana, 14-year-old Arika Gibson is grieving the murders of her two friends the only way she knows how: by vowing to pursue a career in law enforcement and stop something like this from ever happening again.
"I'm gonna do the best I can to catch criminals like the person who did this to them," Arika told ABC News. "I'm not gonna let this person take over my life and ruin everything I know and love."
On Feb. 13, eighth-graders Abby Williams and Libby German disappeared while on a hiking trail in the area. Their bodies were found the next day in nearby woods.
More than three weeks later, no arrest has been made, and the only clues that have been released to the public are a photo of a man who police say is the prime suspect in the investigation and a chilling recording found on Libby's phone with just three audible words: "down the hill."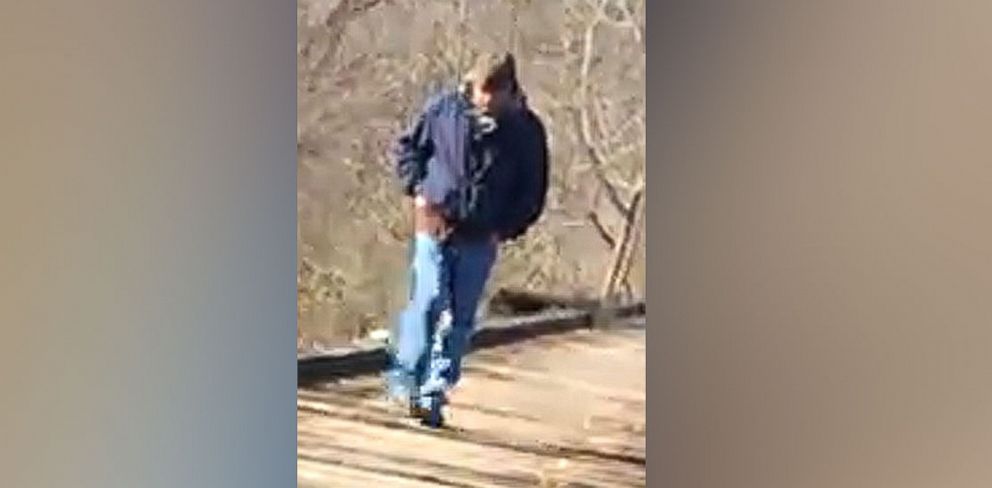 On Thursday, Libby's grandfather, Mike Patty, made a heartfelt plea to the public for help identifying the suspect.
"Look for someone who has recently changed their appearance ... If you think it could be but then say, 'No, he's not like that,' go with your initial instinct," he said. "Let law enforcement ... make that determination.
"However small it may seem ... please, we need your help."
In this tight-knit community, dubbed by the local sheriff as "small-town USA," Main Street runs through the center, with the jail, city courthouse and a cozy library all located within walking distance of each other. A network of trails surrounds Delphi, and here, everyone knows everyone.
But with little progress on the case over the past month, the residents of this town of nearly 3,000 people are on edge and struggling to cope knowing the person or persons responsible are still at large.
As thousands of tips have poured in and a reward for information leading to an arrest in the case has grown to more than $224,000, police have said they are confident they will get justice for the two girls and their families.
Bright futures cut short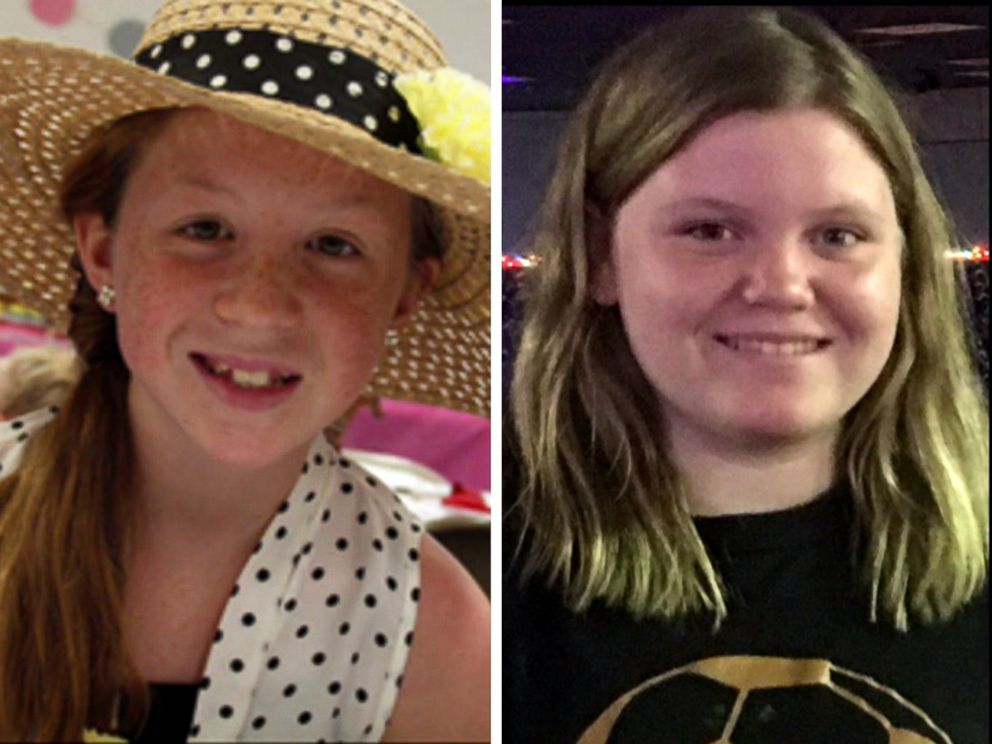 Arika Gibson said she first met Libby in kindergarten. As teens and classmates at Delphi Community Middle School, they remained close; they played volleyball and softball together, and this year, they were in science bowl, she said.
"[Libby] was my locker buddy," Arika told ABC News. "We were by each other every single day ... she was considered my twin because we look so much alike. My dad, her grandpa and grandma got us mixed up."
Arika described Libby, 14, as a "band geek," and said she was outgoing and smart. "Libby didn't like math but was very good at it," Arika said. "She had the answer within seconds." But Libby "was huge on science. … Our science teacher... inspired her to be a science teacher."
Libby was also close to her family. "[She] loved her mom so much," Arika said, and was a shoulder to cry on for her big sister. "They'd do everything together."
Arika met Abby, 13, in fifth grade. Abby was "quiet in front of people, but she was not quiet at all in front of [our group of friends]," Arika recalled. Abby "didn't speak much in front of people, but when she did, her words meant more than words."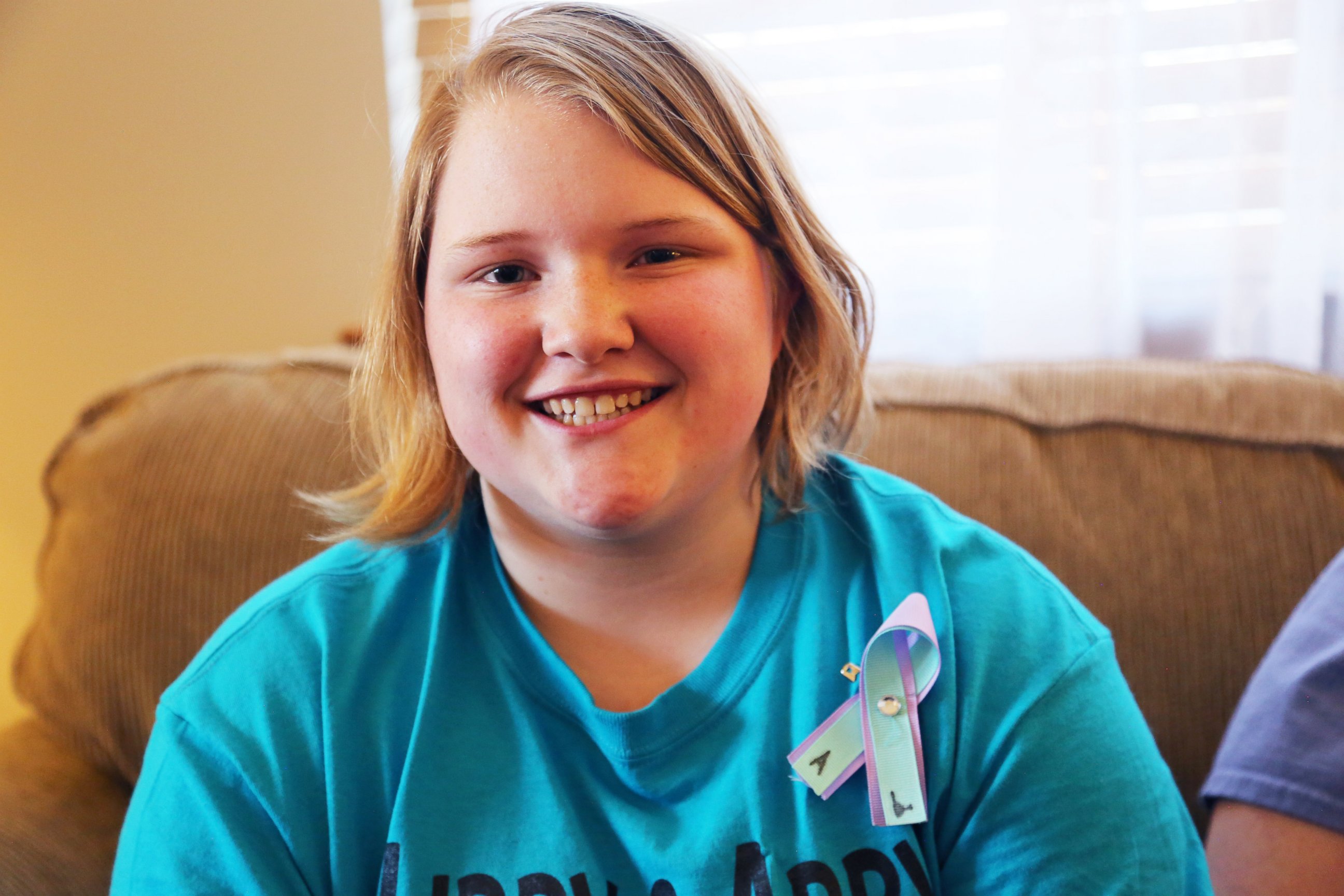 Abby and Libby's friendship blossomed on the seventh-grade volleyball team, Arika said, and as they headed into eighth grade, Abby and Libby "became best friends."
The week before the girls' Feb. 13 disappearance, the eighth-graders took a tour of the high school. Arika said she and Abby "went to the criminal justice area" at the school because they "both had the same dream of doing something within forensics and police work."
"She wanted to help people," Arika said. "We talked about it all the time in school."
A devastating discovery
The hiking trail where Abby and Libby spent their final day is off the beaten path. It's a narrow road, lined by stripped trees and littered with leaves and gravel. The temperature reached a high of just 43 degrees on that Feb. 13 day.
The girls were dropped off at the trail at 1 p.m. and were supposed to be picked up at 5:30 p.m., but they never showed, according to Indiana State Police.
When they were found dead the next day, the small community was stunned, Jake Adams, director of Delphi's community development, told ABC News.
"Nobody believed that this would happen in the community," he said. "Everybody was kind of searching for answers -- and still are."
The trail system in Delphi covers just over 12 miles and is the "heart ... of our city," said Adams. To his knowledge, there's never been any concern about security on the trails, and he said children commonly walk them without supervision.
The trail where Abby and Libby went missing is usually pretty busy, Arika added.
"It's out in the middle of nowhere," she said, "but it's a nice walk down. My sister had her senior pictures taken there. … [It's a] great place for pictures."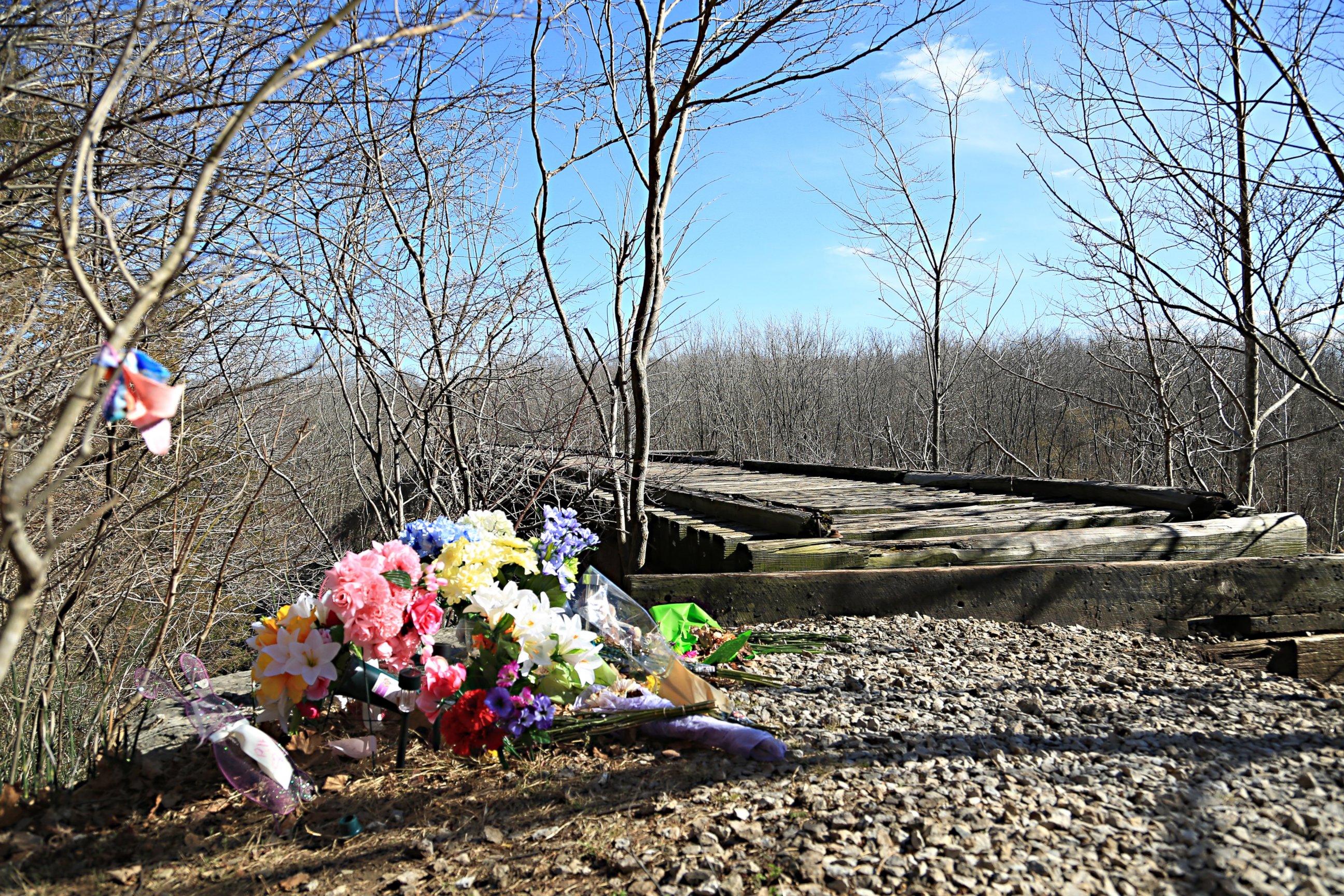 A makeshift memorial has sprung up on the trail as a tribute to the girls.
It sits at the head of an abandoned railroad trestle that stretches across a creek far below, and it's where Abby and Libby snapped a photo on the day they disappeared.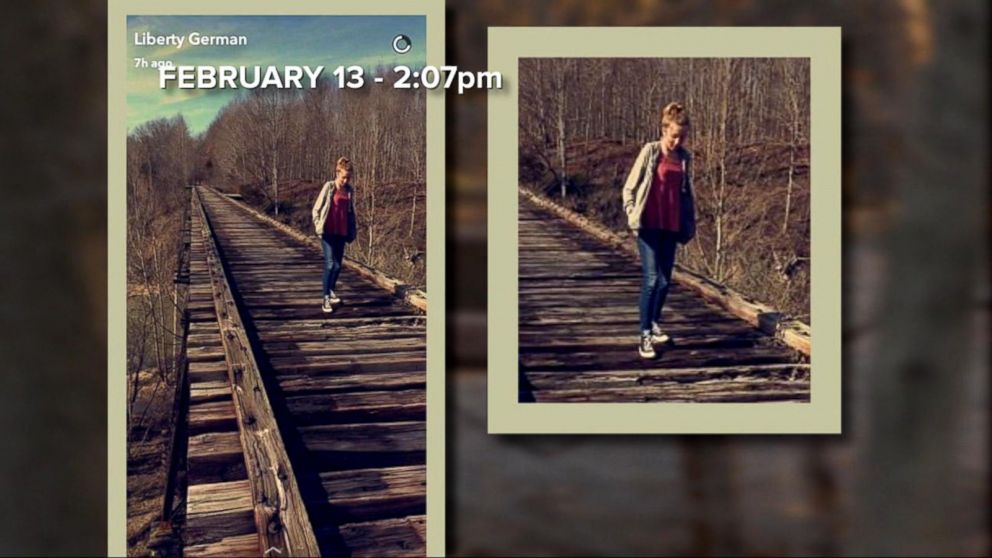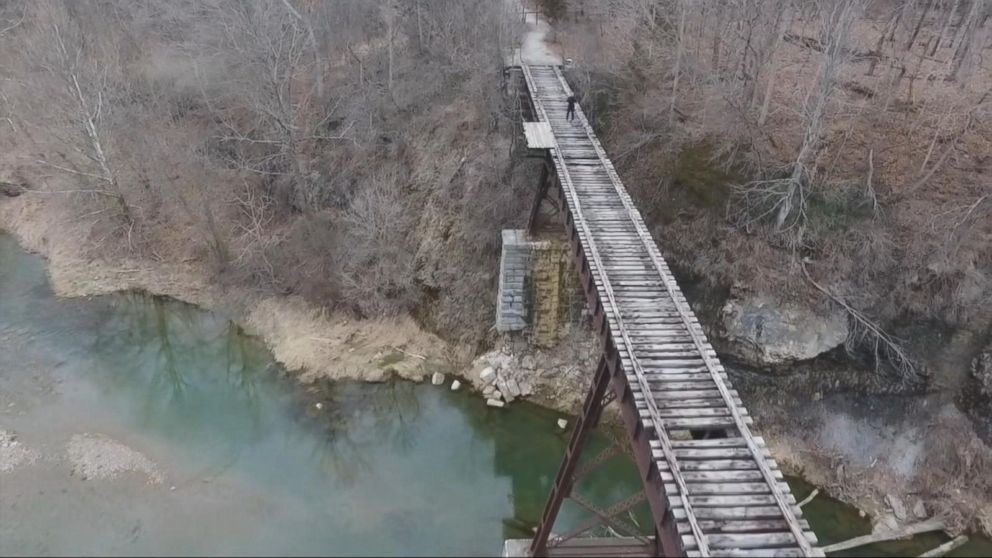 Donna Walker, who lives near Delphi, said she didn't know the girls, but nonetheless, she came to the trail Thursday to pay her respects.
"This is a small community -- I was just shocked that anything like that would happen here," she said.
Walker, who was joined by her friend Kim Marchese, brought two teddy bears and placed them delicately among the colorful display of flowers and balloons already there. Marchese left the girls an Easter bunny for the upcoming holiday.
"When my kids were little, they walked over here," Marchese told ABC News. "They did everything without a parent, unsupervised."
But the murders have shaken the community's confidence, Marchese added.
"It takes the peaceful out of our towns," she said. "It rips our community's sense of security." Now, she said, she's afraid to walk the trails solo.
"You just don't dream it would happen in your backyard," Walker added.
And with the girls' killer or killers still at large, the two women said they worry that someone else could be next.
When she attended a memorial motorcycle ride for Abby and Libby last month, Marchese said, "I had a feeling [the killer] was there … that he was watching all these people."
For now, the women said, they're sleeping with guns by their beds.
Catching a killer
Despite the lack of progress on the investigation thus far, Sgt. John Perrine of the Indiana State Police told reporters this week that he's confident authorities will track down the person or persons responsible for Abby and Libby's murders.
Perrine told ABC News this is an "all hands on deck" investigation with more than two dozen law enforcement agencies involved, including the FBI, "because we want to bring justice to Libby and Abby's families."
For now, the girls' causes of death have not been released, Perrine said, because authorities need to keep some evidence "close to the vest for investigators to use as they talk to people, interrogate people."
He said that evidence other than the audio recording has been recovered, but could not elaborate on that evidence and could not say if more evidence will be made public in the near future.
"At this point, we just have to be very careful because we cannot get this wrong. We cannot fail on this case," Perrine said. "We have to find the person responsible for murdering Abby and Libby."
Perrine said Delphi residents have a sense of loyalty and community and have "a sense of urgency" to get this crime solved. Perrine called the reward — which has soared to $224,000 — "incredible." He said community members have made donations as small as $5 or $10, while a larger contribution was made to the reward fund by two more prominent Indiana figures: former Indianapolis Colts punter Pat McAfee and team owner Jim Irsay.
"I think a lot of people feel a responsibility to do something," Perrine said. "There might be somebody out there whose motivation would be to claim that reward and we want to make that available."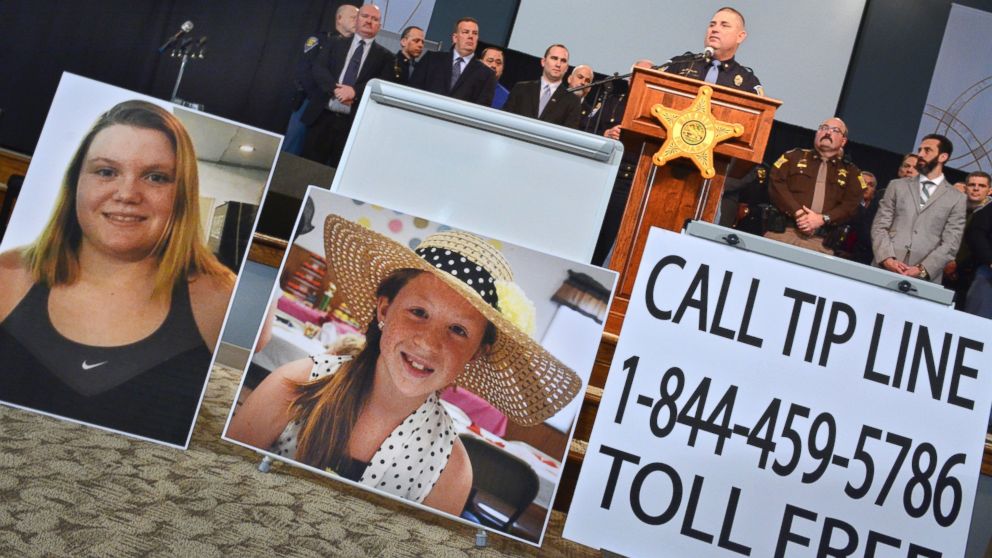 Meanwhile, as the investigation continues, local chaplains are there to support law enforcement because "a lot of us are getting emotionally attached to [this case]," Perrine said. "It's nice to have those people here to talk."
Each morning before the 9 a.m. law enforcement briefing, officers gather with Pastor Ed Selvidge, who is the chaplain for the Carroll County Sheriff's Office, for a morning prayer. Perrine said in that moment they ask for guidance, peace and justice and "reflect on why we're here and the greater cause we're working so hard to get to."
Selvidge told ABC News that while investigators are dealing with interviews and evidence, "I deal with not the head, but the heart." Selvidge isn't participating in the investigation, but he prays for law enforcement and helps officers through the ups and downs of dealing with such a traumatic crime.
"I try to discuss with people how things are going in their life, get their mind off of things just for a snippet of time," Selvidge said. "I feel that I have a vital role in helping them cope and helping them have the strength and energy and emotional resources they need."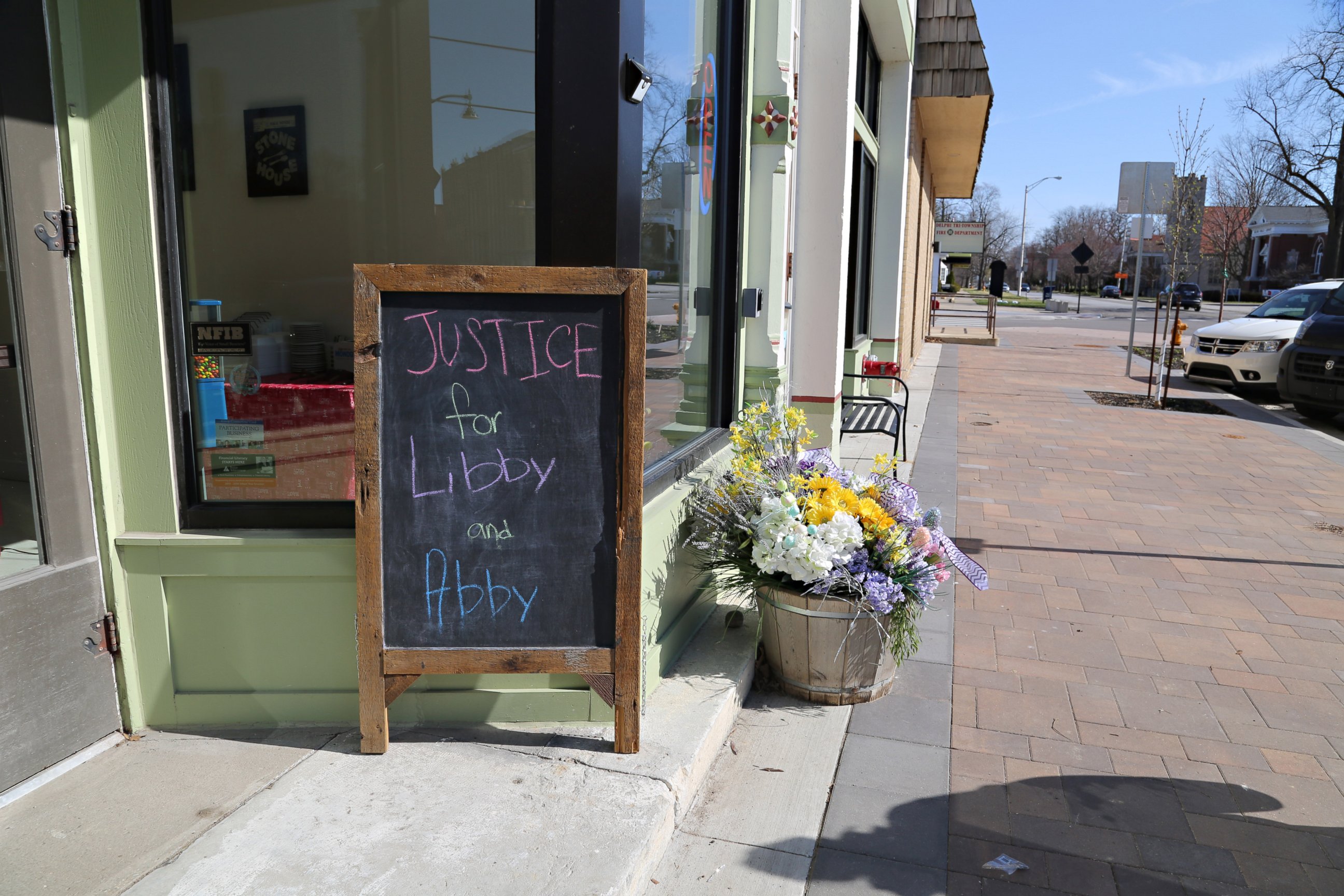 Carroll County Sheriff Tobe Leazenby told ABC News that he feels the morning prayer is key to keeping the investigation going.
"I am a man of faith and it's important to have that guidance from God. … I think that's part of what drives us and keeps us focused," he said. "This particular case, in my 30 years of experience, is not like anything I've seen before in my career. It's devastating."
Leazenby has a message for Abby and Libby's killer: "We will find you and there will be justice."
Finding peace
As the sun sets each night in Delphi, a subtle glow illuminates many houses in the small town.
Residents have been placing colorful lights outside their homes in solidarity with Abby and Libby.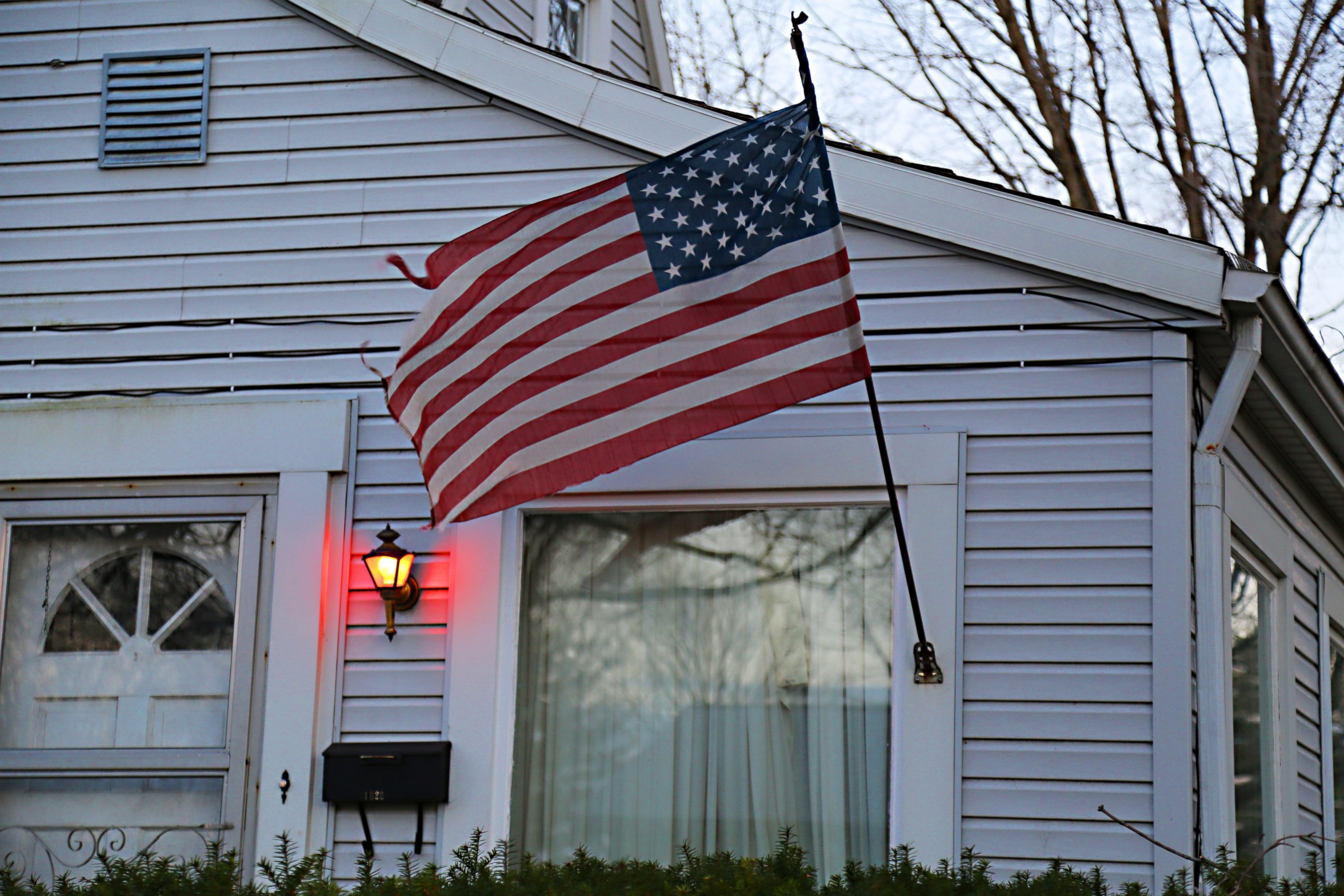 Adams, the director of Delphi's community development, said the lights signify unity. "It shows a true 'I understand what's going on and I'm showing my support for the community,'" he said.
At Delphi Community Middle School, school officials are doing what they can to help Abby and Libby's grieving classmates.
Greg Briles, the superintendent of schools for the Delphi Community School Corporation, told ABC News that grief dogs were available to students for two days after the girls' bodies were found, while the middle school library was turned into a counseling center.
"If a kid just broke down in the room and just needed to walk out, someone was there to walk out with them. And we did that for a better part of a week and a half," he said.
"It's sickening that someone could do something like this," Briles added. "But any of our students … know that we are here for them, know we will do anything and everything we can to protect them. … Not only the school but our resources officers, our county officers, our city officers ... if you need somebody we're here for you."
The death of her friends has changed Arika, she said.
"My life is gonna be different," she said. "This is something we can never get over."
But as Arika heals, she's making a vow. "I'm not gonna let this person take over my life and ruin everything I know and love after what has already happened," she said. "I'm going to try to live a normal life."
Arika said if she could say something to Abby and Libby now, she would express her gratitude.
"Thank you for teaching me so many lessons in my life. Thank you for changing who I was and thank you for making me a smarter person. … Thank you for being a great friend," Arika said.
"I hope I can follow your dreams for you."
People can provide information by calling the tip line at (844) 459-5786. Information can be reported anonymously. Tips can also be emailed to abbyandlibbytip@cacoshrf.com.