— -- Facebook chief operating officer Sheryl Sandberg has opened up about the group of childhood friends who helped her deal with the surprising loss of her husband last May.
"These amazing women have supported me since I was ten years old—through ups and downs, laughter and tears, life and now death," Sandberg wrote in a Facebook post today. "Together, we have been through adolescence, college, starting careers and families. They've advised me on everything—from what dress to wear to the prom to what job to take."
"They were part of the inspiration for 'Lean In Circles' and they are a big part of why I am able to smile again," wrote Sandberg, the founder of LeanIn.org, a foundation, "committed to offering women the ongoing inspiration and support to help them achieve their goals," according to its website.
Sandberg, a mother of two, writes that last New Year's, the 'Lean in Circle' she had formed with her childhood friends made a resolution to meditate daily.
Just months later, in May, Sandberg's world changed when her husband and father of her two children, Dave Goldberg, died at age 47. Goldberg, who was CEO of SurveyMonkey at the time, died after slipping and falling from a treadmill while the family was vacationing in Mexico.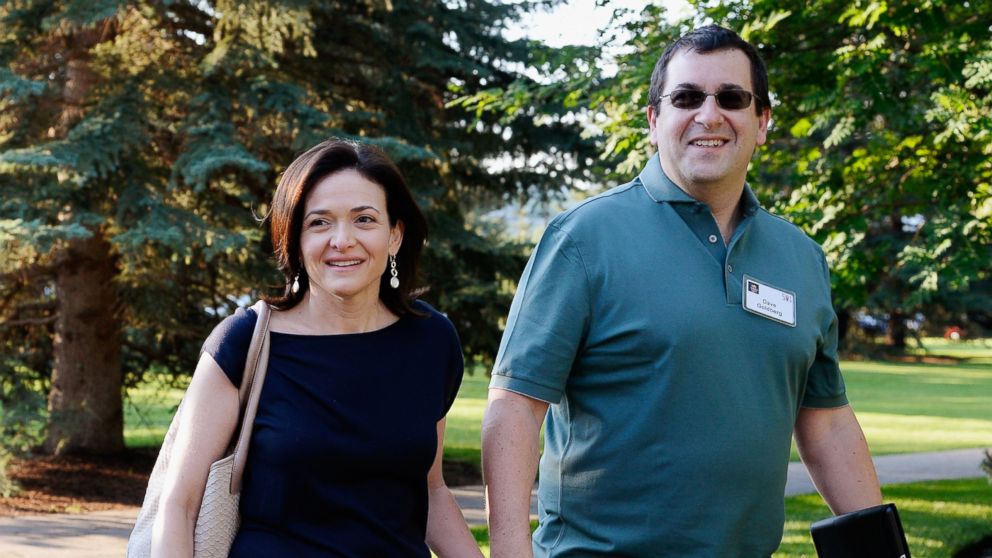 "When my husband, Dave, passed away last spring, my whole notion of plans crumpled," Sandberg wrote on Facebook. "I stopped trying to meditate, but my connection to this group of friends was one of the things that helped pull me through."
"They checked in daily. Even though they live across the country, they showed up early and often," she wrote of her girlfriends. "They did not just hold me as I cried—they cried with me. One day when I was feeling particularly alone and down, a card from one of them arrived in the mail. It said, 'One day she woke up and understood we're all in this together.' It has hung above my desk ever since."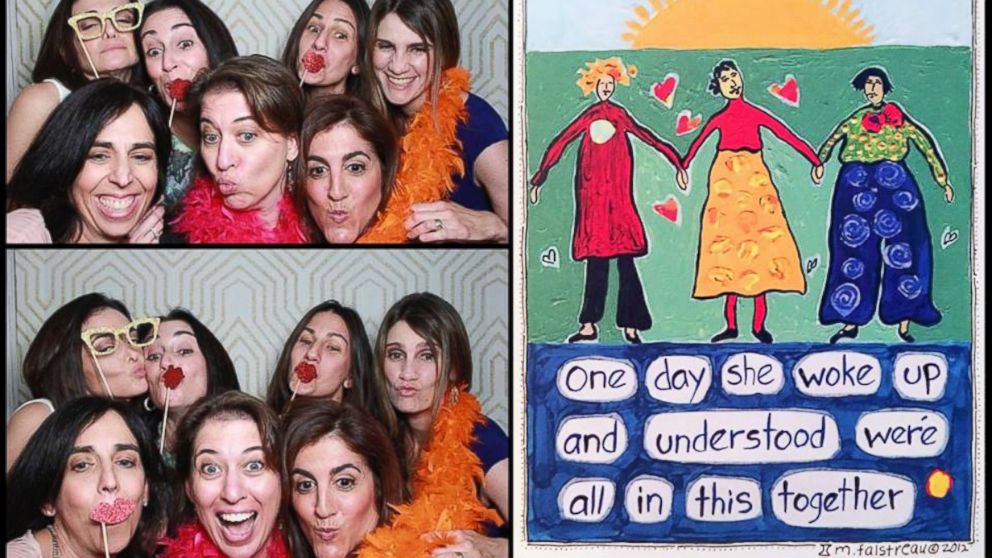 Sandberg, who also shared the card and photos of her childhood friends in the post, wrote that she believes everyone, especially women, "needs this kind of help and connection."
The Facebook leader said it was a friend, University of Pennsylvania professor Adam Grant, who inspired her New Year's resolution for 2016.
"When I first lost Dave, I felt overwhelmed with just getting through each day," Sandberg wrote. "My friend @Adam Grant suggested that every night before bed I write down three things I did well that day. I tried to do this, although some days I had such a hard time thinking of anything I did well that I'd end up listing 'Made a cup of tea.' But over time, focusing on things I'd done well helped me rebuild my confidence."
In 2016, Sandberg wrote that she plans to "write down three joyful moments each day."
"I want to choose life and meaning over death and tragedy and live Option B as best I can," Sandberg wrote, referring to a June Facebook post in which she pledged to do the best without Option A, her late husband Dave Goldberg.
"So I will try to focus on finding joy in the mundane and the profound—joy in the small things that make my children smile, joy in the moments of friendship that might otherwise pass by unnoticed, joy in the ability to appreciate the gift of life in a way I never did before," Sandberg wrote.
Sandberg also encouraged others, particularly women, to form their own "Lean In Circles" in the New Year.
"My 'Lean In Circle' will help me stick to my resolution and I will help them stick to theirs," she wrote. "Together, we are stronger than we are individually. And because of them, I know I am never alone."
Sheryl Sandberg is a member of the board for Disney, the parent company of ABC News.