— -- After putting their three children to bed in Bloomington, Minnesota, Ruun Abdi and her husband would stay up late, just to talk. He was the first man she met when she came to America and the two had been married nearly 17 years, but they never tired of laughing together.
"We'd drink tea together in the middle of the night, talking and laughing," Abdi, 45, told ABC News. "He was my best friend."
But on Oct. 14, as her husband, Ahmed Abdikarin Eyow, 52, checked into his hotel room on a visit to his native Mogadishu, Somalia, a truck bomb went off near the Safari Hotel, killing more than 350 people and injuring more than hundreds of others. At least two victims, including Eyow, were U.S. citizens, according to the State Department.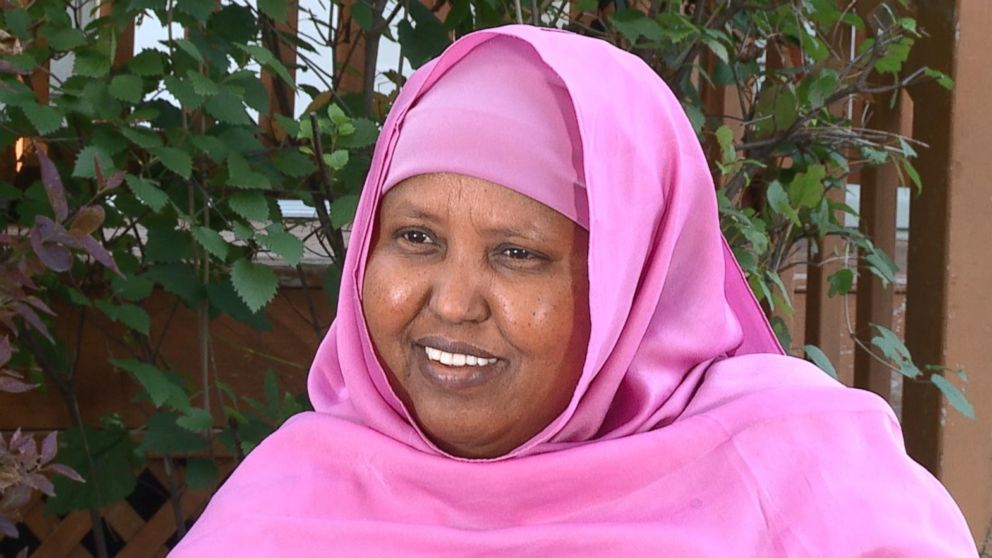 Eyow, a Muslim and a Somalian refugee, had been in the city only a few hours when he died in the blast. Abdi, also a U.S. citizen, said she was in the parking lot of the Islamic center in Bloomington when her brother-in-law called to tell her the news.
"He said, 'Something happened to the hotel where Ahmed was and people over there they can't find him.' And at that time, my world just crashed. I couldn't move, I couldn't drive the car. I just stopped the car and I started calling people," she said.
"We waited and waited and waited and waited until around six o'clock. Finally, we get the call and they say they find his body."
Al-Shabab, which pledged allegiance to al-Qaeda in 2012, was blamed for the Mogadishu bombing. It was the deadliest attack in the country's history, but far from the only one.
Al-Shabab, an international terrorist group, launched an insurgency on major cities in Somalia beginning in 2009. Although it has lost control of many urban centers and towns, the group has continued to carry out deadly attacks in the northern part of the country.
Among those killed in the Oct. 14 bombing were Somali-Americans like Eyow. After fleeing as refugees, many of them resettled in Minnesota, which is home to the largest Somali community in the United States, according to census data. Nearly 74,000 people in Minnesota speak some Somali, according to estimates released by the U.S. Census Bureau.
"We know at least 200 families or 200 individuals in our community have lost a relative in this bombing, whether it's a first cousin or a relative, or a distant cousin," Jaylani Hussein, the executive director for the Council on American Islamic Relations in Minnesota, told ABC News. "It's not just relatives, but it's also close friends."
Like many in the Somalian diaspora, Eyow had returned to his home country to fulfill a dream, his wife said. He wanted "one day to open a library where the kids can go and read and talk about books instead of talking about war and guns," Abdi added.
War and guns have consumed much of the East African nation's recent past. Clan warlords battling for power carved up the country after the collapse of a military dictatorship in the early 1990s. After years of interim authority, an internationally backed federal government was installed in 2012. In February, Somalia elected its first president in decades.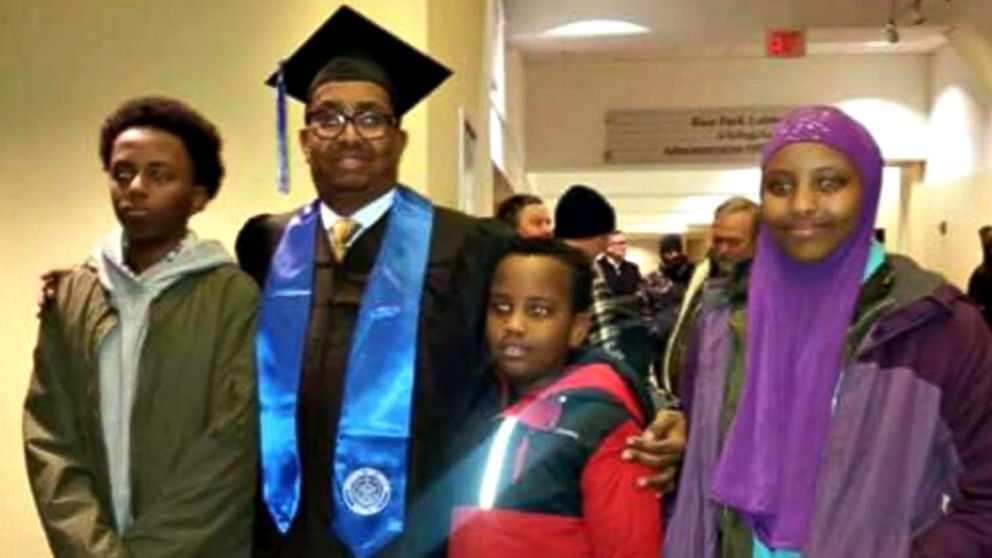 But the federal government has failed to assert central authority over the entire nation which, combined with high youth unemployment, has created a niche for piracy and armed groups such as al-Shabab. This latest attack could be an indication of the power the group, whose name means "the youth," still wields.
Somalia's turbulent history shaped Eyow's life profoundly. When the country's government collapsed in 1991, he became a refugee, first fleeing to Eritrea and then eventually making his way to the United States in 1998. He settled in the Somali-American community in Minnesota, where he met and married Abdi.
He graduated with a bachelor's degree in human services last year and was working as a welder to support his young family, his wife said. He dreamed of continuing his studies.
Eyow's decision to get a university degree was also a way to set an example for the couple's two sons, Yunus, 14, and Yahya, 10, and daughter, Yusra, 13. "He believed education is everything," his wife said.
His children remember him as someone who always made sure they did their homework. Even as he visited family in Kenya before returning to Somalia this month, he would check in on his children's studies, which Yusra Eyow remembers well.
"When he was in Kenya, he would call me, 'Oh you have a missing homework.' I said, 'I turned it in,' and then he would check again and then it would say turned in, and he'd say, 'But it's late.' He'd remind me not to turn it in late again," she said.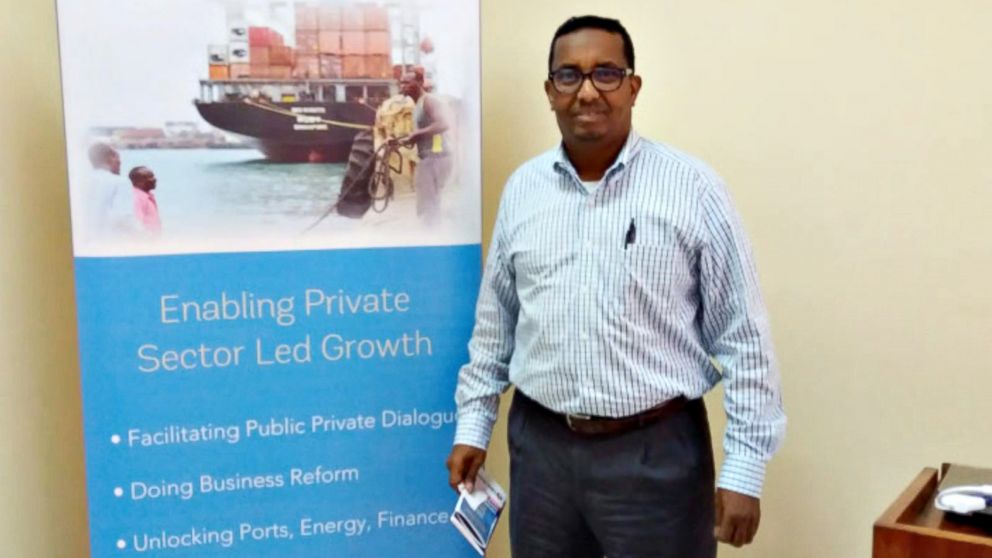 And despite the fact that he sometimes worked until midnight, his wife said, he also found time to have fun with his children.
"My dad taught me how to kick a soccer ball," Yayha Eyow said. "He wanted me to be a soccer player."
His wife said, "He was living the American dream. He'd always tell me, 'I have a house, I have a car, I have a job and I have children.' He came to this country with nothing and then he built this life."
Like many Somali-Americans, Eyow never forgot where he came from or stopped trying to help the people there. He thought education could help rebuild Somalia, too. He wanted to get a master's degree in human services, and then he planned to go back and build the library, his wife said. He thought he could help Somalia by applying for a job as a representative with the United Nations as well.
Somalia has one of the world's lowest enrollment rates for primary school-aged children, according to UNICEF. Just 30 percent of children in Somalia are enrolled in school across the country, and 18 percent of children in rural areas attend school.
In many areas across Somalia, parents are required to pay for their children's education and the extremely high rates of poverty make it difficult for them to afford school fees, according to UNICEF.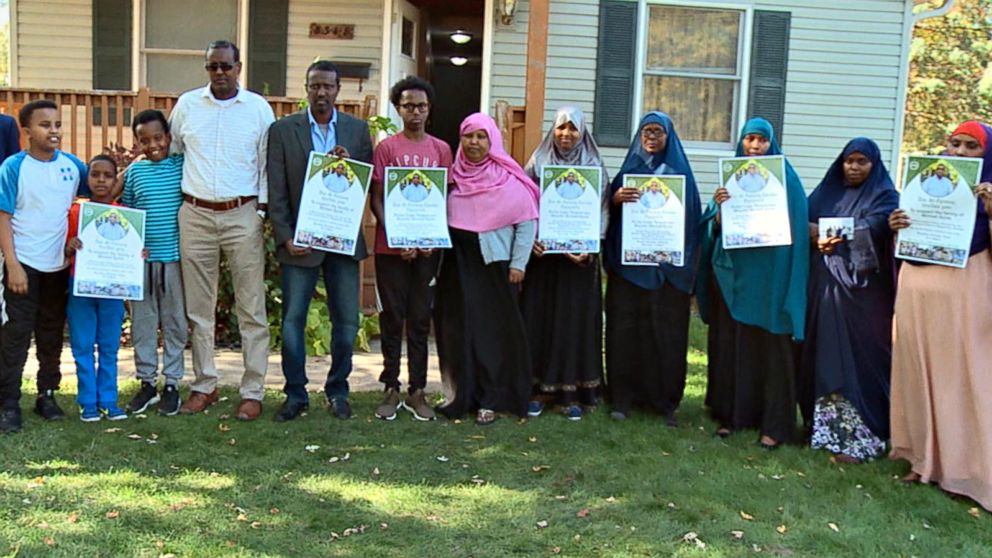 Eyow dreamed of helping those children get an education so they could lift up their nation. In addition to the library, he also hoped to build a place where they could simply be children, with playgrounds, basketball courts, and even a pool.
"Mr. Eyow is what I would consider to be really a great example of what a new immigrant American success story looks like," Hussein, the executive director for the Council on American Islamic Relations in Minnesota, said. "He was someone doing everything you want someone to do -- to take a foothold in their new home, to be successful, to strive, and then to also not forget those who he has left behind."
Since his death, his wife said she has faced the uncertainty of how to make ends meet. The Dar Al-Farooq Islamic Center in Bloomington, where the family attends services, has set up a GoFundMe page to help support them.
"I'm sad and I'm mad, I'm everything. I'm devastated," Abdi said. "He wasn't only my husband, he was my best friend."
For his family, it's about keeping his memory and his legacy alive.
"He was a wonderful man: great father, great husband, great human being," Abdi said. "Somali people, we all have that dream to go back to the country and to help those people who need it."
ABC News' Lindsey Jacobson contributed to this report.