Storms head toward Midwest, mid-Atlantic; fire threat high in West
The threat of fire exists across much of the Southwest.
Several clusters of scattered strong storms are moving along a stalled frontal boundary that stretches from Minnesota to Virginia. These strong storms may form at various times during the day -- especially during the late afternoon as temperatures heat up.
A line of strong storms is moving through central and eastern Nebraska. Both Lincoln, Nebraska, and Grand Island, Nebraska, reported wind gusts of 74 mph on Saturday morning, but the storms will lose some intensity during the morning hours.
Another cluster of storms is moving through northern Illinois and nearing the Chicago metropolitan area. These storms are moving slowly and dumping very heavy rain over parts of the region. Rainfall of 1 to 2 inches have already been estimated by radar in the Rockford area.
Rainfall rates could exceed 2 inches per hour through Saturday morning. Localized flash flooding is a possibility in northern Illinois this morning.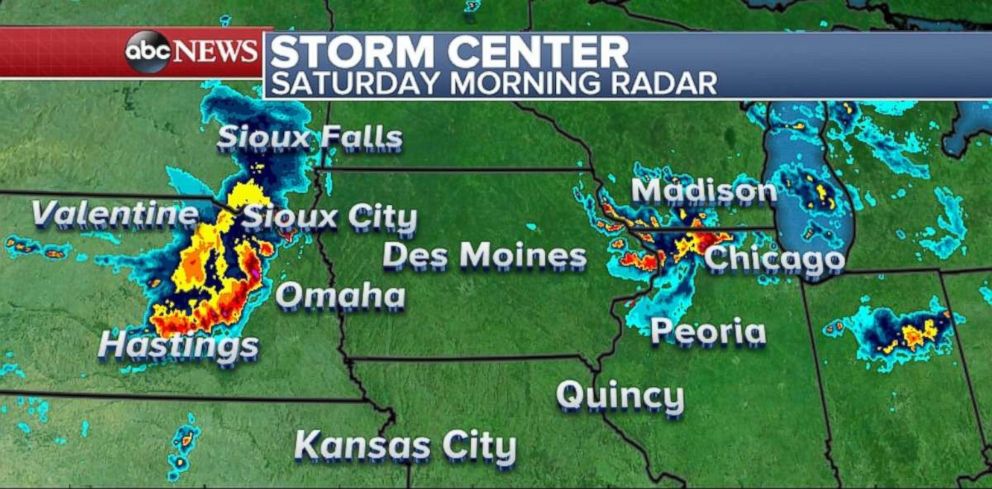 While the storms stretching across the frontal boundary could have strong gusty winds the predominant threat comes from their slow-moving nature. Nearly 2 to 3 inches of rain is forecast for much of the Midwest and mid-Atlantic with locally higher amounts. Northern Illinois, southeast Minnesota, parts of Maryland, and Virginia are most at-risk. Flash flooding is possible through the weekend in this region.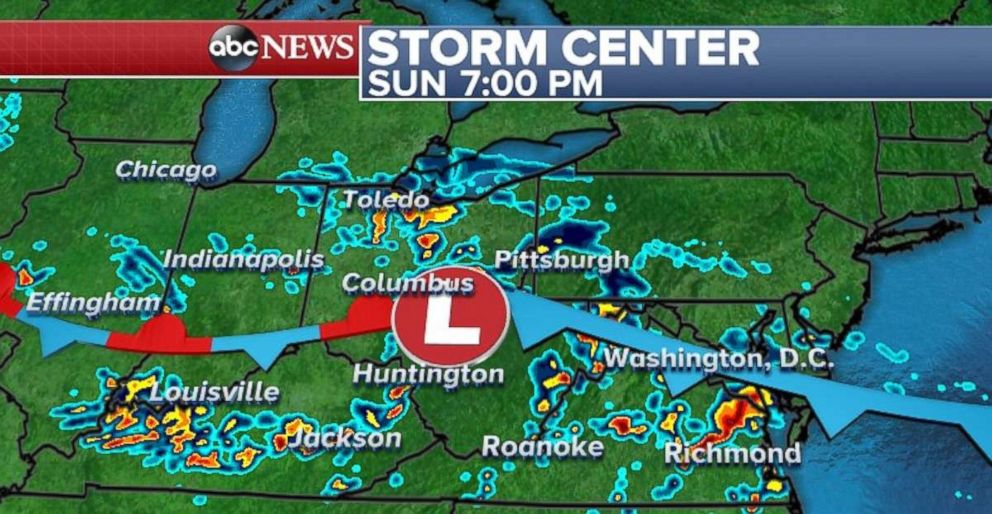 This round of rain comes after Maryland saw its wettest May on record, and Virginia's sixth-wettest May on record.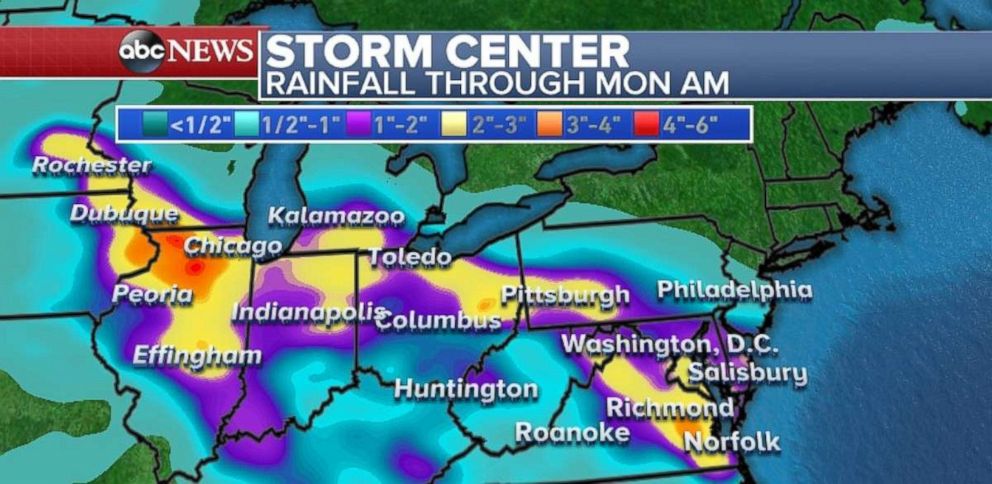 Severe weather threat
The severe weather threat Saturday is concentrated over Montana, where gusty winds and some hail is possible. Tomorrow, this system slides off to the east and the severe threat moves into the Dakotas with damaging winds and large hail likely again. By Monday, the severe threat will make it to parts of the central Plains and Midwest, including Kansas City, Missouri, and Des Moines, Iowa. Damaging winds, large hail and brief tornadoes are possible in the slight risk area on Monday.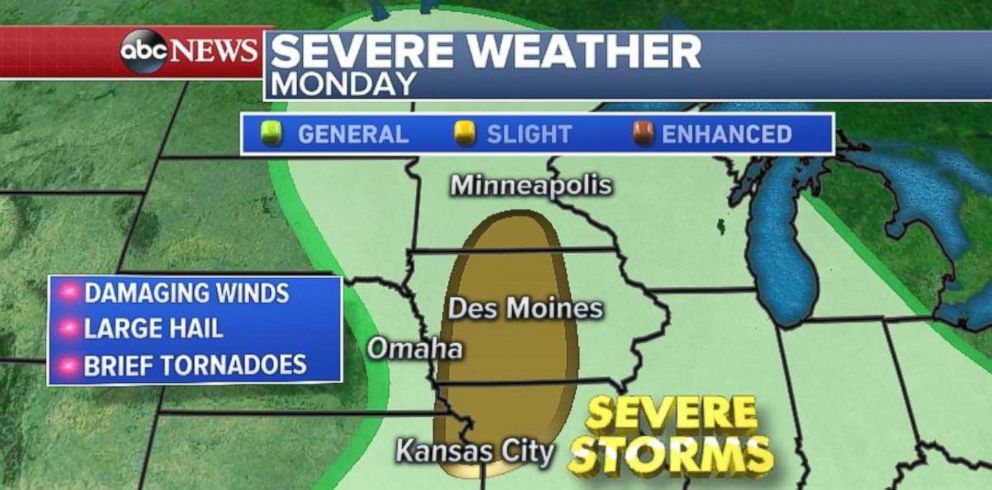 Critical fire danger
As of Friday, the 416 fire in southwest Colorado had grown to 7,180 acres and is just 10 percent contained. The fire grew more than 2,000 acres on Thursday. Officials say no structures have been burned yet, but several new evacuation orders were issued on Friday as officials try to bring the containment up.
Above average temperatures, gusty winds and low relative humidity will bring the potential for fire danger for much of the western U.S. this weekend.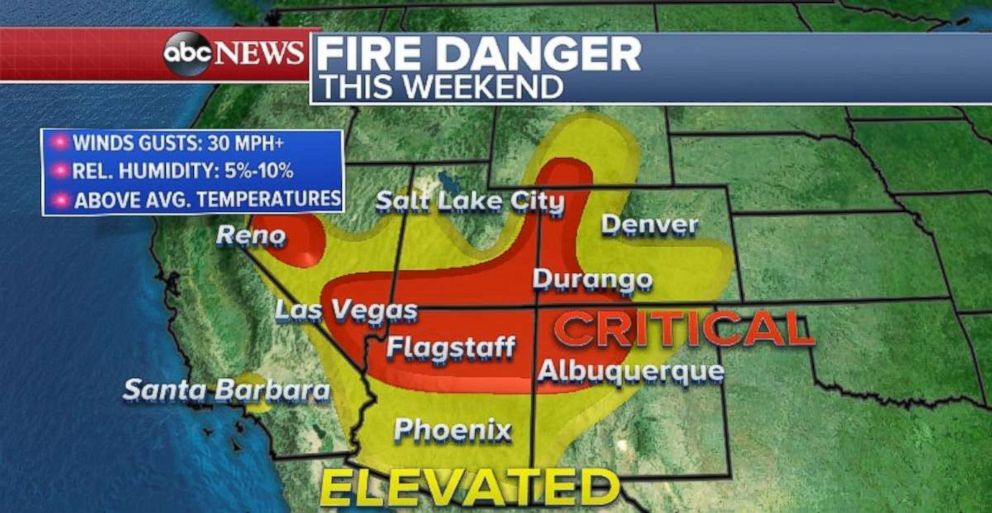 Wind gusts could exceed 30 mph with localized gusts over 50 mph in higher elevations and relative humidity could be as low as 5 percent. Therefore fire weather watches, red flag warnings and wind advisories have been issued for parts of the region, including Santa Barbara, California; Las Vegas; Flagstaff, Arizona; and parts of the greater Salt Lake City and Denver areas.
Given that there are a number of both small and large wildfires in the West, these weather conditions could cause rapid fire spread and development.