They were unlikely suspects -- two 16-year-olds arrested for allegedly masterminding a child prostitution ring. But one of them is adamant that she was not a madam.
In a jailhouse interview given to ABC's Phoenix affiliate, Tatianna Tye disputed the police allegations that she led a ring of at least five girls, recruited from area schools.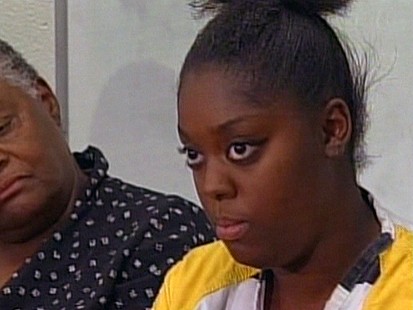 "I would just never do that,"
she told the affiliate
, although she did not deny being involved in prostitution. "I would never, ever, ever put someone in that position."
Police say Tatianna and Jazmine Finley recruited girls between the ages of 13 and 17 to work an area of Phoenix known for prostitution. They were even able to rent an apartment, where they often brought girls to work, Phoenix police Sgt. Andy Hill told ABCNews.com.
"She's not even capable of doing something like that," said Tatianna's grandmother, Linda Tye.
In her jailhouse interview, Tatianna said she had followed Finley into making some bad decisions.
"She was like 'What kind of friend are you, just leaving me by myself' and stuff like that so that's how I felt. She told me if I left that's like me leaving her by herself," she said. "Being a follower, not a leader, following whatever Finley does and those were bad things."
Teen Child Prostitution Ring
Hill said police began investigating the ring back in September.
"Our patrol officers were out there working and found there were some child prostitutes working in town," he said.
With children, he said, it's not as simple as interrogating them. While Hill declined to say exactly how investigators came to believe that Tatianna and Finley were responsible for prostituting the girls, he said there was enough evidence to arrest them.
"It takes awhile," he said of working with the child prostitutes. "You have to build trust."
Finley, arrested first on Feb. 17, was charged with nine counts of child prostitution, one count of pandering and two counts of receiving earnings from a prostitute. Tatianna, arrested on Feb. 19, was charged with one count of child prostitution and three counts of pandering.
Hill said that while typical pimps often recruit young girls by trolling malls and promising them gifts, Tatianna and Finley allegedly recruited their workers at area high schools, though no crimes took place on school grounds. Each prostitute would make up to several hundred dollars a night and the two teens would take a cut of their earnings, though Hill could not say how much.
Messages left with Finley's attorney, a public defender, were not immediately returned. Finley's legal guardian denied her an interview with the ABC affiliate.
Help for Tatianna
Tye, who has raised Tatianna from infancy, knew her granddaughter was headed for trouble but insists she shouldn't have been arrested in the case.
"I knew she was running around and doing things –- not things that, like that," Tye said of her granddaughter, whom she called "hard-headed."
At the time of her arrest, Tye said, Tatianna was hiding out from juvenile court officials who had taken her into custody after she repeatedly ran away from home.
Tye said the family wasn't happy when Tatianna got the apartment with Finley, whom she'd been friends with for about a year. Tye said they visited the teen there once and, after finding a bunch of boys there, took her to live with an aunt.
But Tatianna wanted to live with Finley at the apartment away from the family's rules, Tye said.
Hill said police were looking into how two 16-year-old girls were able to rent an apartment on their own. He would not release the name of the building's management or the address, but Tye said the apartment was in Finley's name.
Tye said she's hoping that her granddaughter will be able to receive a psychiatric evaluation while in custody.
"I want Tatianna to get the help she needs," she said.
Hill said that while it was unusual to bust two teenage girls for running a prostitution ring, he couldn't say it was shocking.
"When you're dealing with child prostitution," he said, "there's really no surprises anymore."