Drew Peterson's arraignment on charges of murdering his third wife was cut short today when prosecutors made a surprise request for a new judge to oversee the case.
Peterson, a former police sergeant, pleaded not guilty to first-degree murder charges in the 2004 death of Kathleen Savio, whose body was found in her empty bathtub with a gash in the back of her head. He will remain jailed on $20 million bond until at least Thursday, when a hearing will be held on the prosecution's request for a new judge.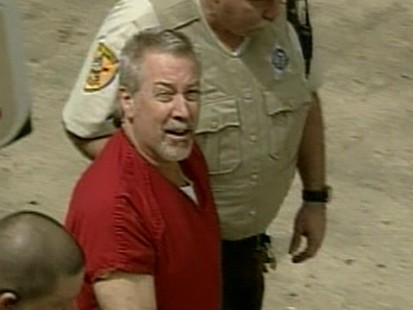 Peterson's attorneys were unable to request a reduction in his bond today, after the prosecution asked Judge Richard Schoenstedt to be removed from the case, citing suspected bias against the state.
A spokesman for the Will County State's Attorney's Office declined to elaborate on the request.
In November, Schoenstedt dismissed felony gun charges against Peterson after prosecutors refused to give defense attorneys internal documents that described communication between the Illinois State Police and prosecutors. Those documents reportedly led to the decision to arrest Peterson on the gun charges.
After today's hearing, Peterson's attorney, Joel Brodsky, criticized prosecutors.
"A motion by the state for a substitution of judges is almost unheard of, extremely rare. And I just think it indicates to us the weakness of the state's factual position," he said. "It shows that they don't want to deal with this case on the facts, but want to try to get this case to a place where they're more comfortable, as opposed to having a judge or a trier of fact who's gonna listen to both sides."
Savio's death was initially ruled a drowning accident but a second autopsy, conducted in 2007 after the disappearance of Peterson's fourth wife, ruled it a homicide. Peterson is also a suspect in the disappearance of his fourth wife, Stacy Peterson.
Peterson has made headlines not only for his legal troubles but for his jokes about it.
"Drew's personality is, I'll say ... unique," Brodsky said earlier today on "Good Morning America." "But he's honest."
If Peterson does take the stand in his defense, Brodsky said he thinks that honesty would only help him. But finding an impartial jury, he said, could be difficult.
Peterson has said he expects to be found innocent of Savio's murder and has maintained a seemingly cavalier attitude toward his May 7 arrest.
As he was being led into court, Peterson, handcuffed and wearing a red jumpsuit, joked with reporters, saying, "What about this bling? Look at this bling. Three squares a day in this spiffy outfit. How can you beat that? Look at this bling. My God."
Even when he was first arrested, he joked, "I guess I should have returned those library books."
Last week, Peterson, who is being held at the Will County jail, defended his behavior.
"Well, there is no book written on how I'm supposed to act," Peterson told NBC's "Today" show. "Would it be better if I hid my head down and tried to hide my face and hunched over and tears in my eyes? I mean, no, that's just not me."
Drew Peterson Also Suspected in Disappearance of Stacy Peterson
Peterson is also considered a suspect in the disappearance of his fourth wife, Stacy. A law enforcement source said the special grand jury that indicted Peterson for Savio's death is continuing to hear evidence in the Stacy Peterson case.
If a murder indictment is handed down for the Stacy Peterson case, experts said it could vastly change the case against Drew Peterson.
"Then I think the prosecution will combine both cases, and each case will sort of feed off the other and will present a powerful picture to both a trial judge and a jury that this guy is a serial murderer," legal analyst Dana Cole told ABC's "Good Morning America" last week.
Peterson told "Today" that he will "probably be found innocent" of Savio's murder. He has also repeatedly said he had nothing to do with Stacy Peterson's disappearance.
Joel Brodsky, has said he will ask to have Peterson's bond reduced. He has also said he expects to challenge a new Illinois state law that could prove vital to the prosecution's case.
Prosecutors are hoping they can enter into evidence writings from Savio when she was in the midst of her divorce from Peterson, that she feared her husband's "next step is to take my children away or kill me."
A new Illinois state law allows such statements only if the witness was killed to prevent him or her from testifying.
In the Stacy Peterson case, testimony from Thomas Morphey, Peterson's stepbrother, could be damaging. Morphey says he helped his stepbrother move a large blue barrel from Peterson's home on the last day Stacy Peterson was seen alive.
The day before he helped move the barrel, Morphey said Peterson confronted him. "He said, 'How much do you love me?'" Morphey told "Good Morning America" in March. "I said, 'I do.' And he said, 'Enough to kill for me?'"
Grand Jury Still Investigating Stacy Peterson Disappearance
Stacy Peterson has never been found, nor has the mysterious blue barrel.
Morphey was seen last week entering the Will County Court Annex Building, where the grand jury has been meeting for 18 months, according to the Chicago Tribune. The grand jury's term expires May 21. If the grand jury does not return an indictment, the investigation could continue with another panel.
Stacy Peterson's friends and family said after Peterson's arrest that seeing Peterson in handcuffs is bittersweet.
"It's a very hollow victory right now not knowing where Stacy is," said Sharon Bychowski, a friend of Stacy Peterson who lives next door to Drew Peterson. "We still have a ways to go. It wasn't quite the victory I thought it would be."
Pam Bosco, a friend and family spokesman, said the family "understands that it's ongoing and we just have to be patient with it."
Click here to let Chris Cuomo know what you think of this story.
The Associated Press contributed to this report.