A popular high school football coach in Iowa was killed this morning by a former player who was supposed to have been in a hospital for psychiatric evaluation.
Ed Thomas, 58, was in the Aplington-Parkersburg High School weight room at approximately 7:45 a.m. when 24-year-old Mark Becker allegedly came in and began firing a handgun, according to the Iowa Department of Public Safety.
The weight room was crowded with about 20 high school football players preparing for the fall season, but none of them were hurt.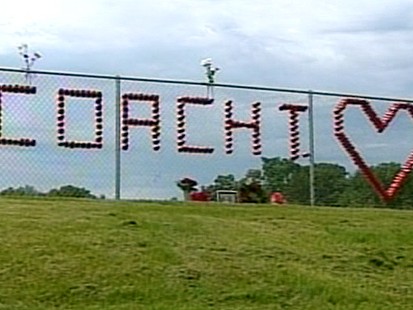 Becker has been charged with first-degree murder in the shooting death of Thomas and is currently being held at the Butler County jail. The shooter's motive is still unknown.
Becker is a former student of Aplington-Parkersburg High School and played on one of Thomas' football teams, officials said.
Kevin Winker, assistant director of the Iowa Divison of Criminal Investigation, told the Associated Press that Becker's "entire past is being looked at."
Becker was arrested without incident at his parents' home in Cedar Falls, Iowa.
The suspect was supposed to be taken to a hospital psychiatric unit after breaking into a neighbor's home and leading police on a high-speed car chase Saturday night, according to Jeff Jacobson, a special agent for the Iowa Division of Criminal Investigations.
Jacobson said that authorities decided early Sunday morning that Becker needed medical attention and took him to a hospital.
"Law enforcement requested prior notification before he was released," said Jacobson. "On Tuesday, June 23, Becker spent the night at his parents' home. Law enforcement was unaware he had been released."
Today's arrest is not the first time Becker has run into trouble with the law. Just last weekend, Becker was arrested for speeding and reckless driving, and earlier this year he pleaded guilty to assault, possession of drug paraphernalia and criminal mischief, according to online court documents. He was also charged with underage possession of alcohol in August 2004.
Calls to Thomas' family as well as to the school were not immediately returned.
At a press conference today, Thomas' 30-year-old son Aaron Thomas spoke on behalf of the family.
"Thanks everyone for the thoughts and prayers and concerns for our family," said Aaron Thomas.
"In the midst of our grief we are greatly appreciative of our friends and neighbors," he said. "Without a doubt we're going to miss him. I feel very fortunate to have been his son."
Ed Thomas' Son Says Pray for Shooter's Family
Aaron Thomas also asked for people to pray for the Becker family.
"We express our concern and compassion for the Becker family," said Aaron Thomas. "We ask that people pray for them as well and take time to comfort and be with them as they are also going through a lot."
School Superintendent Jon Thompson told the Des Moines Register that he was "thankful none of the other students were injured.
"I've sobbed. I've cried. I've hugged my son. It's a senseless deal," Thompson told the paper.
At a press conference earlier today, Thompson said that Thomas had several chances to leave the school for other coaching opportunities, but always declined the offers.
"Ed had chances to move on," said Thompson. "Ed would have gone on to the collegiate level or larger schools within our states or borders."
But instead of leaving the 1,000-person town of Parkersburg, Thomas became an even bigger part of the community.
"He said, 'Why would I want to go anywhere else? Everything I need is right here,'" said Thompson.
Thompson added that Thomas was a mentor to the entire Parkersburg community and overall, just an "outstanding man."
"It wasn't about wins or losses or football. It was about making them better young men," said Thompson. "He wanted them to be better husbands some day, better citizens."
The high school's football field is already named for Thomas, who is credited for campaigning for and succeeded at getting it rebuilt after last year's devastating tornado, which left six people dead and leveled the school.
Ed Thomas, Beloved Iowa Coach
With a career record of 292-84 in 37 seasons as a head coach, 34 of them at Aplington-Parkersburg, Thomas was one of the most well-known football coaches in Iowa, and had coached several players who later went on to play for the NFL.
In 2005, Thomas was named the NFL's High School Coach of the Year.
Casey Wiegmann of the Denver Broncos; Jared DeVries of the Detroit Lions; Brad Meester of the Jacksonville Jaguars and Aaron Kampman of the Green Bay Packers all played for Thomas at the high school where the shooting occurred.
Meester, at a press conference today, spoke about his former coach who he said had made a huge impact on his life.
"He's done so much for me, personally and professionally," said Meester. "It's not so much the X's and O's that he taught us about football, but it's the stuff that he taught us that pertains to real life, about being a man, that means so much."
DeVries walked off the Lions' practice field in Allen Park, Mich., toward the end of morning practice today visibly shaken.
In Green Bay, Wis., Kampman released a statement saying that he was mourning the death of Thomas, who was very special to him.
Kampman said in the statement that he views Thomas' greatest legacy as "the fact that he was a committed follower of Jesus Christ" who tried to exemplify his faith in the way he lived his life.
Iowa Gov. Chet Culver also issued a statement on Thomas' death.
"I couldn't be more shocked or saddened by the death of Coach Thomas. My thoughts and prayers are with Coach Thomas' family, the entire Parkersburg community, and all those who played for and loved this outstanding Iowan," said Culver.
"As a former high school football coach, I've always had great admiration and respect for Coach Thomas. The state and national coaching fraternity has suffered a devastating loss. As we mourn the passing of Coach Thomas, it is my hope we can all continue to learn from his example," said Culver.
Marilyn Ingalls, a longtime family friend, said that she was in shock over Thomas' death. "It's unbelievable," she said. "He was an inspiration to not just his boys but to a lot of people in town.
"He was a truly wonderful Christian person," added Ingalls. "He was a good husband, a good father, a good friend and he was a good man."
Perry Bernard, a soccer coach at the same high school where Thomas worked, described the mood in the neighborhood as "somber."
"It's just going to be so hard to continue on without him."
ABC News' Claudia Acosta and the Associated Press contributed to this report.