A friend of football star Steve McNair said there was no animosity between the former quarterback and his girlfriend two days before she shot and killed him, although police video shows McNair refusing to speak with her that night after she was arrested for drunken driving.
Police stopped McNair, 36, and girlfriend Sahel Kazemi, 20, in the early hours of Thursday, July 2. Kazemi, who was driving, was taken into custody and charged with DUI.
A dash cam video released by the Nashville Police Department shows Kazemi smiling and jovial in the back seat of a patrol car just moments after she was arrested.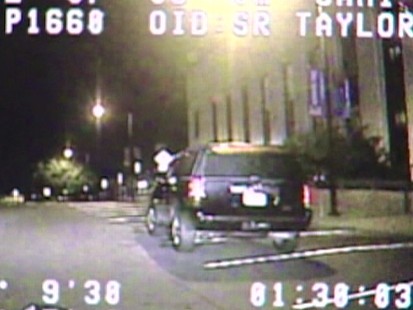 Kazemi is heard asking Officer Shawn Taylor repeatedly if her boyfriend,
former Tennessee Titans' quarterback McNair
, would speak to her before she was taken to jail. McNair, 36, had been in the passenger seat as Kazemi was driving.
Taylor told Kazemi that McNair "nodded his head" when he was told he could speak to his girlfriend before she was taken away.
"He's not happy," Taylor told Kazemi.
"What did he say?" asked Kazemi.
"Not much of anything," said Taylor.
McNair is never shown going to speak with his girlfriend and is later seen leaving the scene in a taxi.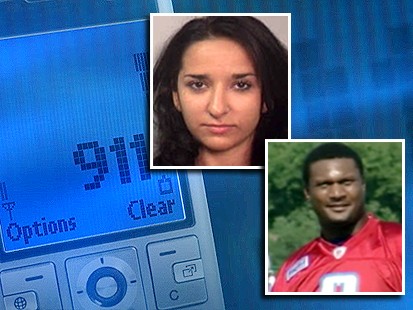 The recording of Kazemi and McNair is the last known recording of the couple, who died two days later when Kazemi shot McNair several times while he slept before turning the gun on herself.
Vent Gordon, a chef at McNair's restaurant, was in the car when police pulled the car over and told ABC News' Nashville affiliate WKRN that he had not witnessed any fighting between the couple leading up to the arrest.
"There was no animosity between them. They were just talking," Gordon said.
In a press conference Wednesday, the same day the footage was released, Police Chief Ronal Serpas said Kazemi shot McNair four times and that the football player was "unaware Kazemi was about to shoot him."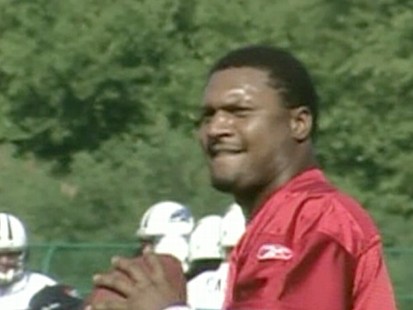 Serpas then said "Kazemi sat down on the sofa to McNair's right, put her pistol to the right side of her head and fired."
Police said that Kazemi had purchased the gun at 5 p.m. Thursday, July 2, just hours before she was pulled over by police and two days before she used the gun to kill McNair and herself.
Authorities believe that several recent events in Kazemi's life had left her "increasingly distraught," depite the fact that she had spoken to friends about how McNair had been planning to divorce his wife, Mechelle, for her.
McNair's Girlfriend Had Mounting Problems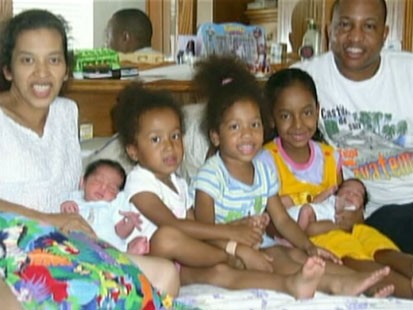 McNair met Kazemi six months ago at a Nasvhille sports bar where she was waitressing, according to The Associated Press.
Kazemi's roommate was moving out, leaving her to pay the full $1,000 monthly rent, according to police, and she suspected McNair of dating another woman. Detectives also learned that the sale of one of Kazemi's two cars had fallen through, leaving her liable for payments on both a Kia and a 2008 Cadillac Escalade.
On Monday, June 29, Kazemi told an associate that "her personal life was all screwed up," according to police. On Friday, July 3, a day after her DUI arrest, Kazemi told another co-worker at Dave & Buster's, where she worked, that her life was a "ball of sh*t."
Kazemi clocked out of work nearly three hours early that Friday night and went to the condominium McNair shared with a friend where she killed him hours later.
Calls made to McNair's mother, Lucille McNair, by ABCNews.com were not immediately returned. Lucille McNair told a Tennessee newspaper on the day following her son's death -- and before police found Kazemi responsible for the murder-suicide -- that the shooting was "the devil's work."
"I'm not mad. I am just grieving over my son. He was a great son. He was special,'' she told The Tennessean.