Police in Worcester, Mass., are searching for a fetus that was ripped from her mother's womb in a gruesome attack.
Darlene Haynes' mutilated body was found wrapped in bedding in a closet in her Southgate Street apartment Monday. She was eight months pregnant at the time of her death, police said, and they believe the body has been in the closet since Thursday.
At 8 months, there is a chance the fetus could still be alive, sending police on a frantic search in and around Worcester, about a 45-minute drive from Boston. Hazelhurst described the neighborhood where Haynes lived as "working class."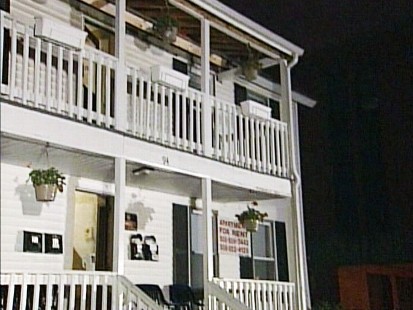 "We're searching everywhere," Worcester Police Sgt. Kerry Hazelhurst told ABCNews.com today. "There's many places where this child could be."
Hayne's great-aunt, Sanrda Grandmaison, told ABCNews.com that the baby was a little girl, due late next month.
"The name was going to be a surprise to us," she said.
The baby would have been Haynes' fourth daughter. She left behind Jasmine, 5, and Lilli, 3, who were being raised by Haynes' grandmother, and Christina, 1, who Haynes had custody of.
While the police have not yet named a suspect in the murder, Grandmaison said Darlene Haynes had problems with two men, her ex-boyfriend Roberto Rodriquez and her landlord William Thompson, who discovered her body.
Haynes had taken out a restraining order against Rodriguez, the father of the unborn child and her daughter Christina, more than three weeks ago. Grandmaison said Rodriguez had been abusive to her and to her grandmother, threatening to kill her grandmother if she tried to take custody of Christina.
Grandmaison said Thompson would sometimes let himself into her apartment unannounced. "He was just literally harassing her," she said.
But whoever killed Haynes and cut out her fetus, Grandmaison said, knew what they were doing. Christina, she said, was not found in the home with her mother's body and Worcester police have refused to tell her where they found the little girl.
"It was planned," she said. "It was worked out very carefully. They knew enough to take the baby out of the house."
Christina, she said, is now in the custody of Haynes' mother.
Grandmaison described Haynes as a loving mother who was friendly to strangers, and, she said, was severely developmentally disabled as a result of abuse as a young child.
Grandmaison estimated that Haynes functioned as a 12- or 13-year-old would- and had a hard time holding down a job.
But she loved her children, she said, adding that Haynes "never forgot the kids' birthdays, never forgot Christmas."
Where Is Darlene Haynes' Child?
The exact cause of death has not been released pending toxicology reports, but the medical examiner has ruled the death a homicide.
Grandmaison said it appeared that Haynes died from a blow to the head.
Neither Rodriguez or Thompson could immediately be reached.
"She was a nice girl. She had her problems, you know?" Rodriguez told Boston's ABC-TV affiliate WCVB. "But nobody deserves to go through what she went through."'
According to police, Thompson searched Haynes' home after getting complaints from neighbors about a foul smell coming from the apartment and found her in the closet.
He told the Boston Herald that he slept outside in his truck overnight and was waiting until police would let him go in and clean the apartment.
"It's too much," he told the Herald.
There has been a spate of similar grisly stories of pregnant women being attacked, their fetuses cut from their wombs. The attackers are typically other women who are desperate to have a child.
Last year, two Midwestern women were convicted of attacking women to steal their unborn children.
Other Pregnant Women Slain by Womb Raiders
One of them, Lisa Montgomery, was sentenced to death for killing Bobbie Jo Stinnett, 23.
Montgomery had gone to visit Stinnett at her Missouri home in 2004 under the guise of being interested in Stinnett's rat terrier puppies when she strangled the pregnant woman with a rope and used a kitchen knife to cut her baby girl from the womb.
The baby was found alive and later reunited with her father.
Last summer Phiengchai Sisouvanh Synhavong attacked expectant mother Araceli Gomez in Washington state, binding her hands and feet and cutting out her unborn son before stabbing Gomez to death.
The baby survived the attack and police say Synhavong later claimed the little boy was her own.