Just two months out of prison, Michael Vick is back in cleats on a professional football field.
His coach says the quarterback is in good physical shape. But his signing by the Eagles has split Philadelphia with many fans upset that a man who helped kill his underperforming fighting dogs is playing for their team.
"It just shows in Philly that crime pays," said a woman protesting outside of the Eagles practice today.
But she was one of just a half-dozen protestors here, a day after Vick apologized.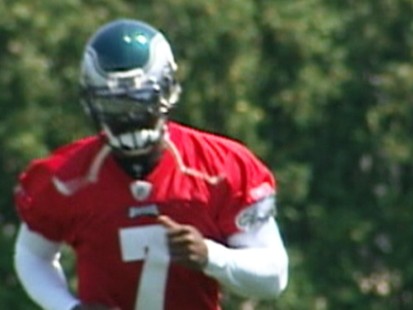 "I was wrong for what I did," Vick, 29 said Friday.
Vick, who was once the NFL's highest-paid player, was convicted in August 2007 of conspiracy and running a dog-fighting ring that brutally killed and tortured canines. He served 18 months of a 23-month sentence in federal prison before being released in May.
"I know I made mistakes and have done some terrible things and made a horrible mistake," Vick said. "And, now, I want to be a part of the solution and not the problem."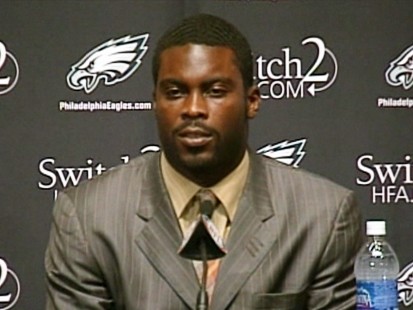 The Eagles are rolling the dice, gambling that Vick is truly a changed man.
"We're just a kind of micro of the city and really the world, our little football team, and I think people deep down are pulling for him," said Andy Reid, head coach of the Eagles. "Now it's important he does the right thing."
In the locker room, No. 7 is already getting support from his teammates.
"I just told him I'm here for him, and I'm happy to see him rebounding off his bad situation," said Asante Samuel, a cornerback with the Eagles.
"He's not just talking the talk," added Eagles linebacker Matt Wilhelm. "It seems heartfelt."
Not everybody was so moved.
People for the Ethical Treatment of Animals (PETA) released a statement on Vick's signing, criticizing the Eagles' decision.
"PETA and millions of decent football fans around the world are disappointed that the Philadelphia Eagles have chosen to sign a man who hanged dogs from trees, electrocuted them with jumper cables, held them underwater until they drowned in his swimming pool, and even threw his own family dogs into the fighting pit to be torn to shreds while he laughed," the statement read.
The Philadelphia Eagles announced its decision to sign Vick to a $1.6 million one-year deal with the team, with an option for a second year, late Thursday evening. Vick will be able to participate in team practices, meetings and two pre-season games but will not be eligible for full reinstatement until at least week six of the regular season.
"I now know that playing in the NFL is a privilege and not a right, and I want to do whatever is necessary to be the best ambassador to the NFL and the community," Vick said.
This day has been planned for nearly a year: a concerted, calculated effort to turn Vick from social outcast -- a scourge -- to repentant player.
"It's a strategic effort to help Michael Vick," said Judy Smith, a public relations crisis expert with Impact Strategies.
Smith, who handled White House intern Monica Lewinsky, put together a 45-page action plan with Vick's lawyer. It included a national TV interview and work with the Humane Society on an anti-dog fighting campaign.
Little was left to chance.
"He had to show remorse," Smith said. "He did."
Vick is getting his second chance, but many say there won't be a third chance in this city or in the NFL.