— -- Just before wrapping up his final class of the day, student Matthew Walker heard the sound of rapid gunfire outside his classroom at Stoneman Douglas High School.
"He was shooting through the glass in the door," Walker told ABC News of a gunman who turned his campus in Parkland, Florida, into the latest school mass shooting scene in America.
"It was really bad," said Matthew. "There were bullet holes everywhere. Everyone was freaking out. I did not see the shooter, but he did shoot through my class. He couldn't get inside because the door was locked."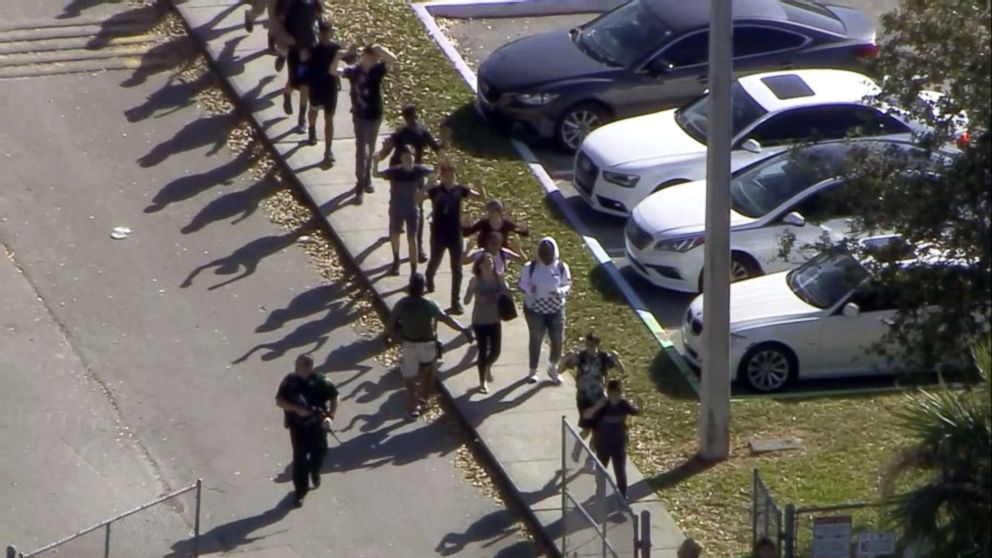 Matthew shared a video he took inside the classroom during the barrage of gunfire, in which students could be heard screaming, one yelling "Oh, my God!" as gunshots sounded in the background. Matthew said he heard 10 to 12 shots fired into his classroom before the shooter moved along on his path of carnage.
"He was just going from class to class, just shooting at random kids," Matthew said. "When the police were escorting me out of the building, there was a dead guy ... on the floor next to me. I'm blessed to be alive."
Broward County Sheriff Scott Israel called the shooting, a "horrific, homicidal, detestable act" committed by a former student at the school arrested near the campus and identified by multiple law enforcement sources as 19-year-old Nikolas Cruz. At least 17 people were killed in the high school shooting, according to officials.
Michael Katz, 15, told ABC News he heard a loud bang at 2:20 p.m. from what he initially thought was a garbage truck.
"It was really loud. Then I heard it again," Michael told ABC News. "Then I heard frantic screaming. I've never heard such loud screams in my life. Then we realized there was a shooting at my school."
He said his English teacher, Ms. Lyons, already had the classroom door locked, and was signaling with her hands for everyone to get down on the ground and stay silent. He said he heard gunshots coming in such a rapid succession he couldn't count them all.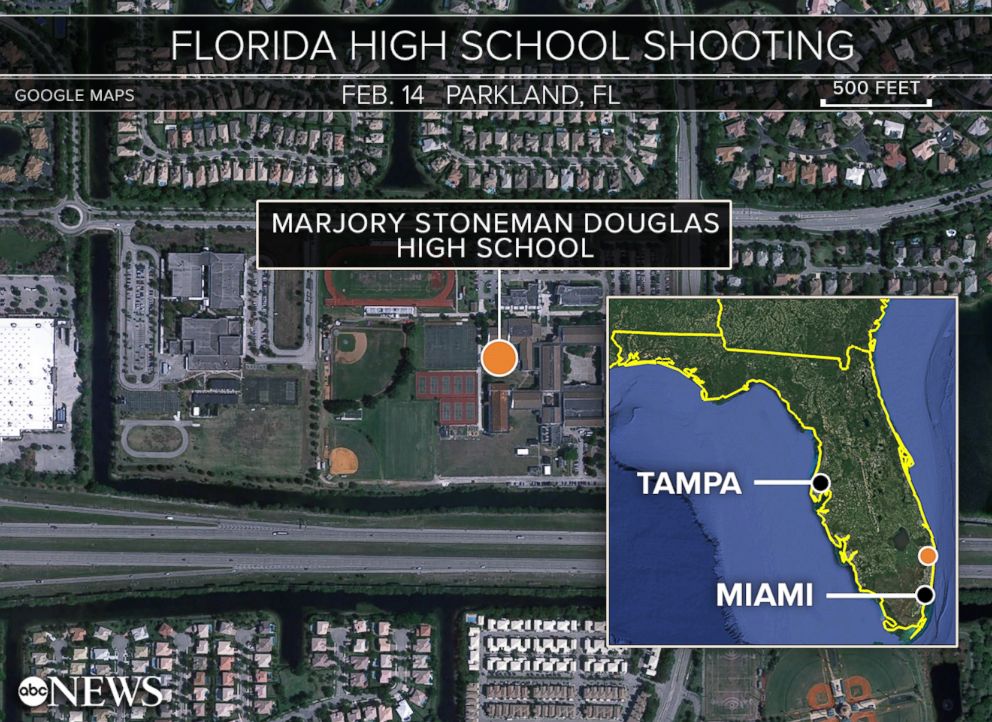 "Then I heard more and more shots, and I heard banging next door," Michael said. "My first instinct was to text my mom and dad and tell them that I loved them in case I was killed. Then I called 911. I just said there's an active shooter at Stoneman Douglas and hung up because I heard footsteps coming back toward our classroom."
He said several of the roughly 20 students in the class started to cry and other students were trying to calm them down, telling them that everything was going to be fine.
Michael said that after about four or five minutes, the gunfire subsided. He said he heard the sound of police yelling in the halls and banging on his door.
"My teacher didn't want to open the door at first, then we heard them say, 'Police, open up!'" he said.
When the door flung open officers were swarming the hallway, he said. He said he and his classmates formed a single line, put their hands in the air and filed out.
Students can be seen overcome with emotion as police enter the classroom and tend to victims.
"We moved in a single line, then lying around the wall from my room there were two dead bodies on the ground," he said. "There was a boy and a girl. They were both extremely pale and bleeding."
As he made his way to the exit, he said, "I saw one student walking with blood on his face. There was blood and glass all over the floor."
Once outside, he said, he and his classmates sprinted across the street with their hands still in the air.
He said his father, a former police officer, was waiting for him outside the school.
"I heard my dad say, 'Look over here,' and I just sprinted to the car and jumped in," Michael said.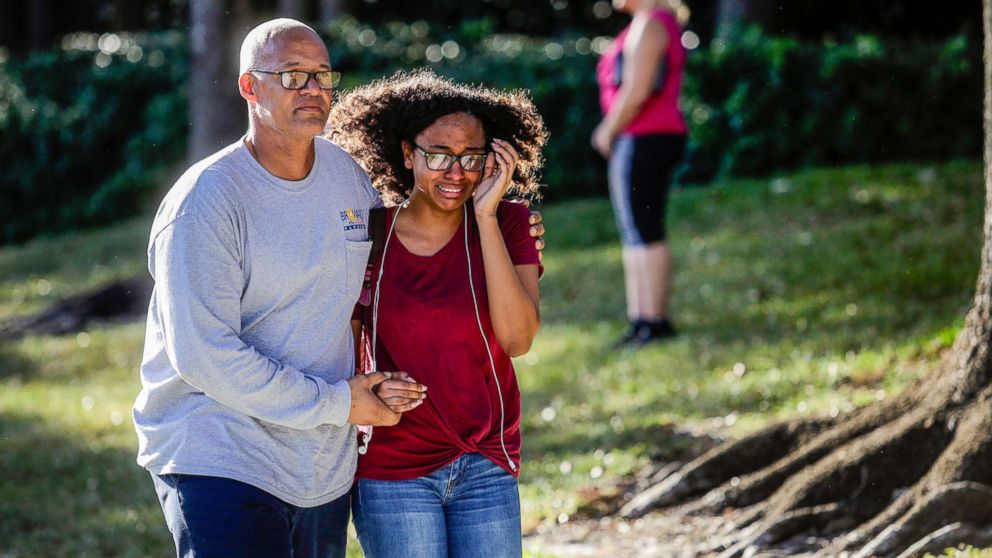 Michael said the thought of dying crossed his mind as he was sitting under his desk in the classroom.
"I feel total shock, confusion," Michael said from the safety of his home. "I've never been more scared in my life."
Another student, Alexandra Robinson, told ABC News from her home that she was confused when she heard the fire alarm because they had already practiced a drill this morning. The principal's voice then came over the intercom and ordered students to evacuate.
Alexandra said she thought it was a fire until she heard "two pops," but she wasn't able to gauge how close they were to her. She and two of her friends then ran "for their lives."
At one point, they stopped running, and a security guard instructed them to keep going.
"That's when I knew this was, like, a real shooting thing," Alexandra said.