— -- In the days since the mass shooting at Stoneman Douglas High School, student survivors have taken the baton from adults to demand justice for their dead friends and teachers, and protection for themselves in the classroom.
"It's incredibly unprecedented. And my initial response is these folks are too young to be cynical and they don't really care about the politics in D.C., and they're going forward and it's exciting," said Josh Horwitz, executive director of the Coalition to Stop Gun Violence.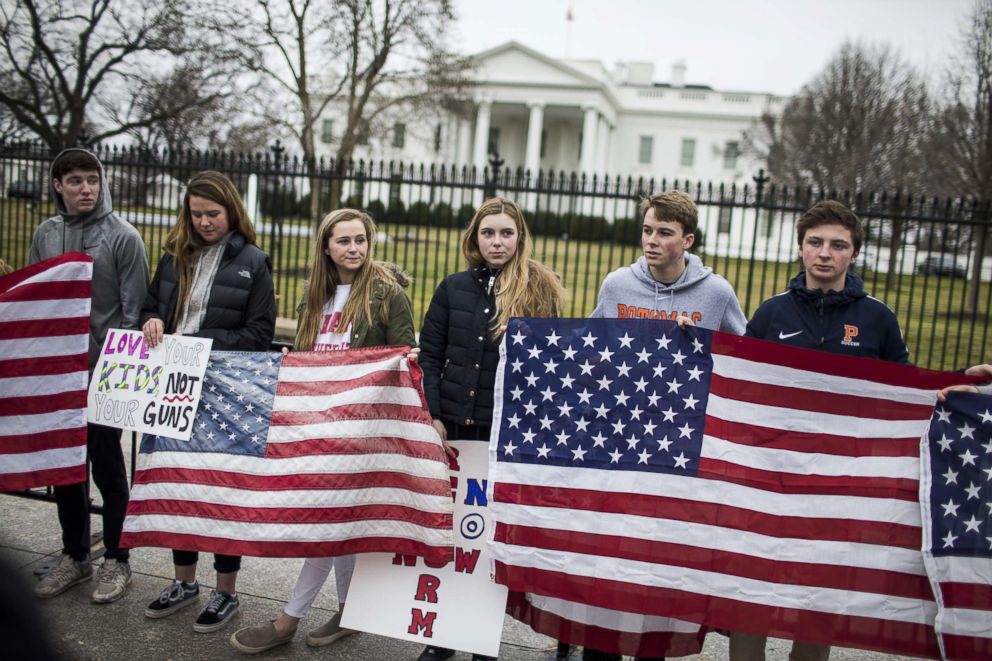 "These young people are showing it's a different world," said Horwitz, who has been an advocate for gun control laws for three decades. "They have an authentic voice. It's hard to hear their pleas and be immune to that."
At gun control rallies and in countless interviews, student survivors of the shooting have clearly articulated their opinions that adults have failed to protect them and that politics should not play a role in their safety.
"What I wish people would know is that this is something that people cannot get used to," student David Hogg, 17, told ABC News chief anchor George Stephanopoulos on "Good Morning America" a day after the shooting left 17 dead at his Parkland, Florida, school on Feb. 14.
"This is something we can't let keep happening," he said. "Because if we do and we get used to it, it's going to happen again. This is a time for our country to take a look in the mirror and realize there is a serious issue here."
Like Hogg, fellow students at Stoneman Douglas have organized protests and seized opportunities to speak out.
Emma Gonzalez, 18, a senior at Stoneman Douglas, prompted rousing applause when she spoke at a gun control rally in Fort Lauderdale, Florida, on Saturday, and called out lawmakers, including President Donald Trump, who take money from the National Rifle Association.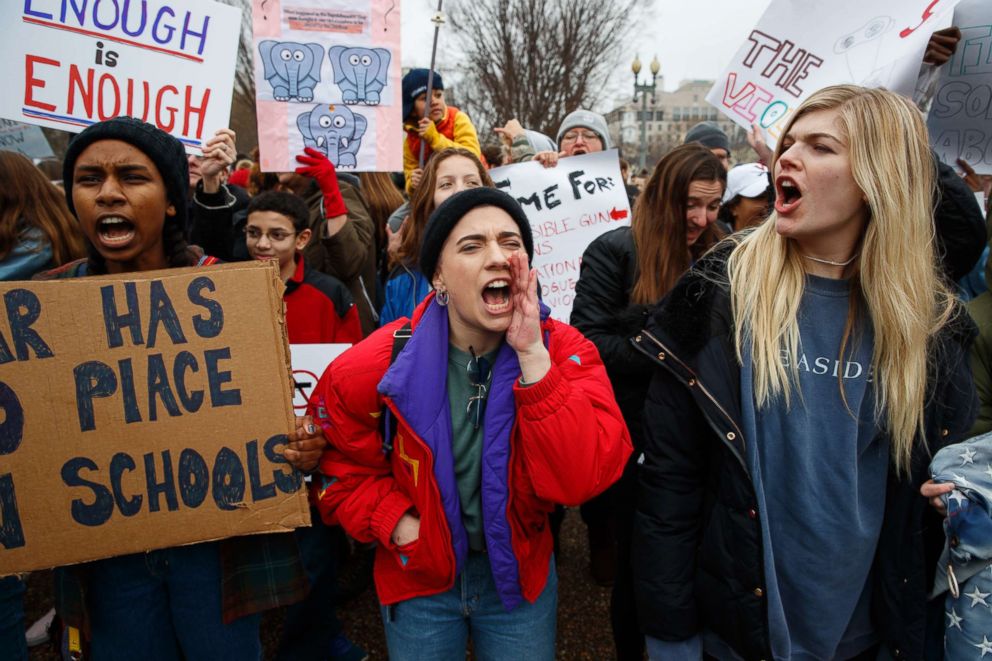 "We are up here standing together because if all our government and president can do is send thoughts and prayers, then it's time for victims to be the change that we need to see," Gonzalez told the crowd.
Student Jaclyn Corin, 17, a junior at the school, and about 100 of her classmates plan to board buses on Tuesday and travel to the state capitol in Tallahassee as part of the "Never Again" movement spawned by the mass killing and spreading across the country via social media. The students plan to meet with legislators to demand stronger gun laws and bolstered school security.
"It shows that we are mature enough," Corin told ABC News. "We will come at them and do whatever it takes to change the way our state runs and the nation [operates]."
The students have also organized an event for March 14, in which they plan to walk out of class for 17 minutes in honor of those who died.
Kim Russell, executive adviser of Women's March, told ABC News that her organization's youth empowerment group, comprised of young people 15 to 20, has been helping organize the March 14 event and that students at schools across the country have vowed to participate.
Ten days after the walkout, a "March for Our Lives" is planned for Washington, D.C. A group of Stoneman Douglas students made the announcement this weekend they will march on Washington next month to demand action on gun control.
"People are saying that it's not time to talk about gun control. And we can respect that," Cameron Kasky, an 11th grader at Stoneman Douglas, told ABC News' Martha Raddatz on "This Week." "Here's a time: March 24 in every single city. We are going to be marching together as students begging for our lives."
The students say they hope the march transcends politics, with Kasky saying "this isn't about the GOP. This isn't about Democrats. This is about the adults."
Students are also planning a nationwide class walkout for April 20, the 19th anniversary of the Columbine High School massacre that left 15 dead, including the gunmen, in Littleton, Colorado. As of Monday evening, more than 66,000 students and teachers across the country had signed a Change.org petition pledging to walk out of classrooms that day.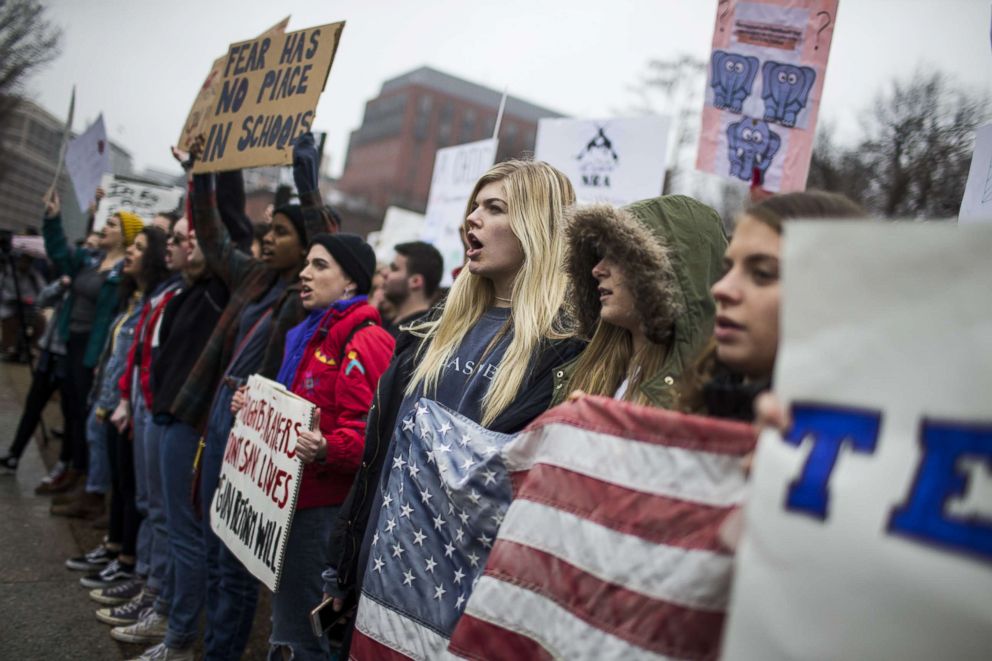 "I can just say, I am proud of them and I'm moved and inspired by the work they are doing. We need them in order to get Congress to act," said Russell, the mother of a 12-year-old daughter.
Russell, who in 1999 survived being shot in a robbery that left her close friend dead, has been working for 5 1/2 years on gun control issues and was a regional organizing manager of the Brady Campaign to Prevent Gun Violence.
"I needed their inspiration," Russell said of the Parkland students who have spoken out.
"I think this feels very different this time. I think we've finally reached a tipping point," she said. "This is a moment for these students to understand that they have the power to make their schools safer. They understand that. This is their reality now."