Thousands of high school students, many still far from voting age, are streaming out of schools across the country today to protest against gun violence in the wake of last month's mass shooting at a Florida high school that killed 17 people.
"I'm just mad there's no action by our government representatives," Daniel Rogov, a junior in Brooklyn, New York, said today.
"It's all thoughts and prayers; it's all talk," he told ABC News. "After a gun violence tragedy there's a speech talking about how we need change but there never is change."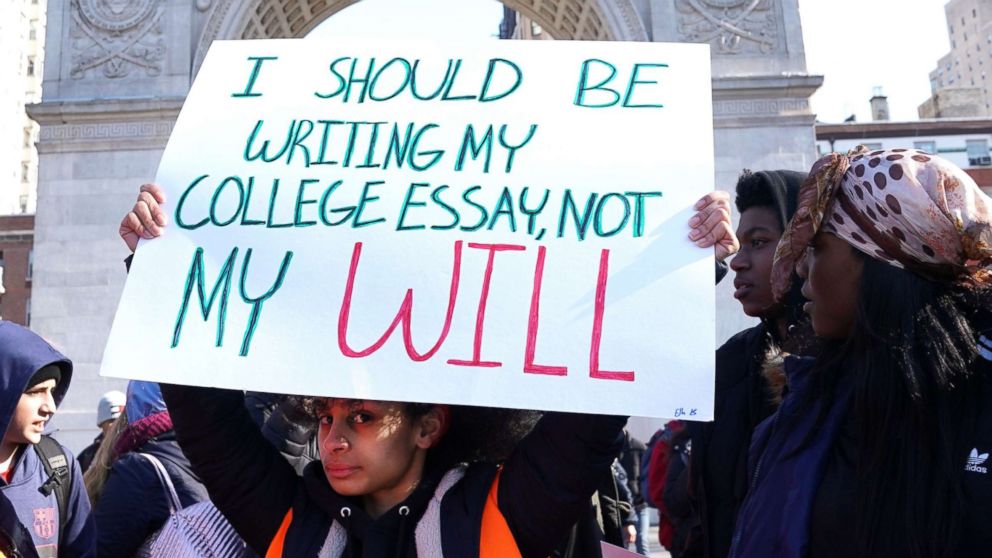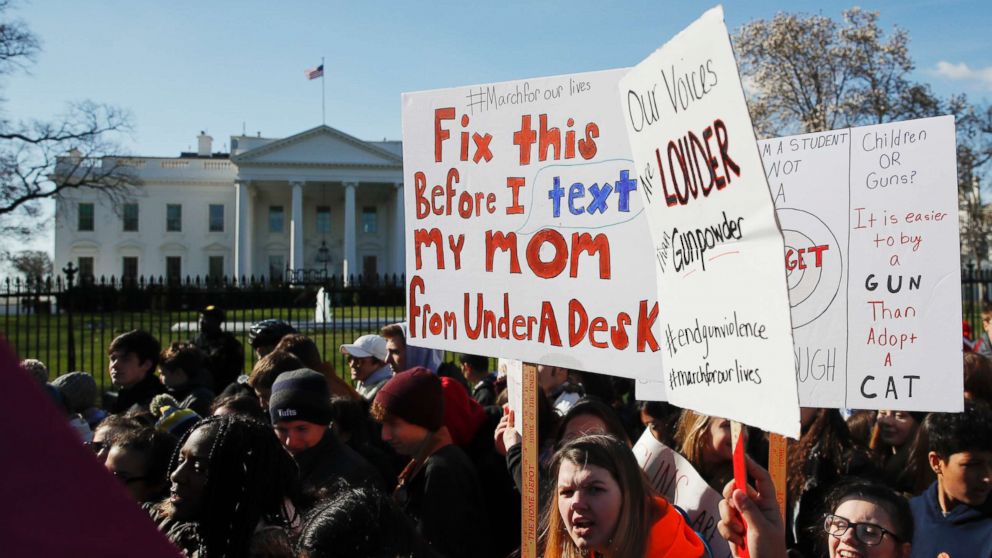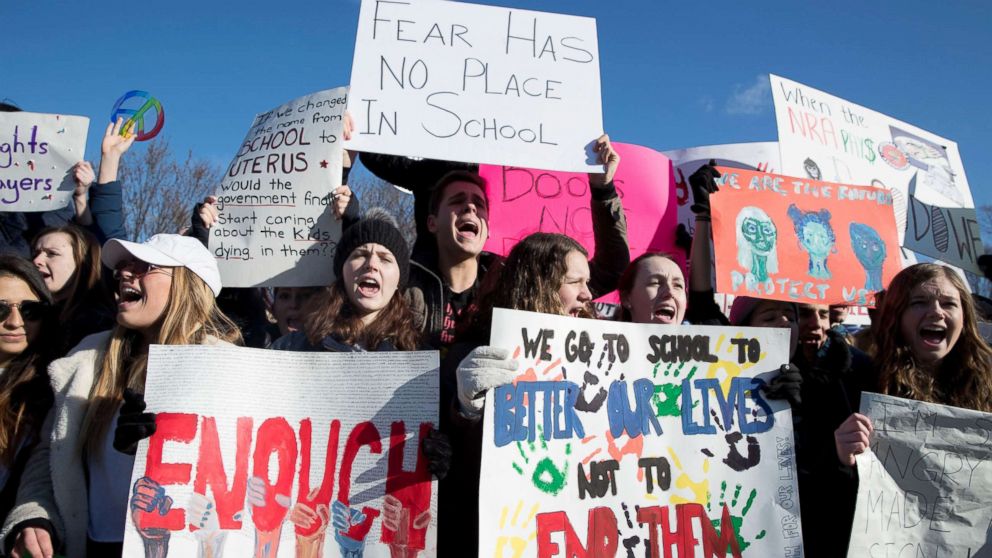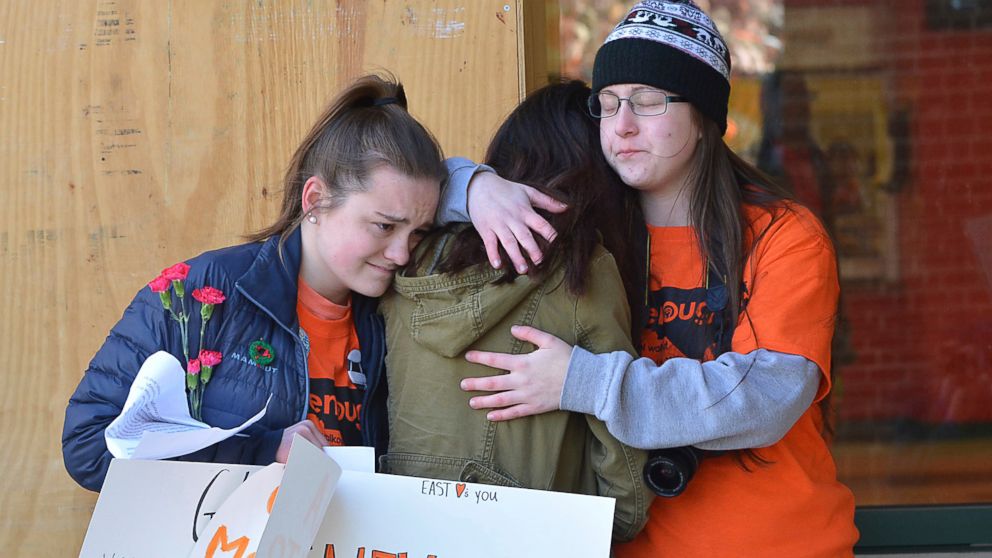 The event, which began at 10 a.m. across every time zone, was officially scheduled to last 17 minutes -- one minute for each of the victims gunned down in the Feb. 14 massacre at Marjory Stoneman Douglas High School in Parkland, Florida. But many students are rallying for much longer.
To the students at Stoneman Douglas, Daniel's message is, "Keep making your voices heard. While the politicians might stop talking about this, we're not done."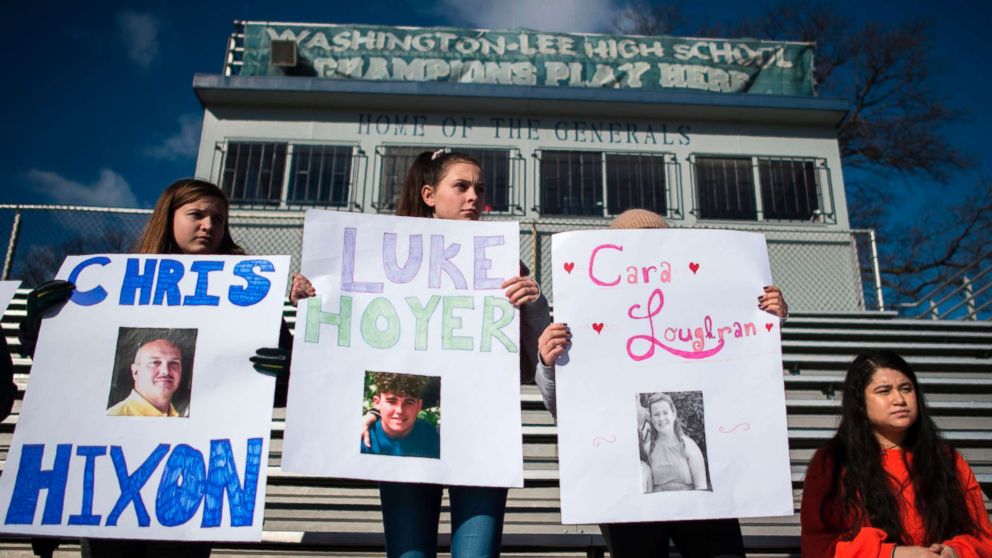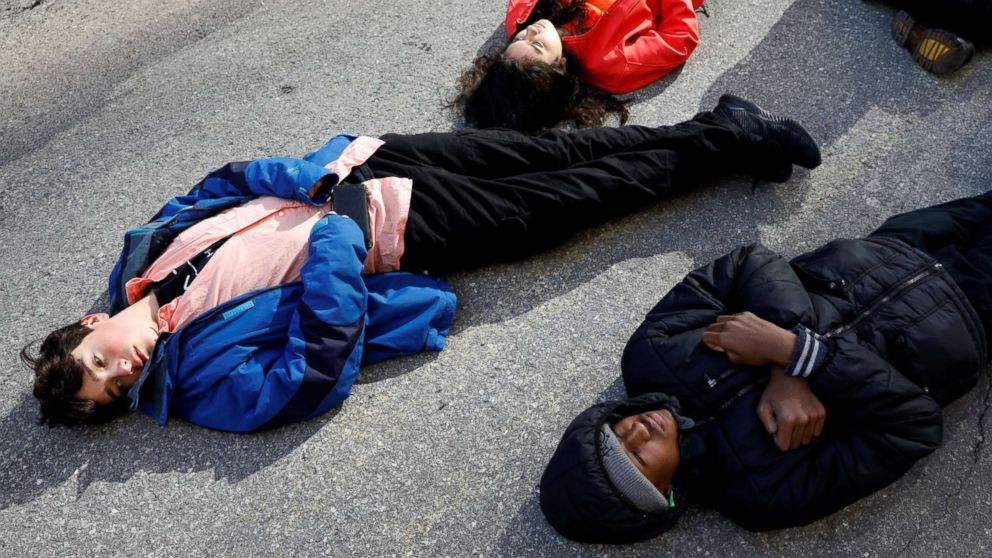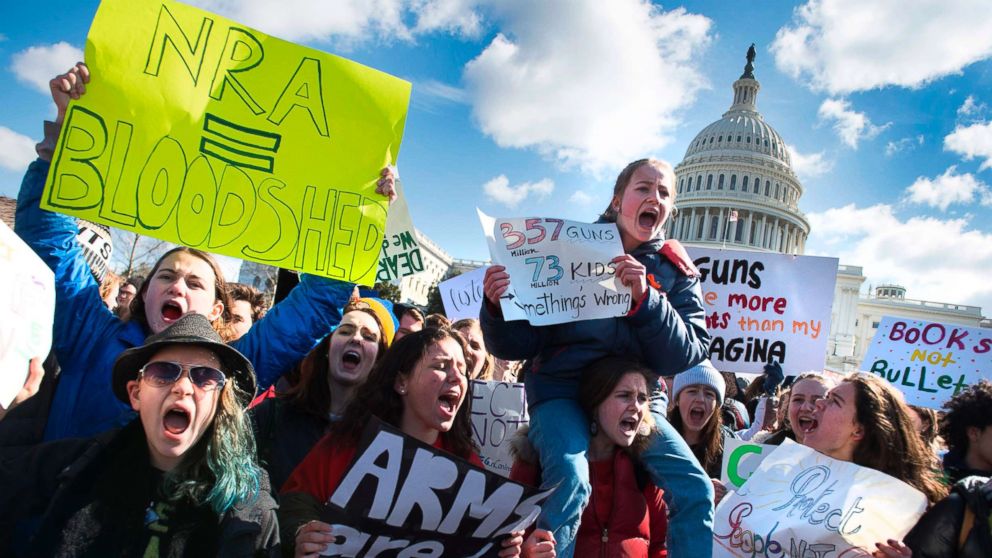 Over 3,000 walkout events were registered to take part in today's call on Congress to pass tighter gun control laws, according to ENOUGH National School Walkout, the event organizers.
The walkouts are across the nation, from Michigan to Maryland, from Colorado to California, and from the White House to Washington state.
"Remember why we are walking out," Stoneman Douglas survivor Lauren Hogg wrote on Twitter today. "We are walking out for my friends that passed, all children that have been taken because of gun violence. We are walking out for the empty desks in my classes, and the unsaid goodbyes. This epidemic of School shootings must stop."
In Washington, D.C., a huge crowd of chanting students gathered in front of the White House. Once the clock struck 10 a.m., the students silently sat down with their backs to the White House.
Even though most teenagers can't vote, "we just want the White House to hear us," Abby Silverman of Bethesda, Maryland, told ABC News outside the White House.
Kevin Butler told ABC News he came to the White House to "make sure there are stricter gun laws," and even though the president wasn't there during the sit-in, Kevin thinks their voices will be heard.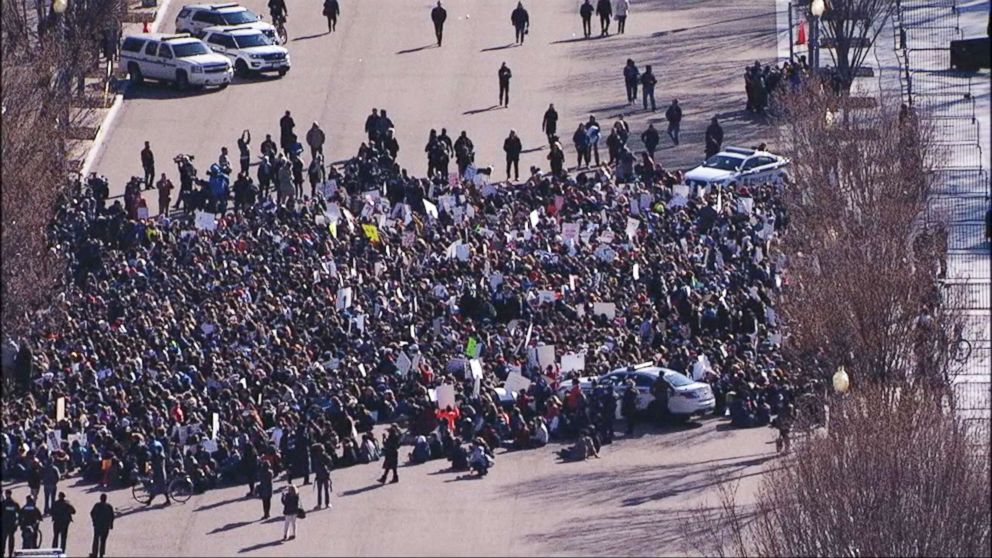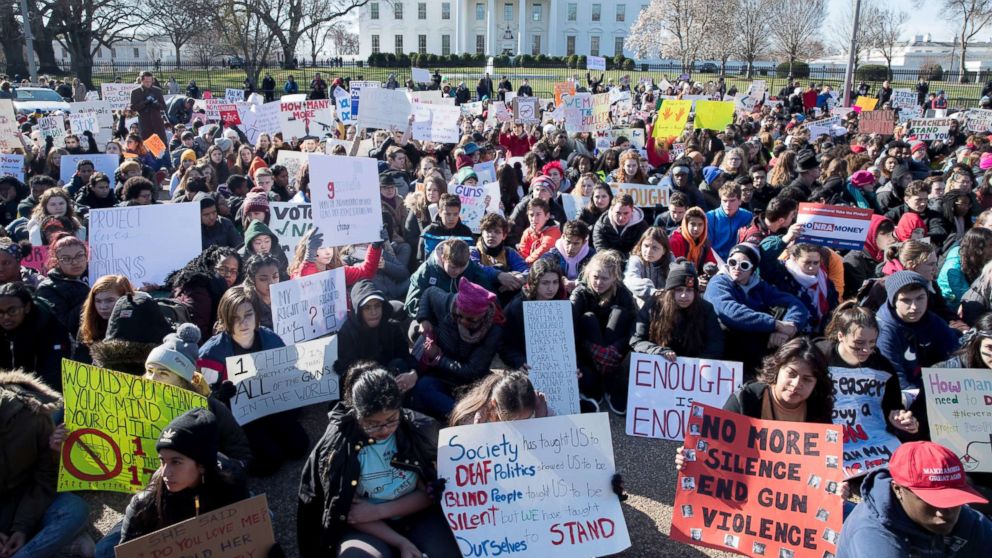 From the White House, the students marched to a rally at Capitol Hill.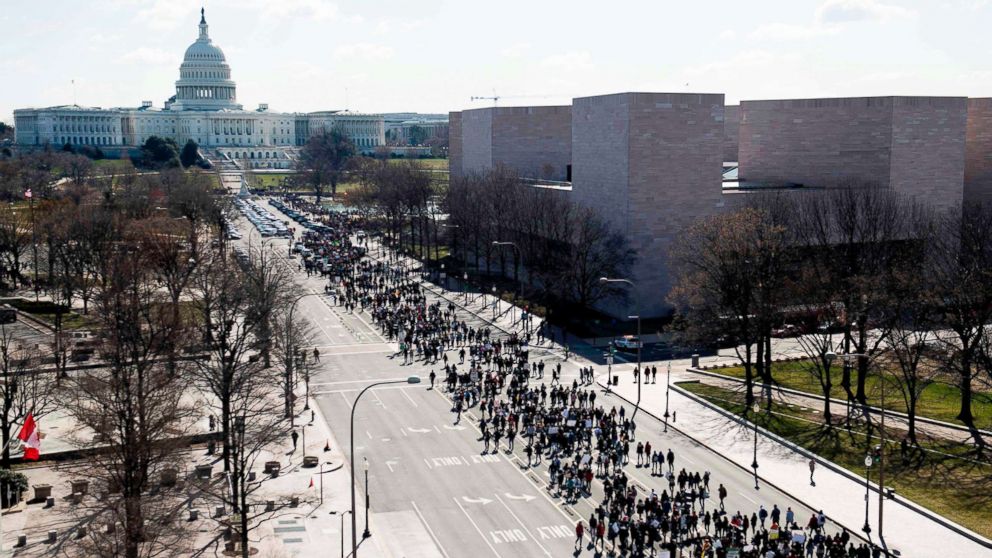 At one Evanston, Illinois, school, about 3,000 of the 3,500 students walked out, the school said.
"We should come to school and be protected, not where we have to come to school and fear for our lives," Evanston student Alexis Harris Dyer told ABC News "We are all gathered together to show that we care, to show that we have voices. We are young people and we are passionate about what we have to say."
At the massive walkout was a massive call-in, as students flooded lawmaker's offices all at once with calls for gun reform.
"I'm a high school constituent of [Gov.] Bruce Rauner," one teen said on the phone. "I'm calling to request that you take action to reform our nations gun laws."
"Often our words are ignored," Dyer said, "So I think this is a way where we can actually be taken seriously."
Student Emma Stein added, "I hope to inspire the next generation of voters and get young people engaged in the political process and to hold their representatives accountable. ... As long as there's a threat of mass shootings in schools, I think students will remain very dedicated to the issue."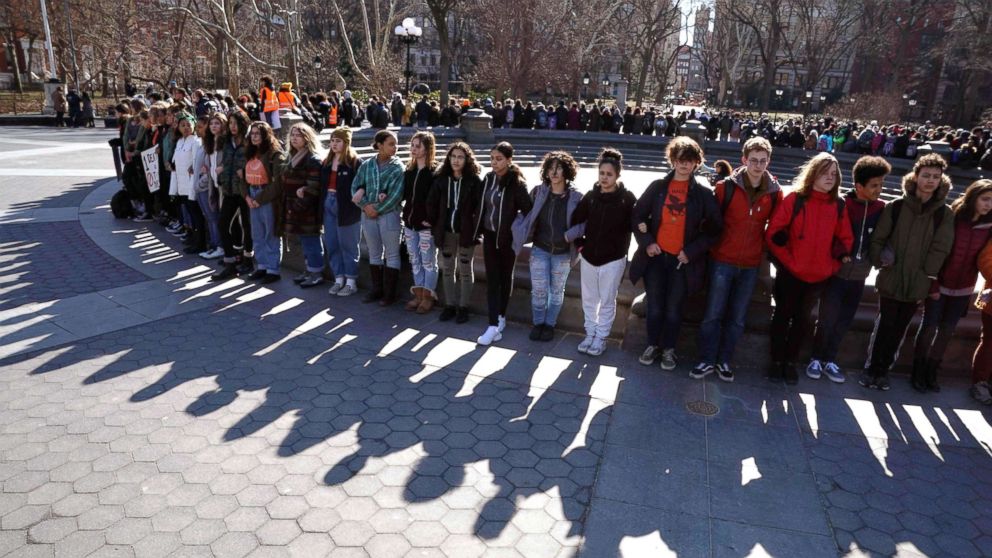 At a rally in Denver, high schooler Jlynn Terroade said, "It's really important for students to exercise their rights and be activists for what they believe in. That's what today was all about."
"Our Second Amendment seems to seem to care about guns more than students," Terroade told ABC News. "We have to empower ourselves."
Another Colorado student, Adriana Strode, added, "You don't want your brother, sister, your daughter to be the next victims of a mass shooting. ... We're here to open people's eyes so they can see this is a big issue." 
Women's March Youth Coordinator Tabitha St. Bernard Jacobs, one of the few adult allies guiding the students in the youth-led movement, told ABC News before the event that while the walkout was sparked by the Florida school shooting, the event is about pressuring Congress to act against gun violence overall.
She said the walkout was a way to shed light on the kind of gun violence that exists not just in schools but every day, like shootings that affect communities of color or devastate cities like Chicago.
How participants spent those 17 minutes of the walkout was up to them, St. Bernard Jacobs said. Some people were doing a lie-in, while others held rallies, she said.
Thousands of miles away from Parkland, Florida, at a Southern California school, students placed 17 empty desks in the quad, each with a flower and a picture for the 17 shooting victims.
At one Michigan high school, the names of all school-shooting victims were read as students walked out in silence, according to the school.
Students from around the world were also eager to participate.
Students at the Zurich International School in Switzerland took part, gathering outside in the shape of a peace sign. Students snapped this photo via a drone.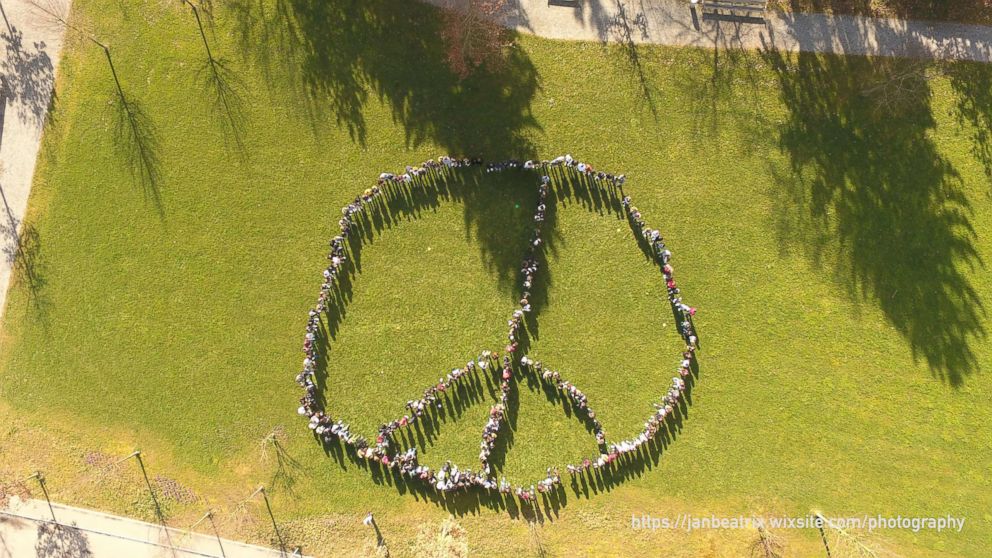 "I'm really proud of our two students who organized the event and took the photos," Upper School Principal John Switzer said via email.
Izzy Harris, a student at the American School in London, said students at her school, including herself, walked out "to demonstrate that the U.S. government needs to make changes to their gun laws."
"Although we are not directly affected in the U.K., a number of us are American and have many connections to the U.S.," she told ABC News via video.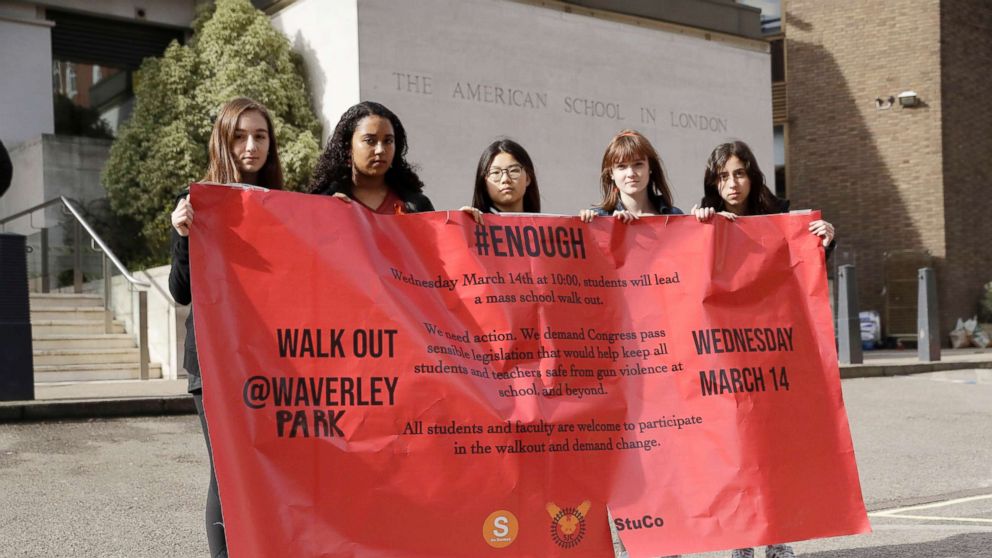 While many school districts were supportive of the protests, some schools had threatened to discipline students participating in walkouts.
At the high school on a South Korean base where U.S. military forces are stationed, officials warned students not to walk out, saying policy prohibits protests on U.S. military installations.
"Seoul American High School will maintain a roster of any students who walks out of class and will provide that list to the Yongsan Garrison Command Team to determine if any further steps are warranted," Principal Donald Toy Williams Jr. wrote in a memo to parents and sponsors posted on the school's Facebook page today. "We would also like to note that any student who leaves campus during the walkout time will be dealt with by the military police who will take their name, information, and then escort them back into school control immediately."
In Plainfield, Illinois, where some students had planned to walk out, doing so came with a guideline.
National School Walkout
On March 14, 2018, students walked out of their classes to protest against gun violence in a demonstration across the country. The call for the walkout emerged in response to last month's shooting at Florida's Marjory Stoneman Douglas High School, when a lone gunman opened fire, killing 17 people. Students rally outside the Capitol Building in Washington on March 14, 2018.
Students who wanted to participate in the walkout also had to attend an after-school discussion with state legislators to discuss issues that relate to school violence, like the political process, school safety, gun control and what influences politicians, Plainfield School District Superintendent Lane Abrell told ABC News.
A student who walked out but did not attend the discussion with state legislators would get a one-hour detention, Abrell said.
Abrell said the walkout "in my opinion ... doesn't really solve the issue," and the meeting with local legislators is a way for students who genuinely are passionate about the cause to learn how school violence issues can be solved.
The American Civil Liberties Union (ACLU) said schools could punish students for missing class for walkouts, but the punishment should only be because students missed school and not as a harsher punishment because the students participated in a protest.
Dozens of colleges and universities had said they won't penalize applicants who are peaceful student protesters.
ABC News' Ali Rogin, Connor Burton, Elizabeth Mclaughlin, Katherine Carroll, Frank Elaridi, Rachel Katz, Doug Lantz, Andy Fies, Dennis Powell, Fergal Gallagher, Armando Garcia, Evan McMurry and Samantha Reilly contributed to this report.