— -- Two people on board a plane that crashed into the side of a mountain at Olympic National Park in Washington state on Sunday evening have survived after making a distress call picked up by a nearby Delta Air Lines flight, federal officials and Delta Air Lines told ABC News.
Delta Air Lines confirmed that Flight 589, from Seattle to Shanghai, heard the distress call on the emergency frequency and established communication with the pair on the ground. The pilots of Flight 589 contacted air traffic control, leading to the dispatch of a Navy search-and-rescue team from a base on Whidbey Island.
The Navy team rescued the instructor and student from an elevation of about 5,000 feet on Mount Jupiter at approximately 6 p.m. local time with an MH-60S helicopter. The crew members administered emergency medical care before flying them to Harborview Medical Center in Seattle where they arrived at approximately 8 p.m. local time, according to a spokesperson at the hospital.
The nursing supervisor at Harborview Medical Center in Seattle says the pair are in serious condition but are improving in the intensive care unit.
National Transportation Safety Board spokesperson Peter Knudson told ABC News the student and instructor on the single engine Cirrus SR-22 aircraft crashed around 3:48 p.m. local time. The NTSB is investigating the incident.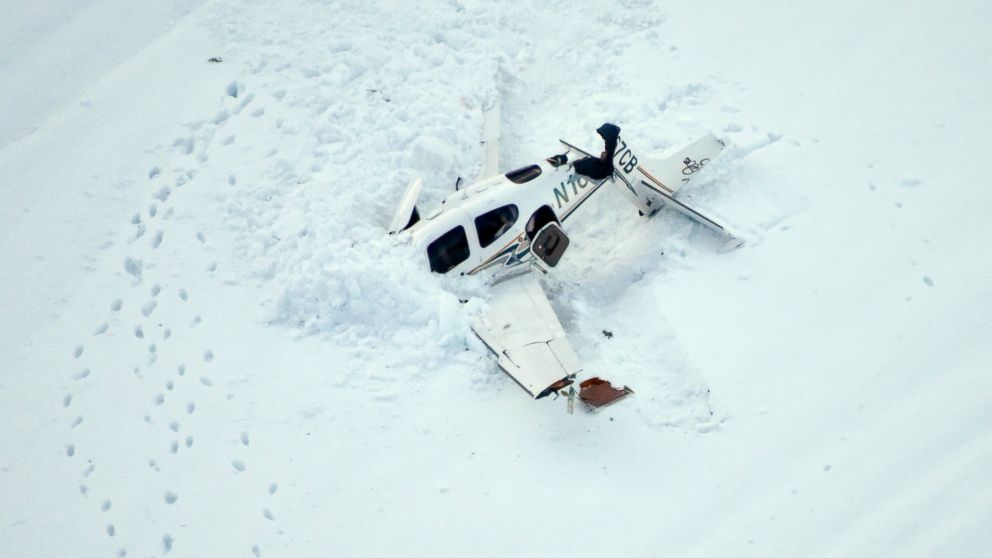 Photos from the Navy show rescue workers tending to the crash on the side of a snowy mountain.
An FAA spokesperson told ABC News the crash occurred under unknown circumstances after departing from Everett's Paine Field and the plane suffered substantial damage in the incident.
The parachute on board the Cirrus SR-22 aircraft was not deployed during the crash, according to the FAA. Cirrus aircraft are equipped with a parachute that can be deployed in the event of an emergency.
ABC News' Luis Martinez and Robert Zepeda contributed to this report.