— -- The suspect in the shooting of two Pennsylvania state troopers is a sharpshooting survivalist who specifically targeted cops and was out for mass murder, authorities said.
He's a skilled shooter who "doesn't miss," his father, a retired U.S. Army Major, told police. The father also told police that he was missing two weapons, a .308 rifle with a scope and an AK-47, according to court documents released today.
Suspect Eric Matthew Frein, 31, from Canadensis, Pa., practices survivalism -- the ability to survive without the help of government or society, and often storing food and guns, Pennsylvania police said today. Police who searched his home found a copy of a book entitled Sniper Training and Employment, according to the court documents.
State Trooper Killed, Another Injured Outside Pennsylvania Barracks
"He has made statements about wanting to kill law enforcement officers and also to commit mass acts of murder," State Police Commissioner Frank Noonan said at a news conference when he revealed Frein's name. "What his reasons are, we don't know. But he has very strong feelings about law enforcement and seems to be very angry with a lot of things that go on in our society."
He had camouflage face paint, a black hooded sweatshirt, empty rifle cases and military gear in a vehicle, police said.
Frein's father, E. Michael Frein, told police he served in the military for 28 years and had trained his son how to shoot. The father told police that his son was a member of the rifle team in high school and that the son became a better shot than the father.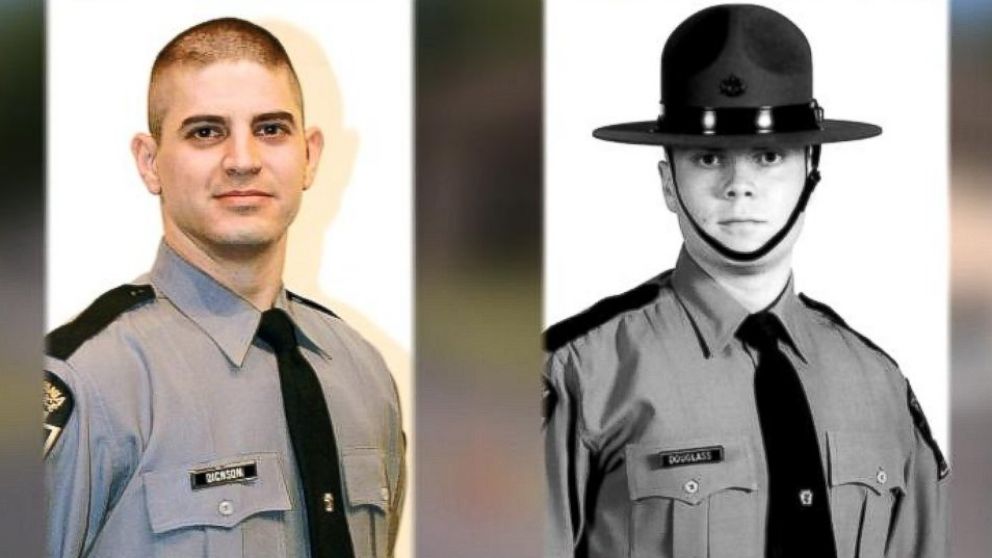 Now a massive manhunt is on in the rural forest area of eastern Pennsylvania to find Frein, who was charged today with first-degree murder, homicide of a law enforcement officer and other offenses. Police describe him as approximately 165 pounds, about 6-feet-1, and with blue eyes.
Noonan said he is still armed with the .308-caliber rifle he allegedly shot the troopers with on the barracks late Friday and is "extremely dangerous."
"We have no idea where he is," Noonan said.
Cpl. Bryon Dickinson, 38, was killed and Trooper Alex Douglass, 31, was wounded when a gunman opened fire during a shift change before slipping away, police said.
Lt. Col. George Biven addressed the shooter directly at a separate news conference on Monday.
"You're a coward," Bivens said. "You committed this spineless act and you did it from a place of hiding and then ran."
A resident who was walking his dog two miles from the barracks spotted a vehicle submerged in a pond and alerted authorities, who matched shell casings found in the car to ones also found at the shooting scene, Noonan said.
The vehicle is a Jeep registered to Frein's father but owned by his parents, they told police.
The Associated Press contributed to this report.