— -- The FBI added suspected cop shooter Eric Frein to its 10 Most Wanted fugitive list today and announced a reward of $100,000 for information leading to his capture. That is in addition to an existing $75,000 reward from Pennsylvania Crime Stoppers.
The FBI's action came on the day that Pennsylvania State Trooper, Cpl. Bryon Dickson, was buried in an emotional ceremony.
The search for Frein, 31, entered its sixth day after two Pennsylvania state troopers were ambushed late Friday at the barracks in Blooming Grove Township. Schools in the area are closed for the second day as the dragnet continues for Frein, a survivalist and gun expert who often worked on films about war and the military.
Accused Cop Shooter Eric Frein Acted in War Films
Suspect in Cop Shooting Is a Sharpshooting Survivalist
The FBI said at a news conference today it is assisting in the search with "manpower, technical and air assets" and that Frein's photo will be "broadcast on electronic billboards up and down the whole East Coast."
"We have now made the world where he can hide a very small place," said Edward Hanko, FBI special agent in charge of the Philadelphia division.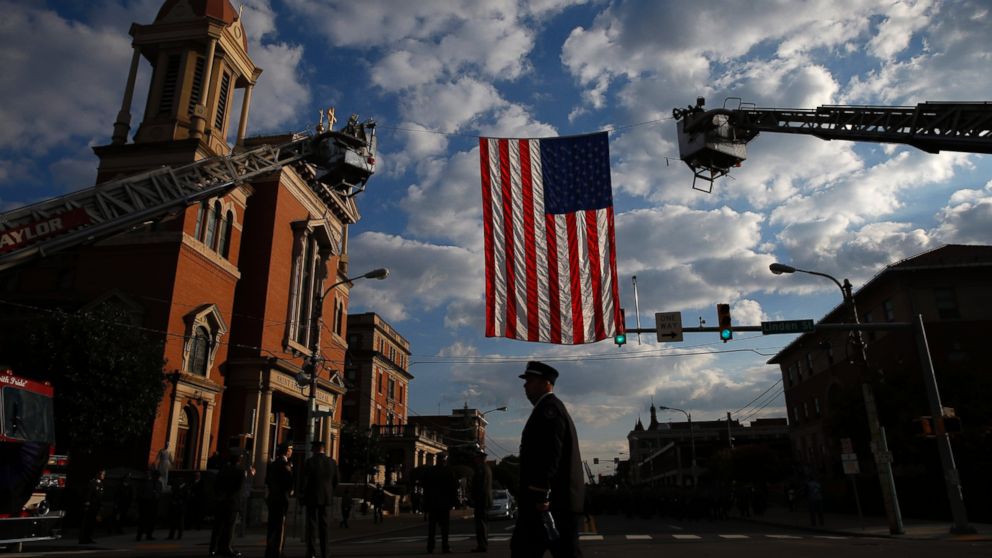 Police said they have new information suggesting Frein remains in the general area.
"I do believe he's probably desperate. It's been cold out at night, he's trying to survive out there," Lt. Col. George Bivens said, adding that surviving outside is one of Frein's hobbies.
"It's been his interest to go out into the woods and stay for days with very little in the way of equipment or supplies. He's done that in the past," Bivens said.
Hundreds of officers are involved in the hunt for Frein, including many who are trained in woodland searches. Police say they are also utilizing grids and technology to clear certain areas.
New images of Frein show the suspected killer at rifle practice in high school and stone-faced in his yearbook photo.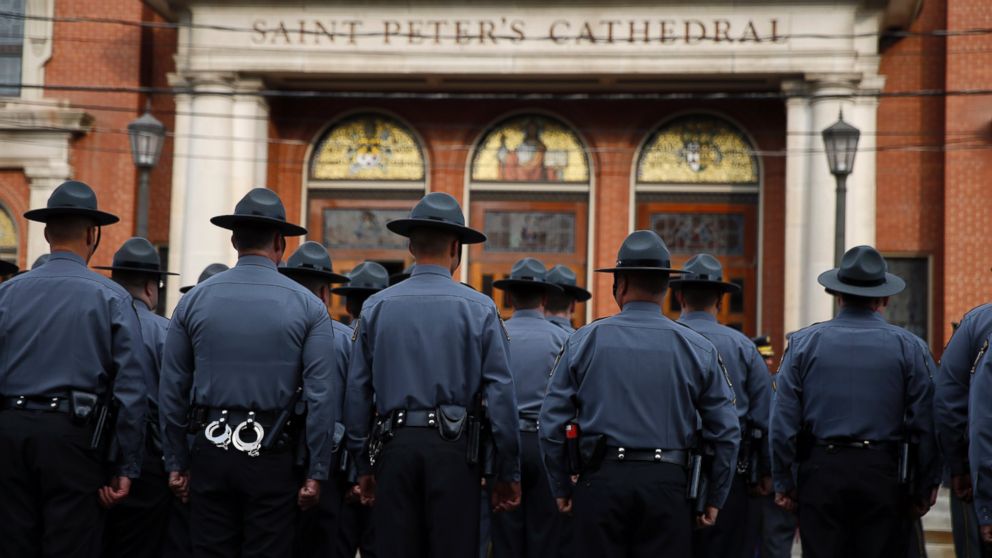 The funeral was held today for Dickson, who died in Friday's gunfire. Hundreds gathered at the St. Peter's Cathedral in Scranton to honor Dickson, a 38-year-old married father of two children.
A second trooper, Alex Douglass, was wounded in the attack.
Police said on Wednesday Frein is also part of a "military simulation unit" obsessed with re-enacting Eastern Europe during the Cold War. He was described as a skilled shooter and is believed to be armed and extremely dangerous.
Frein's father, a retired U.S. Army Major, told police he taught his son how to shoot and that he "doesn't miss." The father also told police during a search of the family's home that two guns were missing -- a .308 rifle with a scope and an AK-47, according to court documents.
Frein has a grudge against law enforcement and appeared to be specifically targeting cops, police said.
"He has made statements about wanting to kill law enforcement officers and also to commit mass acts of murder," State Police Commissioner Frank Noonan said at a news conference earlier this week. "What his reasons are, we don't know. But he has very strong feelings about law enforcement and seems to be very angry with a lot of things that go on in our society."
Police also addressed the suspect directly.
"If you are listening to this broadcast while cowering in some cold, damp hiding place, Eric, I want you to know know we are coming for you," Bivens said at another news conference on Wednesday.
He warned residents to be on the lookout, lock their doors and keep outside lights on at night, adding that he believes Frein is still in the general area.
Frein is charged with first-degree murder, homicide of a law enforcement officer and other offenses.