Teacher raises $80K for bikes for elementary school's entire student body
Katie Blomquist shared the news with students at Pepperhill Elementary today.
— -- Today got off to a great start for some students in North Charleston, South Carolina, who each received new wheels just in time for summer.
A little before 9 a.m. today, about 650 students at Pepperhill Elementary School received brand-new bikes -- all thanks to first-grade teacher Katie Blomquist.
In September 2016, right after Labor Day, Blomquist started a campaign on GoFundMe in hopes of raising $65,000 for the bicycles. She said today that she'd initially come up with the idea to start the campaign for a student who wanted a bike that she couldn't afford.
"This is a chance for them to truly own something of value."
From there, she said, the idea blossomed. In the summer, she decided that she'd get every child at Pepperhill a bicycle by Christmas.
"I had no idea what I was getting into," she told ABC affiliate WCIV-TV in Charleston, South Carolina. "And it became a thousand times more amazing than I ever dreamed. I didn't really think about how much would go into it. I just thought, 'Let me see if I can do this' ... I wanted to make family memories."
Teacher Vows to Buy a New Bike for Every Student in Her School This Christmas
'This is therapy': couple fashions tricycles for children With disabilities
She raised more than $80,000 in less than three months. She said more than 1,000 people gave to the campaign.
"It just took off," she said. "When I say community, that started as just Charleston, then grew to our country as a community. One person from France and one person from Australia also donated ... It's just amazing!"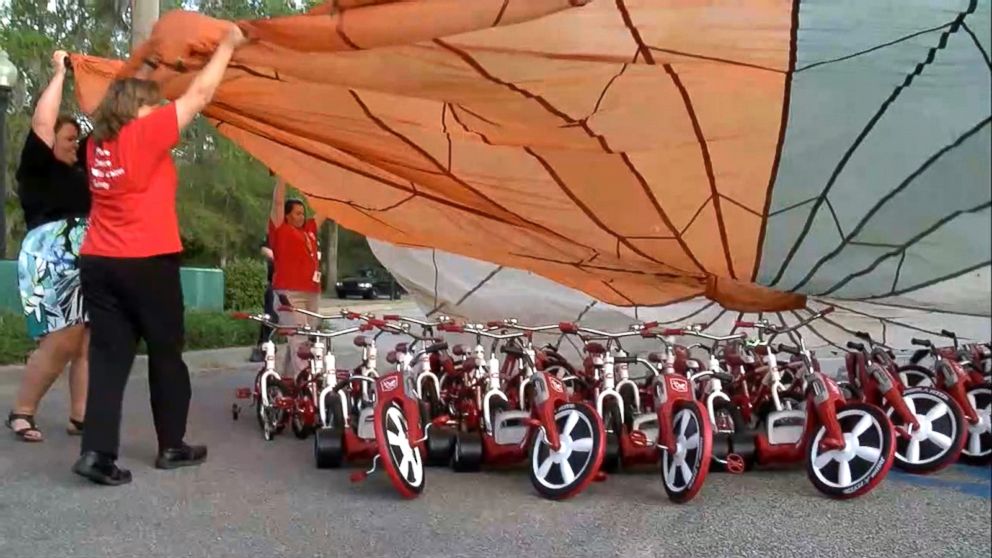 She teamed up with a local bike shop called Affordabike that worked with her for seven months, designing the bike, picking out colors and settling on a name: "The future, let's go places."
She said it look a little longer than planned to get the bikes delivered but today the students got their new wheels. They also received helmets. Affordabike treated each student with matching bike locks. The school will reportedly get bike racks to handle all the new rides.
Pepperhill Elementary, a Title 1 school, receives extra federal funding for its students, many of whom come from low-income families.
"It's a very late Christmas gift, early summer gift now," Blomquist said. "This is a chance for them to truly own something of value. It's a sense of therapy ... It's exercise. It's a way of getting to school ... But the number-one thing is it's joy ... Every single child deserves that."
Blomquist said she and her roommate, a third grade teacher at the school, would also receive a bike.
"It just shows you that there is still kindness out there," she said about the support she'd received from the community. "It was actual people who gave actual, hard-earned money to [the students] to spread some joy ... I hope that they take that feeling and they then, in turn, give back one day."
ABC News' Susan Schwartz and ABC affiliate WCIV-TV contributed to this story.