A multiday heat wave that brought a heat index reading of 112 degrees to Chicago on Saturday will reach its peak in the Northeast on Sunday.
Temperatures were in the 90s from Chicago to New York City on Saturday, including a high of 96 degrees in Newark, New Jersey, 95 degrees in Philadelphia and 93 degrees in Central Park.
A true signature of a heat wave is the little relief provided at night. The heat index at 4 a.m. local time in New York City was 83 degrees, while it was 84 degrees in Chicago at 3 a.m. Excessive heat warnings, watches and advisories have been issued for much of the Midwest and most of the Northeast, including Washington, D.C., Philadelphia, New York City and Hartford, Connecticut.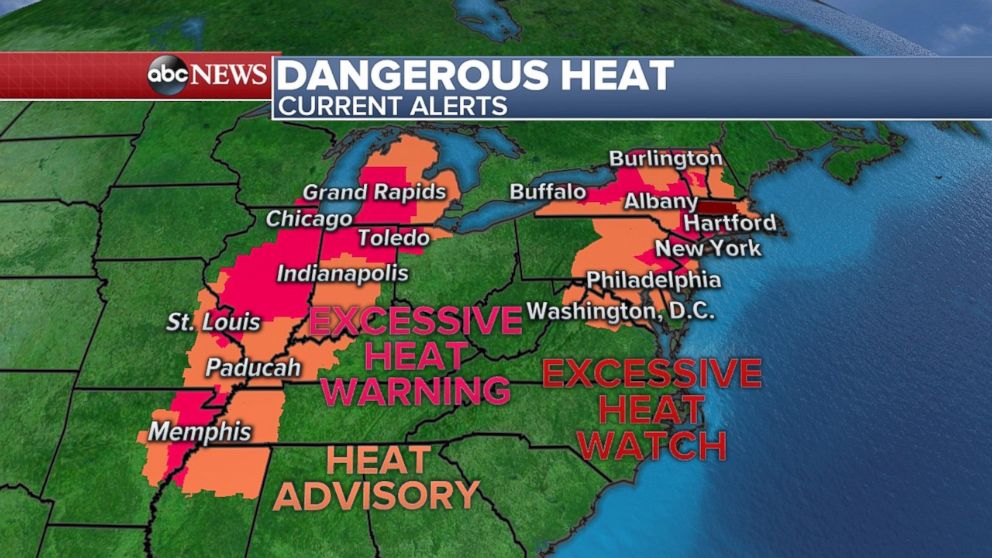 Temperatures will be a touch cooler in the Midwest, but heat index levels will still hover around 100 degrees from Texas to Michigan. The peak of this round of heat arrives in the Northeast, with all of the region's major cities forecast to be at or near 100 degrees this afternoon. Heat index levels will rise into the 100s, with localized heat index levels from Albany, New York, to Hartford, Connecticut, over 105 degrees.
New York City is forecast to hit 98 degrees today. The last time the temperature in the city hit 100 degrees was in 2012.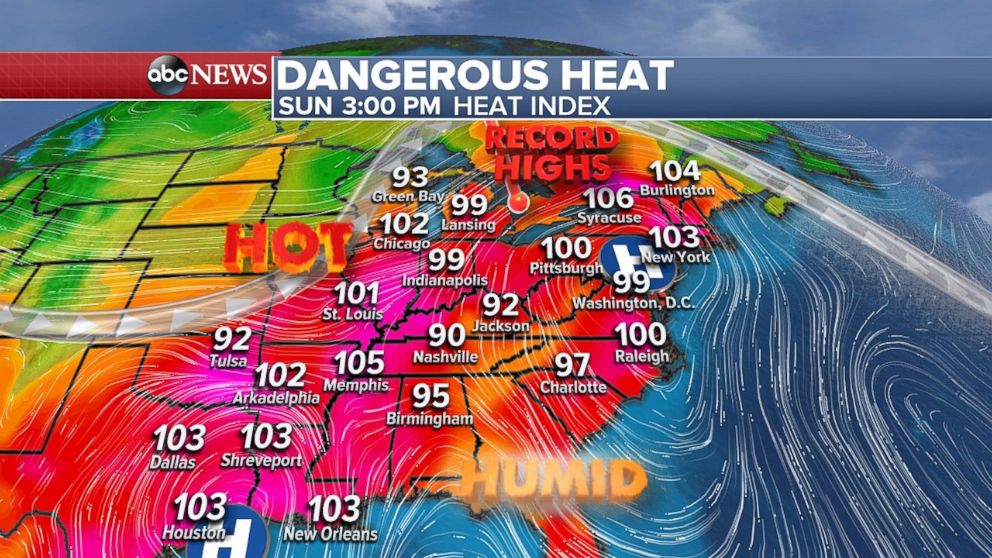 Heat index levels will likely hover in the 80s again Sunday night.
The heat is locked in place for the Northeast. Temperatures will stay in the 90s for much of the Northeast through July 4 and likely Thursday or even Friday. If the Northeast does not dip below 90 degrees through Friday, some locations, including New York City;, Albany, New York; Philadelphia; and Washington, D.C., could enter record territory for length of a heat wave.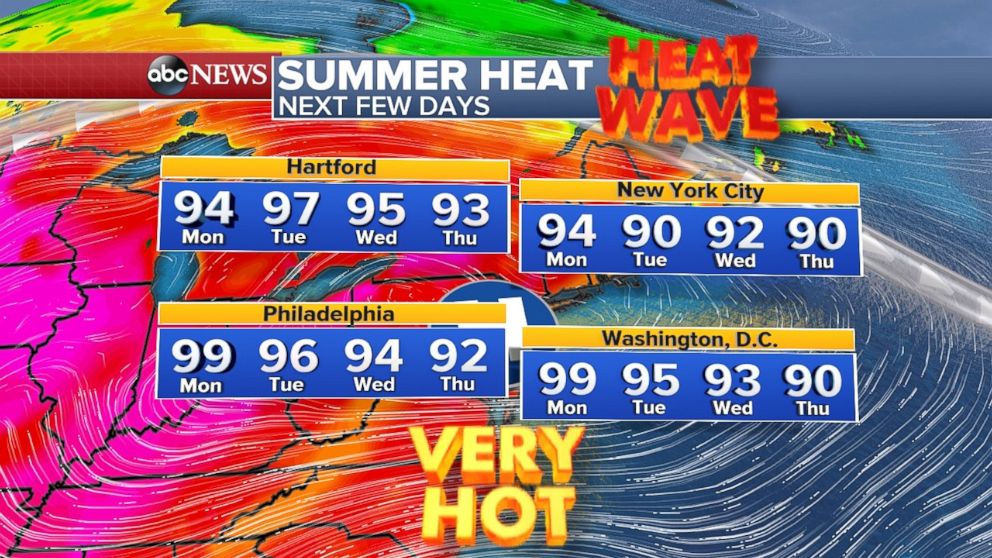 On July 4, heat will overtake a majority of the eastern U.S. with triple-digit heat index values across the entire central U.S. and heat index values in the upper 90s across the East Coast.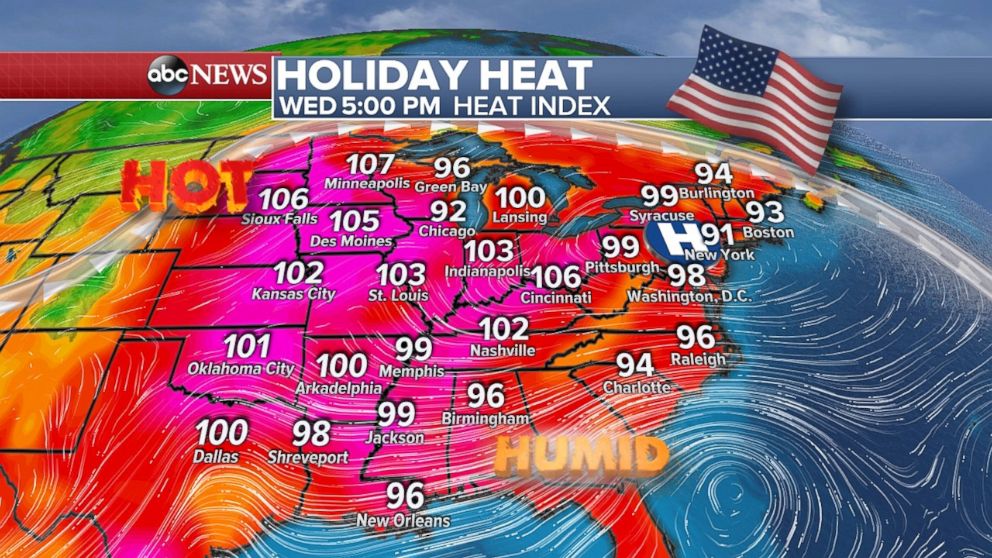 Long-term forecasts show that a brief cool down will happen by Saturday, however, there are even stronger signals that widespread summer heat will quickly move in again as we head toward the middle of July.
Midwest storms
Storms are still moving through parts of the Midwest Sunday morning, with additional flash flooding possible.
Slow-moving thunderstorms in the Midwest brought torrential rain to central Iowa on Saturday night, including 7.3 inches of rain in just a few hours causing massive flash flooding in Des Moines, Iowa.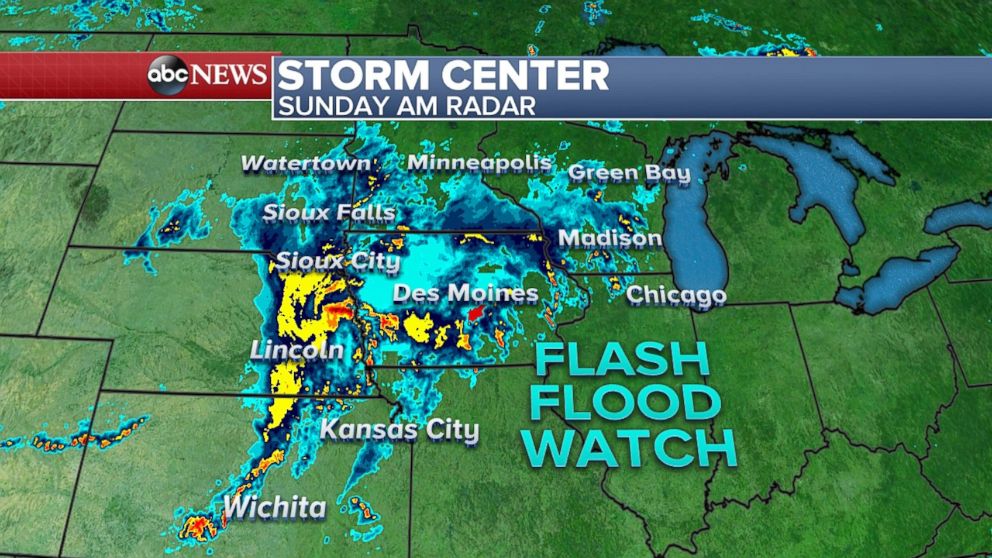 More storms will fire up this afternoon from Illinois to Michigan -- including in Chicago and Milwaukee -- with damaging winds, large hail and brief tornadoes possible.
Locally, 2 to 4 inches of rain is possible from northern Iowa to Wisconsin with any slow-moving storm capable of bringing flash flooding.