— -- A bank employee, his wife and their young child were abducted from their home in Knoxville, Tennessee, then hooded and driven to the local SmartBank where the husband worked by two armed suspects, who forced the man to rob the bank, according to the FBI.
The family was abducted at 8 a.m. Tuesday after the suspects, carrying two handguns and one long-gun, broke into their home, FBI Special Agent Ed Reinhold said in a news conference Tuesday. He added the married couple and their young child were forced into their own car, a silver Mazda 6, which the suspects then drove to the bank branch in Knoxville's Cedar Bluff district.
The suspects demanded that the husband rob the bank, and after the suspects got the money, they then left him in the parking lot and drove his wife and child to a nearby intersection, the FBI said, adding that the mother and child were released still hooded.
The mother then went to the nearest business and called 911, according to law enforcement, who then located the family, which appeared physically unharmed.
Officials declined to release the amount of money stolen from the bank and added that they do not believe the family had any known association with the suspects, though they said it's likely the husband was stalked by the suspects prior to the robbery. It's unclear how the father obtained the money from the bank.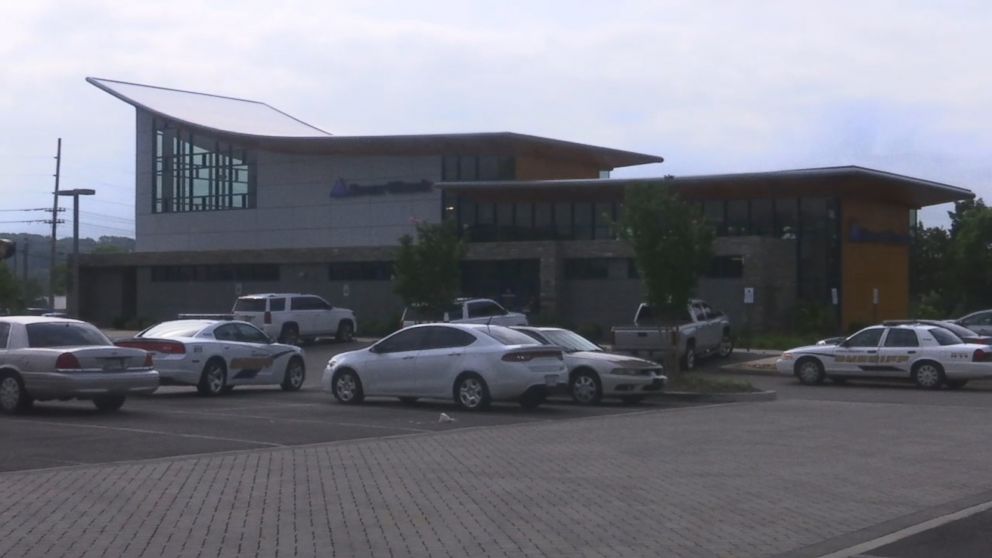 The suspects remain at large, the FBI said, adding that they were two white males. One was between 6-foot-1 and 6-foot-2 with a thin build, and the other was between 5-foot-9 and 5-foot-10 with a stockier build.
SmartBank in Knoxville's Cedar Bluff district did not immediately respond to ABC News' request for additional comment. Law enforcement officials have also not responded to a request for comment.
The family, which declined to comment, asked ABC News not to name them.
The FBI added they believe there is "a good possibility" this bank robbery case may be linked to an April incident about 25 miles west when three suspects -- two male and one female-- held the family of the CEO of Y-12 Federal Credit Union in Oak Ridge, Tennessee, hostage in a failed attempt to extort money from the credit union. No one was injured and no money was taken in that incident, officials said.
Bank employees in the area are now on high alert following the two incidents this past year, according to officials.