— -- Accumulations may have amounted to only a dusting to an inch, but Texas celebrated a rare snowstorm on Thursday with super-sized enthusiasm.
Many major cities saw snow on Thursday, including San Antonio, Austin and Houston. The snowfall came even before Northeast cities like New York and Boston have seen the white stuff this season.
Video sent to Houston ABC station KTRK showed kids running out to greet the big, wet flakes.
It has snowed just 35 times in Houston since 1895, according to KTRK, with the last measurable snow (just an inch) falling in December 2009.
A winter weather advisory was in effect for Houston through Friday morning where 1 to 2 inches of snow were possible.
Houston Texans defensive lineman J.J. Watt, no stranger to snow in his time growing up in Wisconsin, reveled in the snow in his adopted hometown on Thursday.
The snow turned Kyle Field in College Station -- home of the Texas A&M Aggies -- into a "winter wonderland."
At the Alamo in San Antonio, a conveniently dressed Santa Claus greeted tourists as flakes fell. The precipitation was mostly mixed in the area, but a freeze warning was issued by the National Weather Service through Friday morning.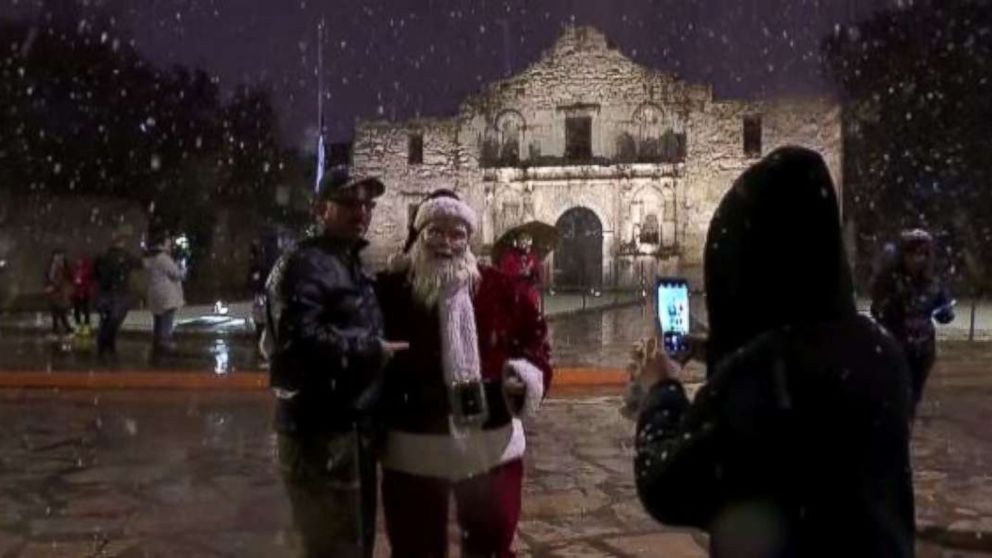 San Antonio ended up with just shy of 2 inches on the ground, according to the National Weather Service. Austin received about half an inch to 1 inch.