— -- A Texas man whose wife gave birth after they fled from Hurricane Harvey -- and whom ABC News has embedded since the storm made landfall on Friday -- made an emotional return to his destroyed home on Wednesday, saying that his family made the "right decision" to stay nearby.
Port Aransas resident William Weeks and his wife, Danielle Weeks, became parents of three Tuesday morning when they welcomed their newest addition -- Loralynn -- to the world.
The Weeks family fled their home before the storm hit, days before Danielle Weeks' scheduled cesarean section. Although they evacuated, they did not go far -- a decision that may have spared the lives of the mother and the child.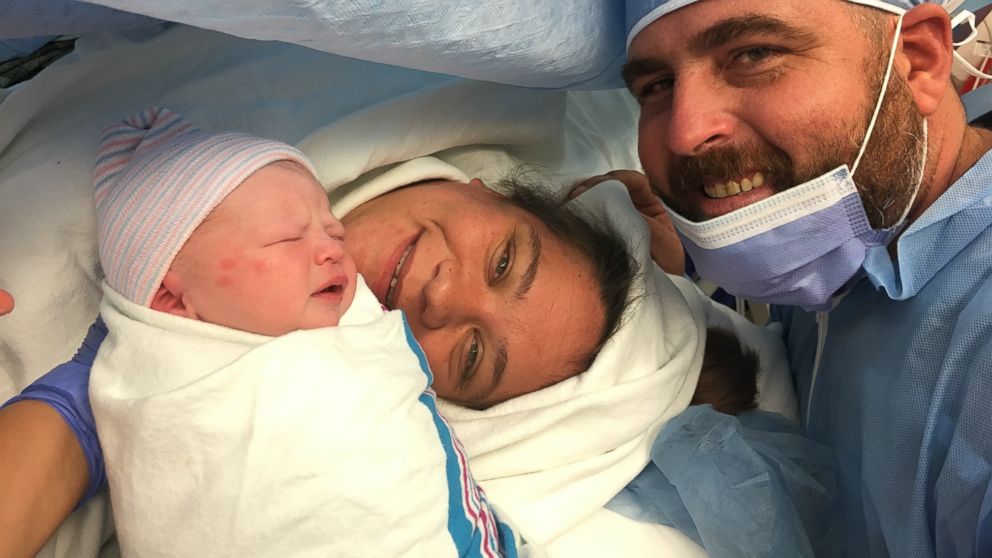 William Weeks told ABC News that his family's decision to stay close to Corpus Christi was due to their local doctor telling Danielle Weeks that she could tear her cervix and begin hemorrhaging if they ventured any further and missed her scheduled C-section at CHRISTUS Spohn Hospital.
"I could have lost my wife and also lost the baby," he said. "And that was pretty crazy news ... knowing that we [made] the right decision by staying and staying close to the hospital."
The hurricane flipped the Weeks' two-bedroom trailer on its side after it made landfall in Texas late Friday night, spilling most of its contents onto the land around it. William Weeks and his mother, Beth Campbell, headed to his home Wednesday to assess the damage and meet with a FEMA representative. He was still wearing his hospital wristband from the day before.
"All sides are just demolished," William Weeks said.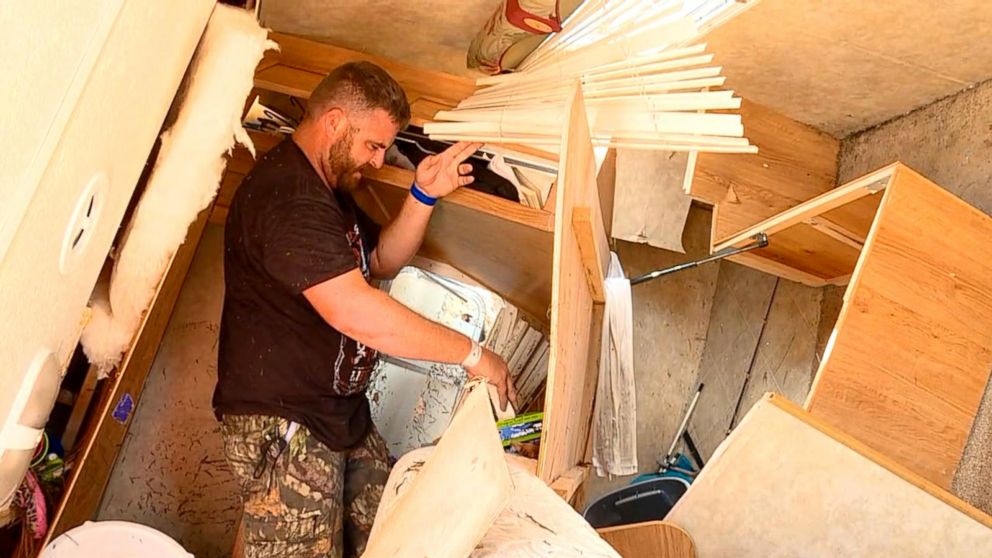 Neighbors had to use a chainsaw to cut a hole in the roof of the trailer in order to gain access inside. William Weeks cried as he peeked into his former home for the first time and surveyed the destruction. The family's belongings, including toys and clothing, littered the ground surrounding their home.
"It's just hard," he said.
William Weeks and Campbell searched for belongings around the home that they could salvage. Campbell found the dress she bought her 5-year-old granddaughter, Annabella Weeks, for her first day of school. Campbell had bought the dress with an embroidered anchor because the family had just moved to the seaside town, she said.
"So, maybe we'll be able to wash it and save it," she said. "It's just dirty. It might not be ruined. ... I feel lucky that I found it."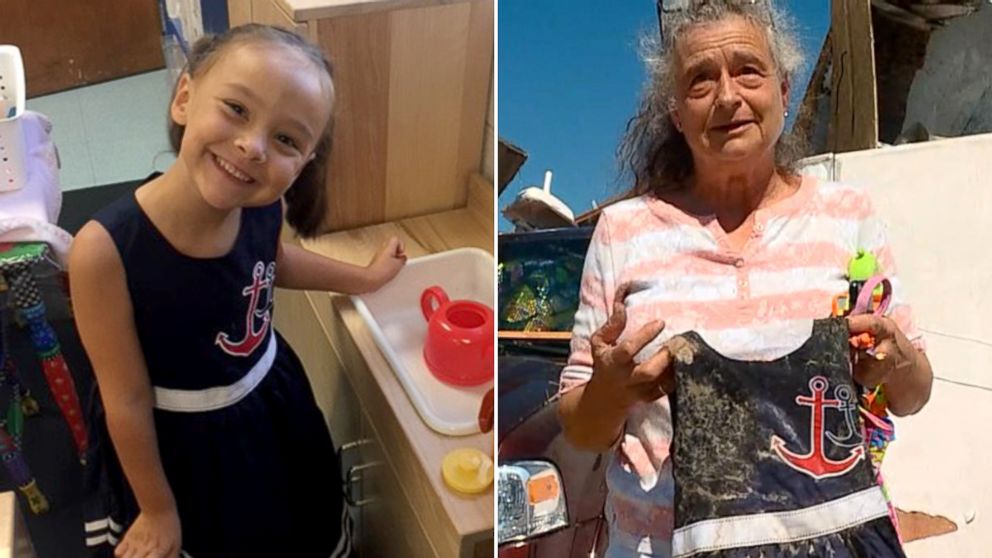 William Weeks became emotional as his mother showed him the dress.
"We're saving that for sure," he said.
As William Weeks and Campbell explored the home, an officer with the Texas Department of Public Safety approached to congratulate him on his newborn daughter. He then gave William Weeks a Texas flag, instructing him to stay "Texas Strong."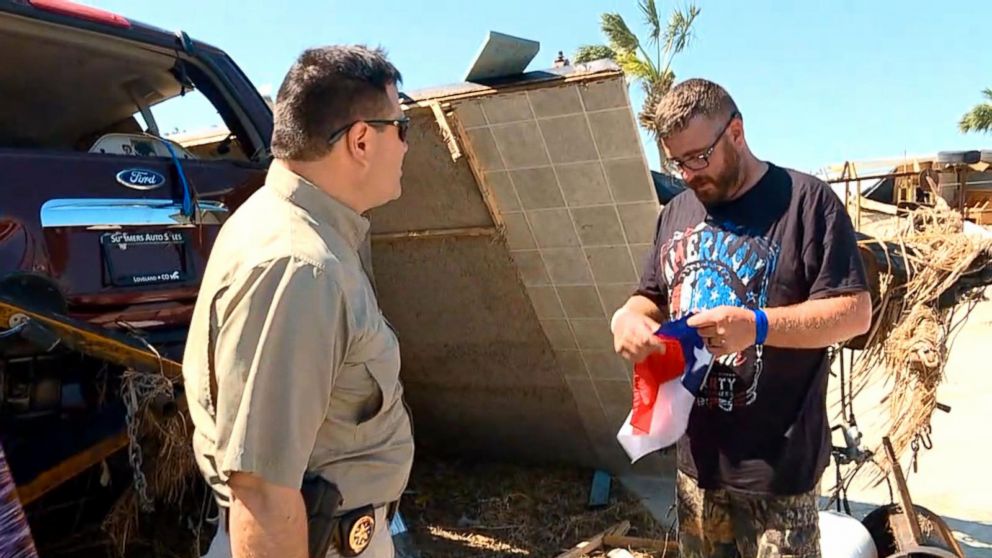 William Weeks then put the flag on the stroller holding the belongings he intends to keep.
William Weeks said the local community has been donating children's clothes and diapers.
"We're very blessed," he said. "We've got a good community."
Gulf Coast residents struggle to recover after Hurricane Harvey
Members of First Baptist Church of Loeb chain saw pews and clean up the church on U.S. 69 that had eight feet of water in it due to Hurricane Harvey flooding in Lumberton, Texas, Sept. 7, 2017.
Port Aransas endured significant damage as a result of the hurricane. The family said they would like to return, but it's expected to take two years to rebuild.
Take part in Disney's Day of Giving: To support people impacted by Hurricane Harvey, call 1-855-999-GIVE, donate at www.RedCross.org/ABC or text "HARVEY" to 90999 to make a $10 donation.