— -- The Texas teen who was arrested after school officials mistook his homemade invention for a bomb says he plans to transfer schools and is on his way to the White House.
"I guess everyone knows I'm the one who built a clock and got into a lot of trouble for it," Ahmed Mohamed, 14, said in a news conference today. "I built the clock to impress my teacher, but when I showed her, she was threatened by it."
Ahmed, a high school freshman at MacArthur High School in Irving, Texas, was taken into police custody Monday when his homemade digital clock was mistaken for a bomb by school officials and the police.
"In terms of what he [Ahmed] said, he told the officers that it was a clock," Chief Larry Boyd of the Irving Police Department told ABC News today. "We live in an age that horrific things have happened in schools across this nation and, of course, we have to be cautious."
Boyd said that after further investigation, all four officers on the scene concluded that the device did not have the workings of an explosive and, in turn, no charges will be brought against Ahmed for bringing it to school.
Ahmed's arrest attracted attention from the likes of President Obama on Twitter, who offered the teen an invitation to the White House.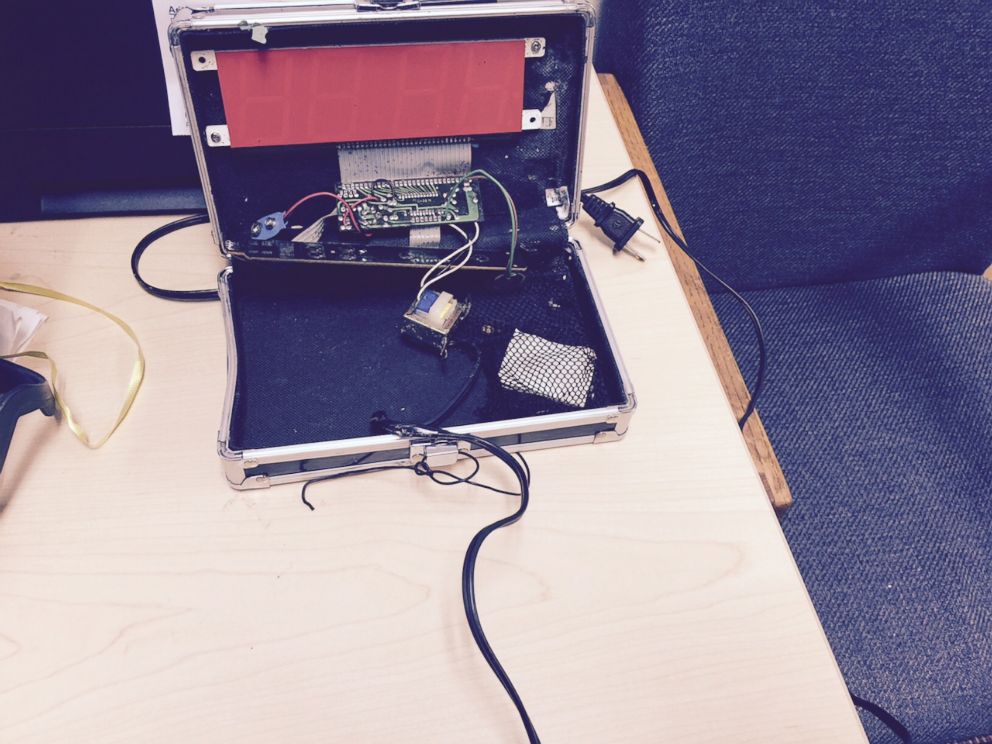 "I've seen Mark Zuckerberg, Barack Obama [support him on social media] and I'm pleased that they are a part of the action," Ahmed said. "[They're] a part of the movement of what happened, not just to me but to people all over the world."
Ahmed's father, Mohamed Elhassan Mohamed, said his son was mistreated in front of his friends and his teachers.
"That is not America," he said. "That is not like us.
"...we are not here for hating. We are here for merciful [mercy]."
Boyd said his original meeting with Ahmed's father was canceled, but he hopes to connect with him today.
"The important thing for us as we go forward is we want to make sure that we continue the strong relationship we have with our Islamic community," Boyd said. "We want to start first by meeting with the father, but we will continue by working with the Irving Islamic center as well."
Ahmed said he will not meet with Boyd without his lawyer.
He said he is still suspended until Thursday and plans to attend college at Massachusetts Institute of Technology after graduating high school.
ABC News' Avianne Tan contributed to this report