— -- Airlines canceled flights, mass transit systems planned to shut down from New York City to Boston, and roads were ordered closed to all traffic in all or parts of five states as a massive blizzard was expected to engulf the Northeast.
Nearly 7,000 flights have been canceled in anticipation of a storm that could bring as much as two feet or more of snow from New Jersey to Maine.
The cancellations are for flights through Tuesday, and according to Airlines for America, there will be very limited operations Monday evening and Tuesday so crews can be ready to resume full operations.
The greatest impacts from the storm, which began as a clipper system that brought snow and slick roads to the Midwest on Sunday, are expected Monday evening through Tuesday.
President Obama was briefed on the storm, and White House officials have been in touch with state and local officials on the eastern seaboard, according to White House Spokesman Josh Earnest.
FEMA also has assets in the region ready to assist, Earnest said.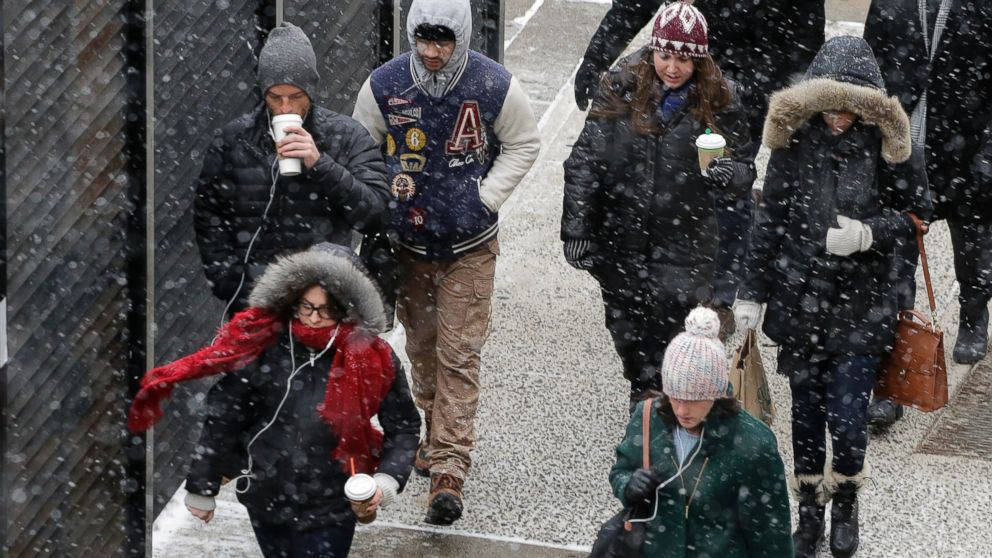 Local leaders in the New York area were warning residents to stay off the roads and planned to shut down mass transit systems as the storm intensifies.
In Connecticut, Gov. Dannel Malloy issued a travel ban for the entire state effective at 9 p.m. this evening.
"We encourage citizens to stay in place during the duration of the storm," Malloy said.
In New York, Gov. Andrew Cuomo issued a travel ban for in 13 counties, including New York City and Long Island, beginning at 11 p.m.
"This is a serious situation," Cuomo said. "If you violate this state order, it's a possible misdemeanor. It's fines up to $300."
Cuomo and N.J. Gov. Chris Christie announced at separate briefings that the New York subway, the Long Island Rail Road, Metro North and New Jersey Transit would all be reducing service dramatically leading up to total closures at 11 p.m. for the New York City subway, the LIRR, Metro North. NJ Transit will not resume operations until Thursday.
"Get wherever you're going at 11 o'clock because that's going to be a hard stop time," Cuomo said.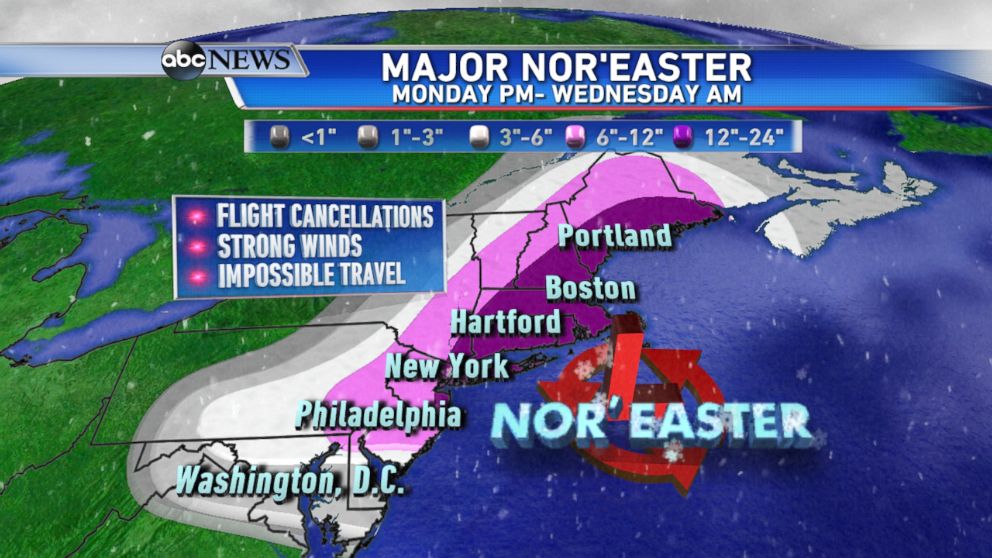 According to the MTA, this the first time the entire subway system as well as bridges and tunnels will shut down because of a winter storm. The last subway shutdown was when Superstorm Sandy hit. "This is not business as usual," New York Mayor Bill de Blasio told reporters tonight. He said to expect snow coming down at 2 to 4 inches an hour after midnight and urged businesses to let their employees stay home. He said it's "no time for employers to be cheapskates."
Massachusetts Gov. Charlie Baker declared a state of emergency and implemented a statewide travel ban beginning at midnight.
"Driving will be virtually impossible for extended periods of time starting late tonight," Baker said. "Please stay off the roads. Everyone should expect impassible roads starting at midnight tonight."
In Boston, which was expected to get two feet of snow, the Massachusetts Bay Transportation Authority announced that it will run until about midnight and will be closed Tuesday
In all, seven states, including Pennsylvania, New Jersey, Rhode Island and New Hampshire, have declared states of emergency.
Amtrak announced that it was suspending service in the New England region on Tuesday, and that service between New York and Washington, D.C., would be reduced.
Mayor De Blasio told residents not to underestimate the storm.
"Prepare for something worse than we have seen before. Prepare to be safe. Take every precaution," he said. "Now is the time to get ready for this extreme weather."
Ahead of the winter storm, New York City residents raced to stock up on food essentials.
The highest snowfall amounts are currently expected between just east of New York City and Boston, where as much as two feet of snow is expected.
New York City can expect 12-18 inches of snow, with cities southwest on I-95, like Philadelphia seeing 6-12 inches.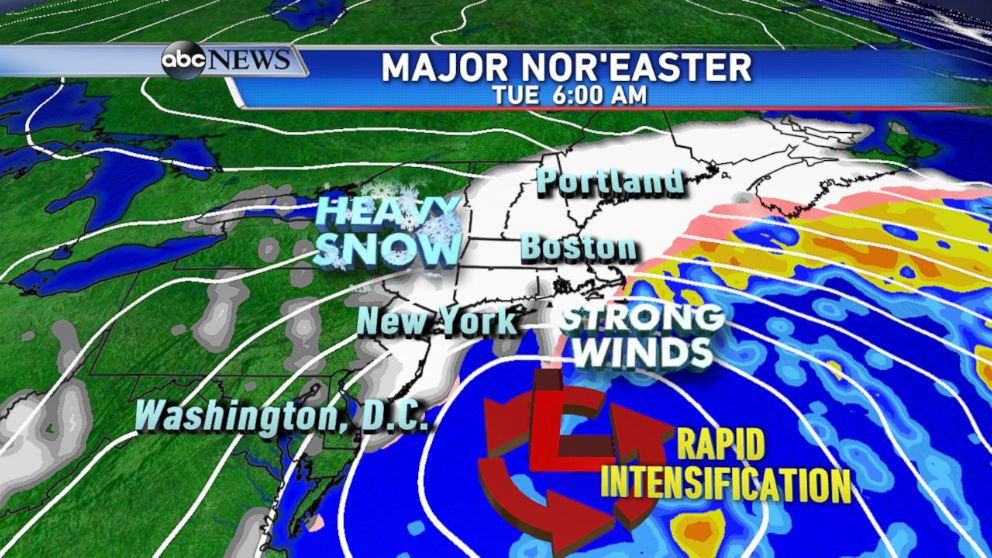 Winter storm watches, warnings, and advisories are in effect from the mid-Atlantic to New England, with blizzard watches posted for cities closer to the coast, including New York City and Boston, where blizzard conditions are expected during the height of the storm.
In anticipation of the dangerous winter weather, several major U.S. airlines have issued travel advisories, including Jet Blue, US Airways, American, Southwest and Delta.
Many airlines are also waiving their flight change and cancellation fees for any flights that are scheduled to arrive in cities expected to be affected by the storm this evening and Tuesday.
Travelers can check with their specific airline for how to change or cancel their flight and get the latest updates on any travel advisories.
Get real-time updates as this story unfolds. To start, just "star" this story in ABC News' phone app. Download ABC News for iPhone here or ABC News for Android here.