— -- Anti-Donald Trump demonstrations swept the U.S. for a fourth day Saturday, as thousands of people filled city streets and gathered in public parks and squares to express their disdain for the president-elect.
And in New York, protesters descended upon the real estate mogul-turned-commander in chief's residence, Trump Tower on upscale Fifth Avenue in midtown Manhattan.
Below, a rundown of the nationwide protests:
PORTLAND, OREGON
As was the case the past few nights, Portland emerged as a hot of civil unrest: According to police, protesters attacked a TV crew, blocked the city's light rail service with large metal barricades, blocked traffic, assaulted others and threw bottles, burning road flares and other projectiles at officers.
A stockpile of bricks and rocks was also located and removed by police.
Police responded by unleashing pepper spray and tear gas.
In the video below, a protester is sprayed with a substance by a police officer.
At 10:42 p.m. local time, Portland Police tweeted that 19 people had been arrested "due to criminal behavior during protest."
LAS VEGAS
Nearly one thousand protesters marched along the Las Vegas strip sidewalks Saturday, with crowds dispersing after about three hours, according to The Associated Press.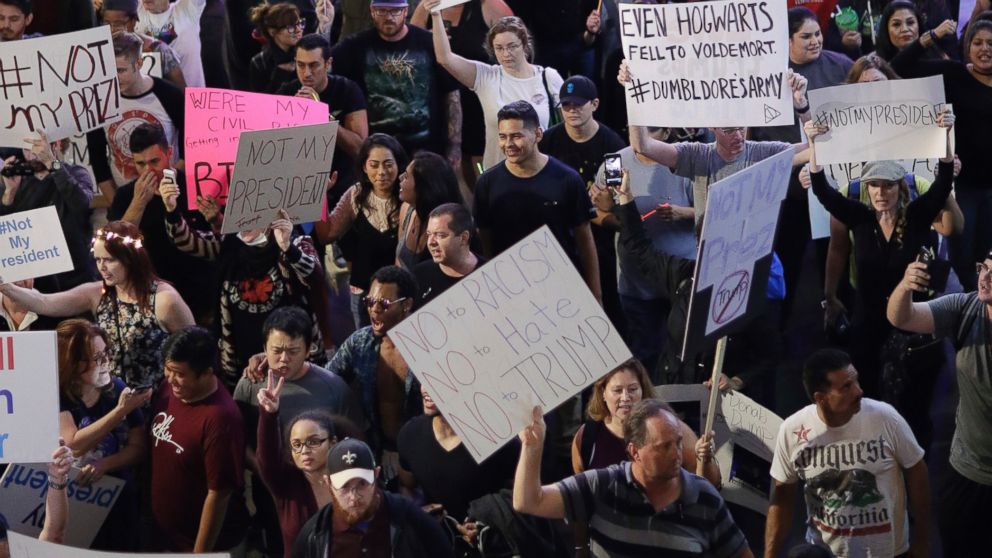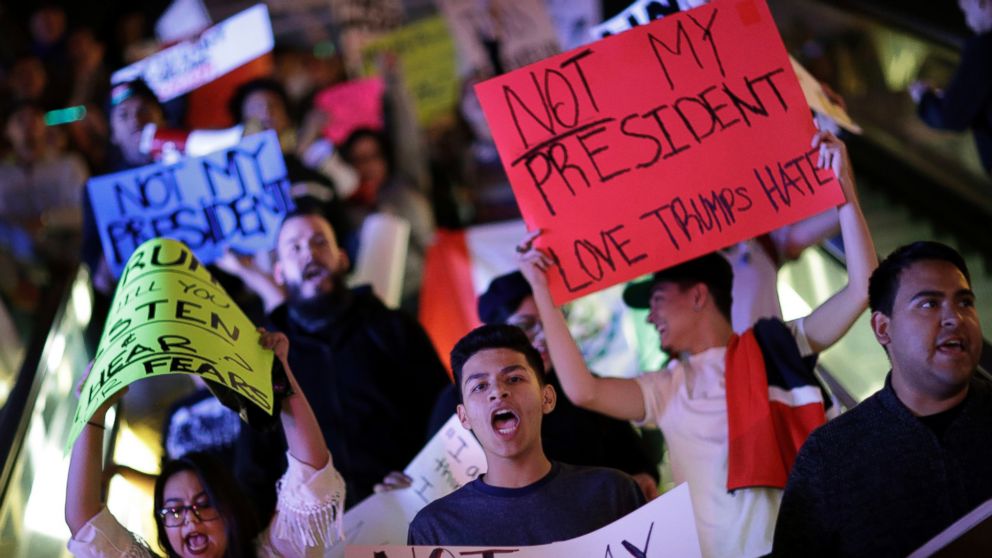 Seven people were arrested on charges that they blocked traffic on Las Vegas Boulevard following a demonstration at the Trump hotel, said Las Vegas Police Captain Christopher Tomaino said late Saturday.
Police were forced to seperate the protesters from Trump supporters, who faced off with their foes.
INDIANAPOLIS
Seven people were arrested during anti-Trump protests Saturday, said Indianapolis Police Chief Troy Riggs.
Police briefly fired pepper balls at protesters, some of whom threw rocks at officers and chanted threats including "Kill the Police."
Two officers were slightly injured after being hit by rocks.
LOS ANGELES
More than 8,000 people filled the streets of downtown Los Angeles Saturday afternoon to protest Trump's election, but by the evening, it was only a crowd of about 200 people marching, according to ABC affiliate KABC.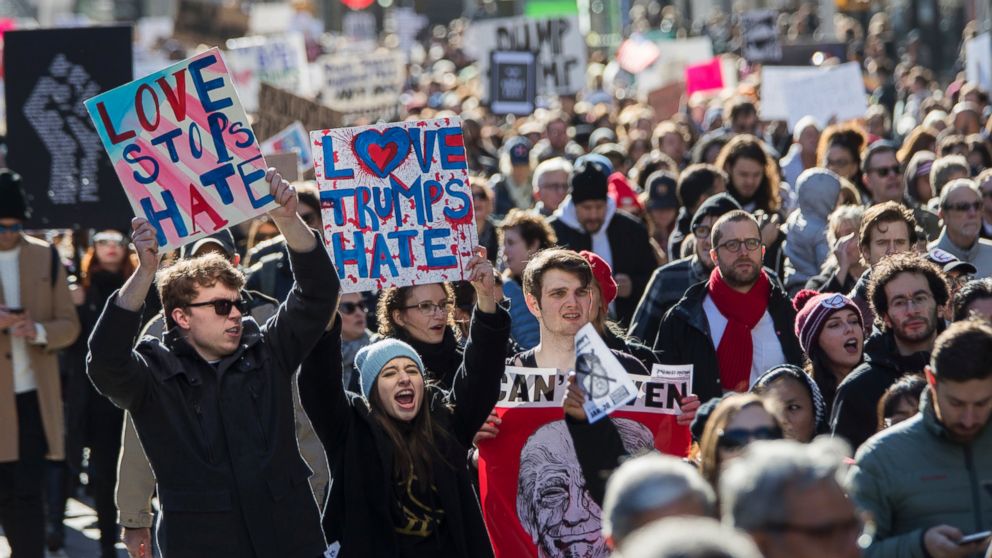 "I want peace. I have family. I have little kids. I want them to have a good future, and Trump -- I don't know about him," protester Ivan Marquez told KABC.
At least two people were detained by police: One person on suspicion of spray painting a police cruiser and another for trying to attack a police officer with his bicycle.
One of the midwest's largest cities was also the site of anti-Trump demonstrations, with hundreds of protesters marching through downtown Chicago Saturday afternoon.
Some protesters gathered outside Trump Tower, while others marched throughout the Loop, causing traffic disruptions.
Two protesters were detained by police.
NEW YORK
In New York City, about 2,000 protesters marched up Fifth Avenue toward Trump Tower, where they gathered outside, according to local ABC-owned station WABC. They held signs that read, "Not my president," "Say no to racism," "We are all human, we all deserve rights" and "Love trumps hate."
Two protesters were arrested overnight for "interfering with police process," according to the NYPD.
The president-elect had been holed up inside Trump Tower with his transition team all day.
ABC News' Devin Villacis and Brendan Rand contributed to this report.