Thousands of determined and boisterous Oklahoma teachers seized every floor of their state capitol building Tuesday vowing not to leave until lawmakers loosen the purse strings on education funding.
In a show of force, educators stayed out of classrooms throughout the state for a second day and said in unison that they will continue their walkout until the Republican-dominated legislature substantially boosts money for school resources.
"We'll be back on Wednesday!" chanted the teachers.
Many of them were holding signs reading, "Let's Start Funding" and "Fund our Future."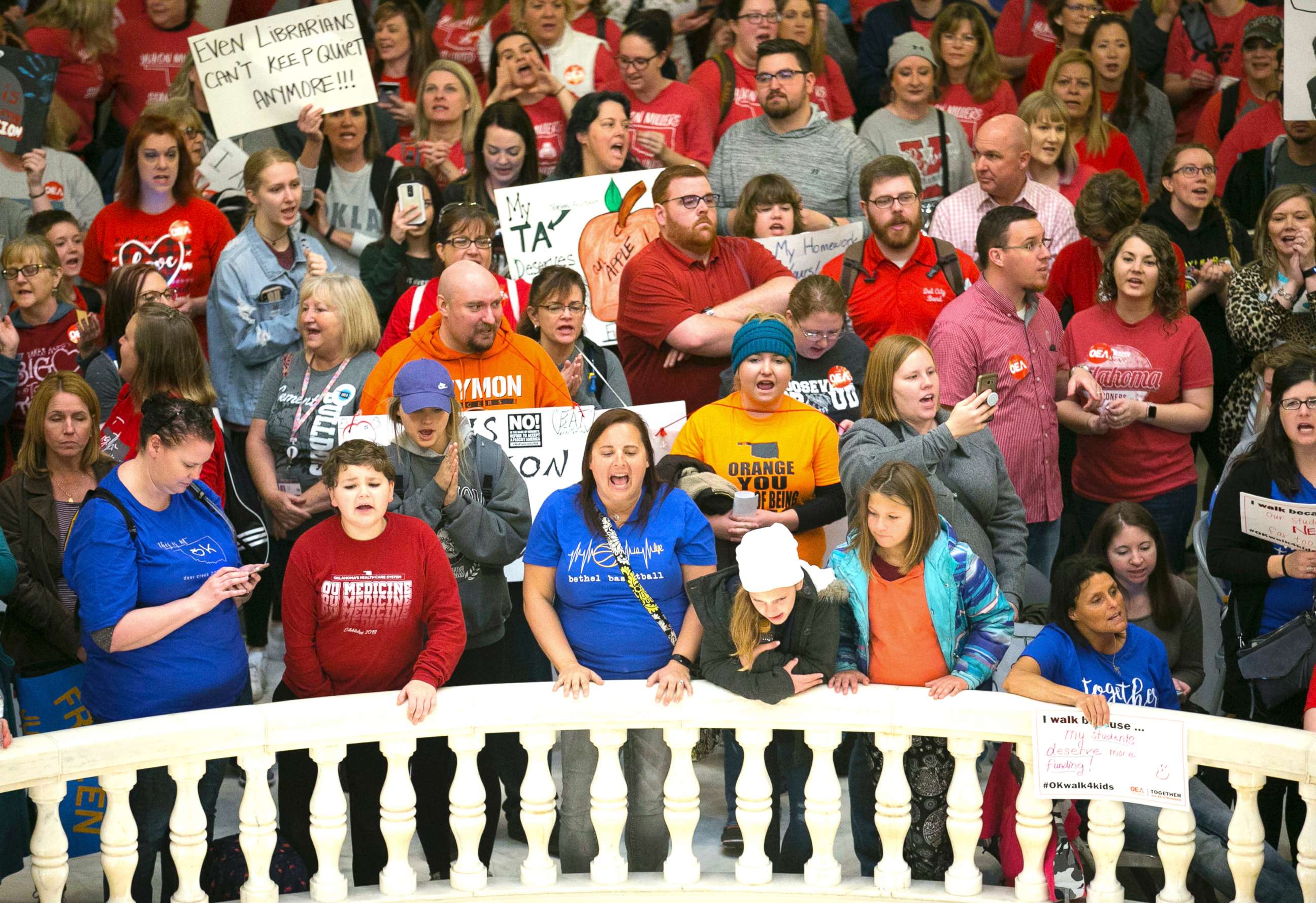 "I'm hearing that we have more people today than we had yesterday," Katherine Bishop, vice president of the Oklahoma Education Association told the crowd to loud cheers. "I just heard that people in the House can hear us. We need to be even louder."
There were so many people waiting to get into the capitol to speak with lawmakers that officials have occasionally declared the building at capacity and temporarily shut the doors.
Thousands more teachers stood outside the capital as buses filled with educators who kept pouring in from across the state.
The massive classroom walkout caused school districts across the state -- including those in the largest cities of Oklahoma City, Tulsa and Norman -- to cancel classes for a second day.
Bishop implored to the crowd to skip school for at least the remainder of the week to keep the protest going.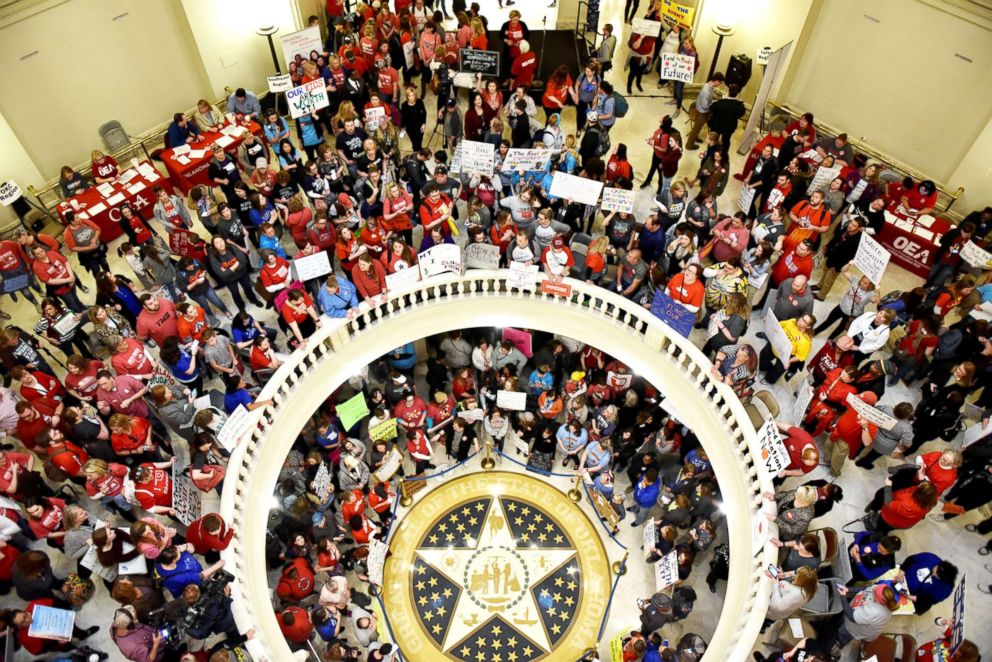 "We have waited too long to have our kids neglected. It's time to fund us now," Bishop said.
The teachers are demanding that Republican Gov. Mary Fallin and the state legislature restore funding for education programs and supplies they say have been drastically slashed over the last decade.
Most of the Oklahoma teachers walked out of classrooms across the state to attend the rally in Oklahoma City. Many said they were frustrated with the lack of resources in their schools, and some said they were teaching students about science and technology with textbooks from the 1990s.
The Oklahoma protest came after Fallin signed legislation Thursday granting teachers annual pay raises averaging $6,100, the largest in state history. Oklahoma teachers had been making an average of $45,276 annually, among the lowest for educators nationwide, according to a 2017 report by the National Education Association.
But the teachers' union had asked for raises of $10,000 a year per teacher, higher pay for support staff and $200 million in education funding over the next three years.
"You can give me two options: If I would choose a raise, or I would choose school funding. And you better believe I'd pick school funding," high school geometry teacher Charis Davenport told ABC News.
"Our kids are at stake," she added.
Teacher Joanna Rasp told ABC News she actually works three extra jobs to make ends meet and buy supplies for her students.
"One paycheck goes to my classroom totally," said Rasp, adding that she works two different tutoring jobs and files papers for her sister's law firm in addition to her teaching job.
"You love it and that's why you do it. And I think we've been martyrs too long," Rasp said. "And I think we've said to them, 'it's OK to treat us this way' because we're martyrs. But we just can't be any anymore. We're professionals."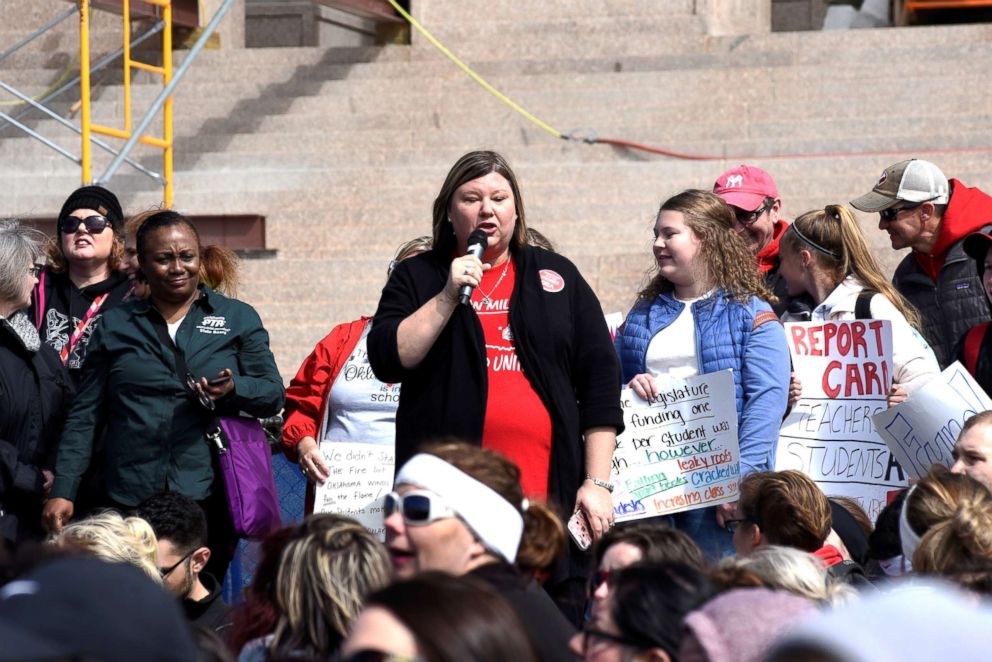 The legislature has slated $50 million for educational programs and supplies, and Fallin has warned, "we can only do what our budget allows."
"We must be responsible not to neglect other areas of need in the state such as corrections and health and human services as we continue to consider additional education funding measures," Fallin said in a statement on Monday.
ABC News has reached out to Oklahoma state legislators and the governor's office requesting interviews. None have yet agreed.
On Monday, teachers in Oklahoma and Kentucky held massive rallies at their respective capitals, part of a red state revolt that started last month in West Virginia, where educators won their first pay increase in four years going on strike for nine days.
The Kentucky teachers and supporters say their state legislature's decision last week to overhaul their pension plan was done in backroom deals and without any say from them.
The bill, which is awaiting the governor's signature, would create a hybrid pension plan for new hires and limit the number of accrued sick days veteran teachers can put toward retirement. Kentucky Gov. Matt Bevin has indicated he supports the bill, but has yet to sign it.
The Republican-dominated Kentucky legislature says the pension reform bill was crafted to help the state cover a $41 billion shortfall in pension costs over the next 30 years. But teachers' union officials said the overhaul would only generate $300 million in savings over the next three decades.
Bevin released a statement late Monday cautioning that the state needs to be "fiscally responsible."
"A fiscally responsible budget does not contain unfunded mandates and does not intentionally create budget shortfalls in the future," Bevin said in his statement. "A fiscally responsible budget does not put the obligation for today's spending on the backs of our children and grandchildren. A fiscally responsible budget does not kick the can down the road as previous governors and legislators have repeatedly done."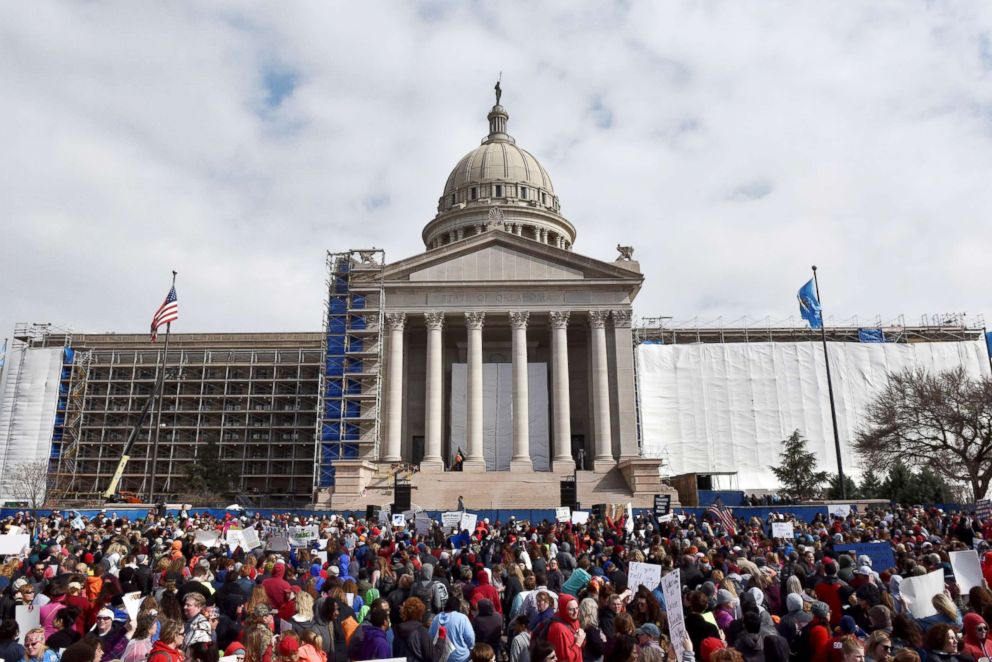 Most Kentucky public schools are on spring break this week. Some schools that were in session Tuesday were forced to cancel classes when teachers held demonstrations in their home districts. The Kentucky Education Association has not said if it will organize class walkouts next week.
Teacher revolts have been spreading throughout the nation ever since West Virginia teachers walked off the job and forced their Republican majority legislatures and governor to agree to a 5 percent pay raise for all public employees.
"I hope you learned a little bit from West Virginia on what it takes," Dale Lee, president of the West Virginia Education Association, who attended the Oklahoma rally, said on Monday.
"You're here for the same reason we had thousands of teachers standing at the capitol in West Virginia: You're here for the kids," Lee said to loud applause.