— -- Tips from across the United States -- and abroad -- are pouring in, authorities say, as the manhunt escalates for a Texas teen whose drunken-driving trial included a defense witness saying the teen was afflicted with "affluenza."
Ethan Couch, now 18, was convicted of four counts of intoxication manslaughter in 2013 for killing four people while driving drunk, but was not sentenced to any jail time after an expert witness for the defense team, psychologist Dr. G. Dick Miller, pointed to "affluenza," a condition he said was caused by Couch's wealthy upbringing, preventing him from knowing right from wrong.
Instead, he was given 10 years of probation, which Tarrant County Sheriff Dee Anderson Monday called a "miscarriage of justice."
Now, officials are concerned that Couch skipped at least one check-in with his probation officer and that he could have skipped town. A juvenile judge issued a "directive to apprehend" -- effectively a warrant -- for Couch on Dec. 11.
U.S. Marshals Service last week released a wanted poster for the fugitive teen and authorities are offering a $5,000 reward in exchange for his whereabouts.
If Couch is apprehended, he will only be charged with violating his probation, sources in the investigation told ABC News Monday.
U.S. Marshal Rick Taylor told ABC News this morning his office is working with Tarrant County officials to run down leads.
"We've been receiving a lot of tips that have come in," Taylor said. "They're all over the country, to include a couple that were international. But we're quickly going through those, ruling out those tips that are not valid."
Now that U.S. Marshals have declared it a "major case," the agency can use unlimited funds and pay unlimited overtime, sources told ABC News Monday.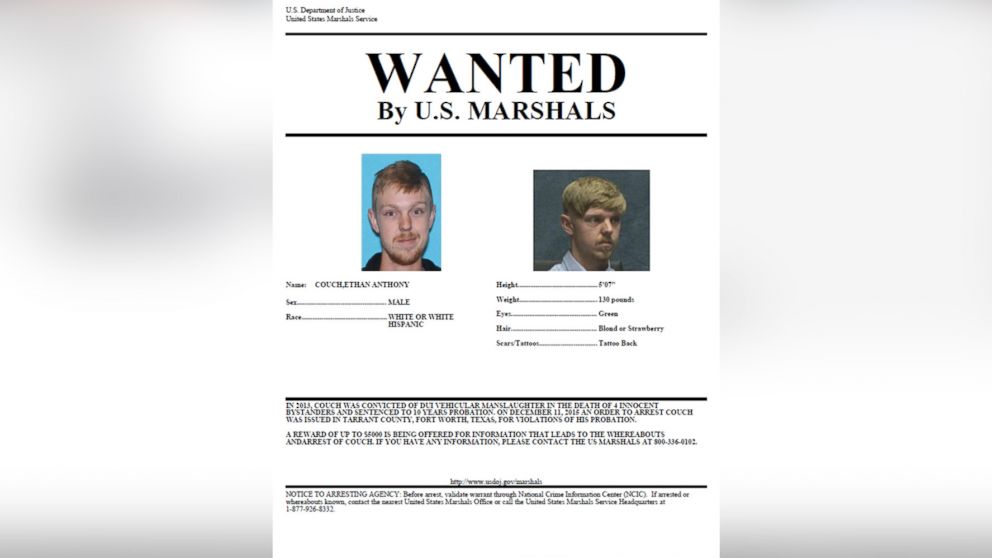 Despite all the tips, Sheriff Anderson said Monday that authorities do not have any solid information and the teen has not been located. It was unclear how long Couch has allegedly been at large.
Authorities are trying to account for every possibility, Anderson said Monday, including a pickup truck believed to belong to the teen's mother, Tonya Couch, that hasn't yet been accounted for. The U.S. Marshals office released photos of the truck and asked citizens to be on the lookout for it.
Taylor told ABC News today it's believed Couch and his mother are together, adding that Tonya Couch could face charges if she's helping the teen.
Anyone who sees Couch or his mother is asked to call authorities, Taylor said.
"Within minutes of receiving a valid tip, we could have our task force there on scene to arrest Ethan," he said.
While Taylor said he didn't have a message for the teenager, he did have words for the families of the victims.
"We're doing this for you," Taylor said. "And we're going to find Ethan and we're going to bring him back to Tarrant County."
Get real-time updates as this story unfolds. To start, just "star" this story in ABC News' phone app. Download ABC News for iPhone here or ABC News for Android here.