— -- At least three people died and dozens were injured after an Amtrak train derailed on the inaugural run of a new route in Washington state Monday morning, with part of the train careening off an overpass onto a heavily trafficked highway below, a local official said.
National Transportation Safety Board (NTSB) board member Bella Dinh-Zarr said late Monday local time that the train was going 80 mph around a curve that had a 30 mph speed limit. She said the NTSB had yet to interview the train's engineer and crew and was unaware whether they knew the curve had a 30 mph limit.
None of the deaths were among those who were on the roadway of Interstate 5 when the train cars fell, according to the Pierce County Sheriff's Office. However, several motorists on the highway near Dupont, about 20 miles south of Tacoma, were injured when their vehicles were struck by the derailed train.
The crash left train cars scattered in the surrounding woods and dangling off the overpass, and passengers "catapulted" into the seats in front of them, according to a survivor. All but one of the train's 14 cars jumped the tracks, said Washington State Police spokeswoman Trooper Brooke Bova. Five cars and two semis on the interstate were impacted by the crash, Bova said.
Eighty passengers, five crew members and one technician were on board the train, according to officials.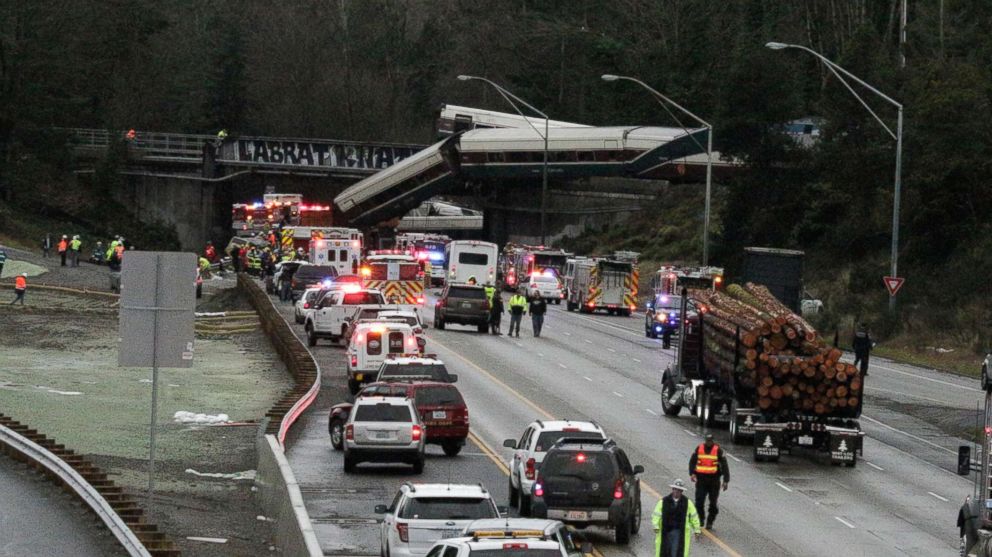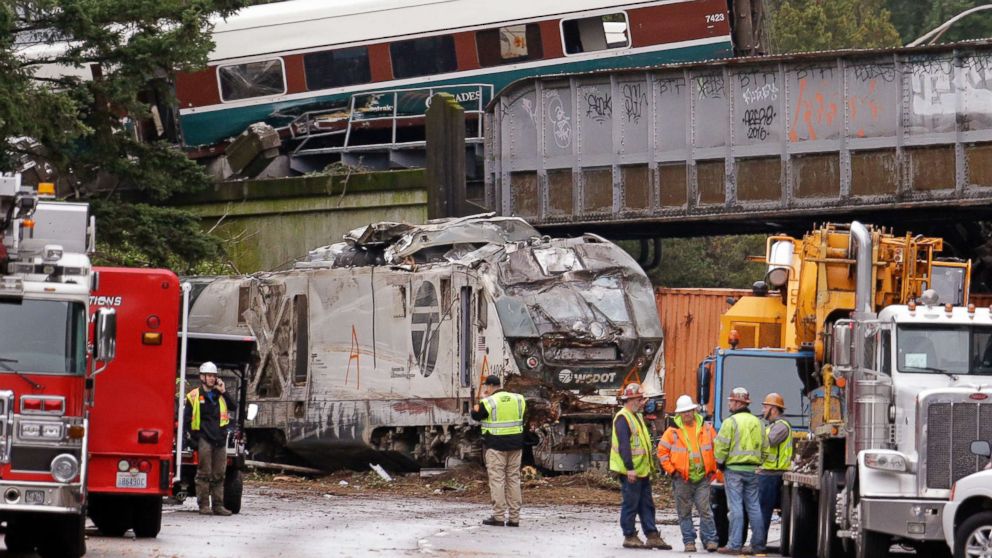 In the wake of the derailment at about 7:37 a.m. local time, dozens of motorists sprang into action, jumping out of their cars to help, a witness told ABC affiliate KOMO-TV. One described a gut-wrenching scene of Good Samaritans trying to do all they could do to comfort those who were pinned under the train.
In addition to those who died, more than 90 people were taken to hospitals, including 10 who were treated for serious injuries, officials said.
By about 4 p.m. local time, all of the train cars had been searched for passengers.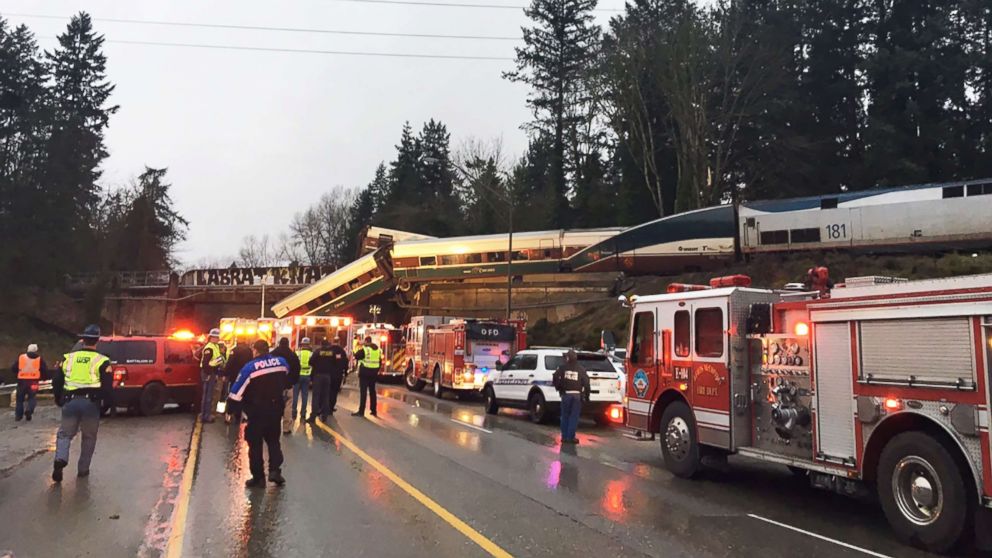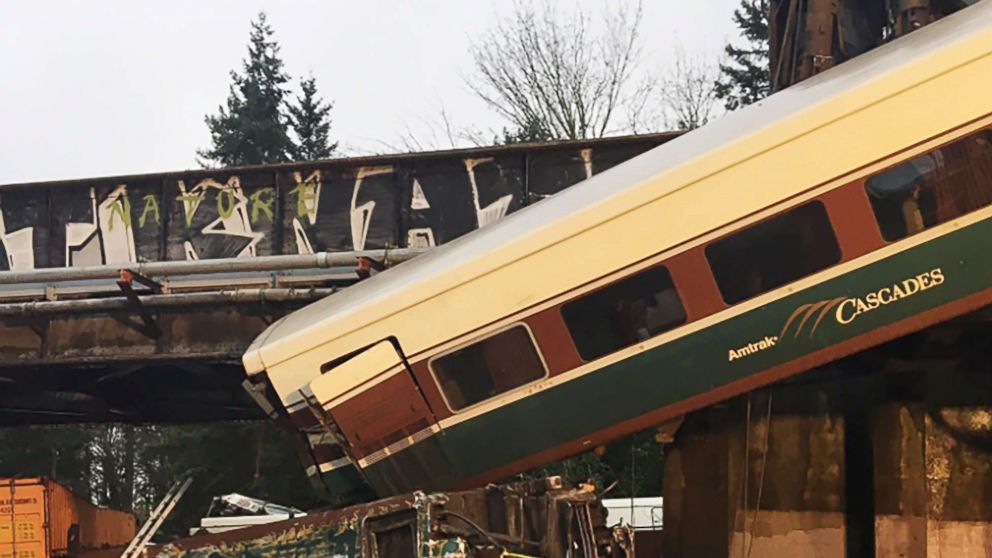 In his first tweet on the derailment, President Donald Trump said the crash demonstrates the need for quick action on infrastructure, but made no mention of the victims. Several minutes later, he extended his "thoughts and prayers" to those affected by the crash, sentiments he repeated in his national security speech. 
The derailed train was the first to carry paying customers on a new route for Amtrak. This track had carried freight trains, but was recently upgraded to carry passengers. In a press release last week, Amtrak said using this route would allow for two more daily round-trips between Seattle and Portland and help trains avoid traveling around tight corners and tunnels. Washington state's Department of Transportation said "today was the first day of public use of the tracks after weeks of inspection and testing."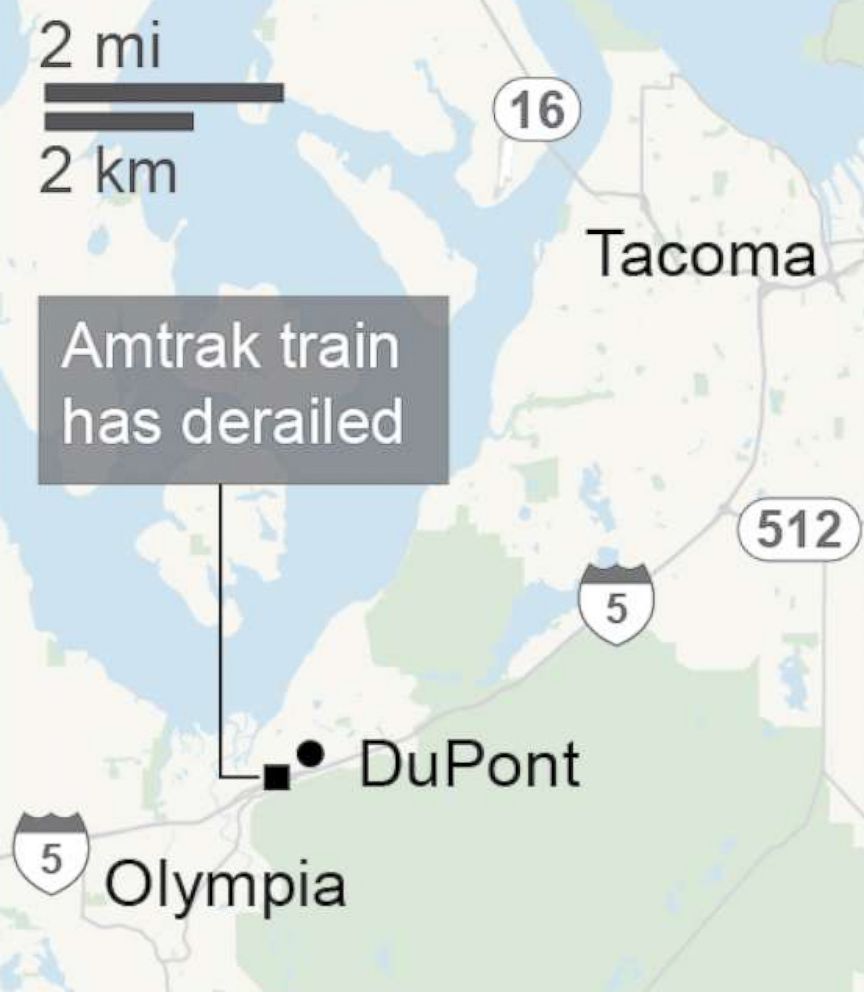 One passenger on the train, who was not seriously injured, said he heard a "creaking" sound before the crash and was "catapulted" forward on impact.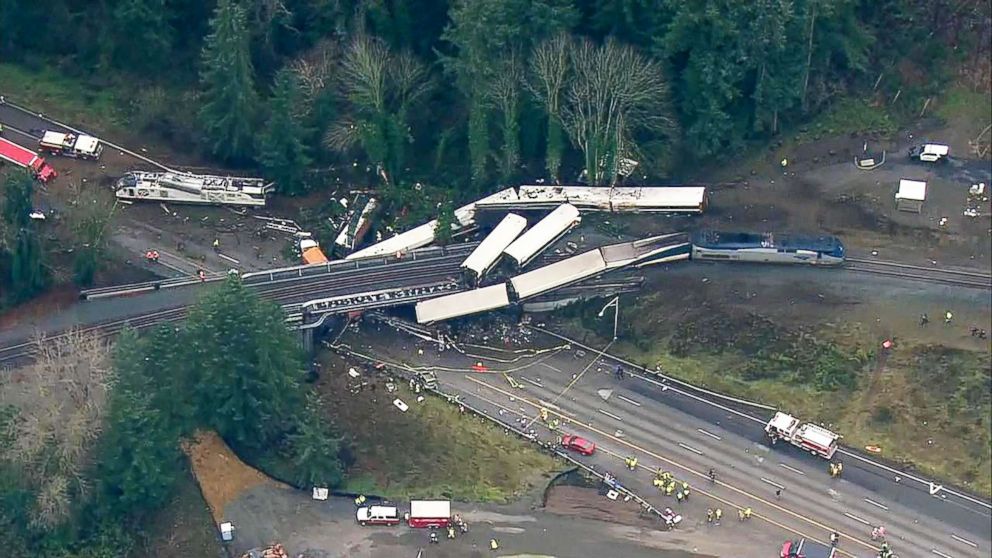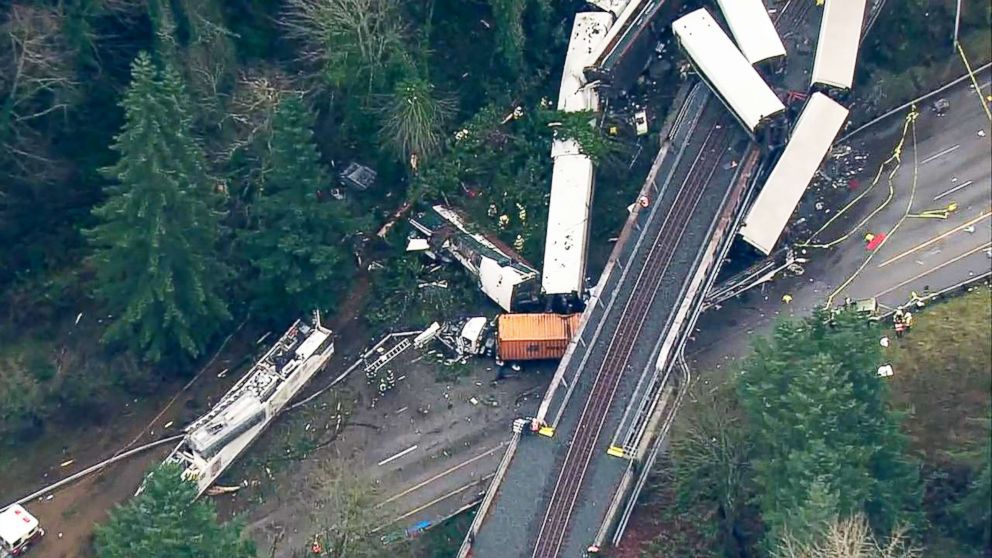 "The train started to wobble for a moment," Chris Karnes told ABC News, "And then we were catapulted at the seats in front of us. And the next thing that we knew, our car had crumpled at a portion at the top and we were down an embankment."
After the impact, Karnes said his train car "came to rest on a hill -- there was water and a ton of dust flew up into the air."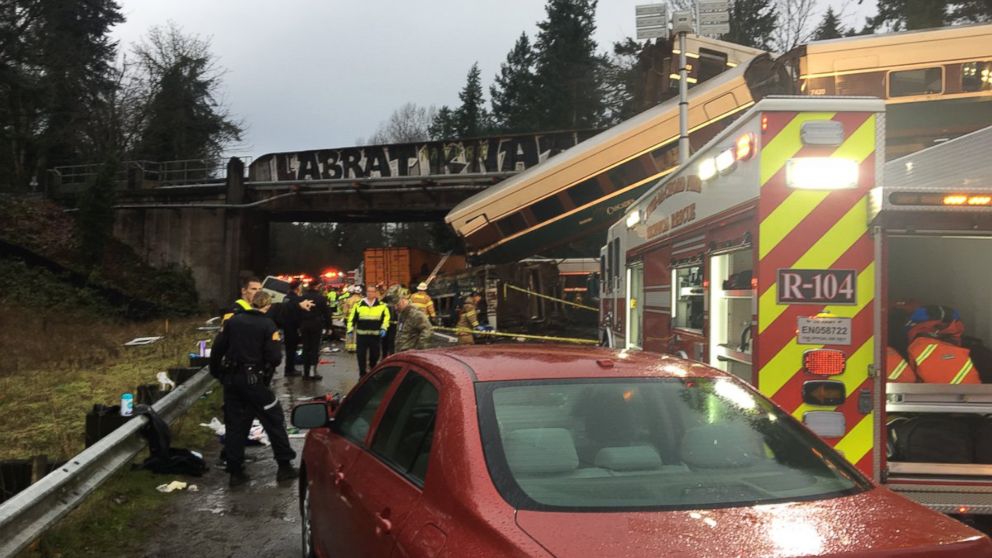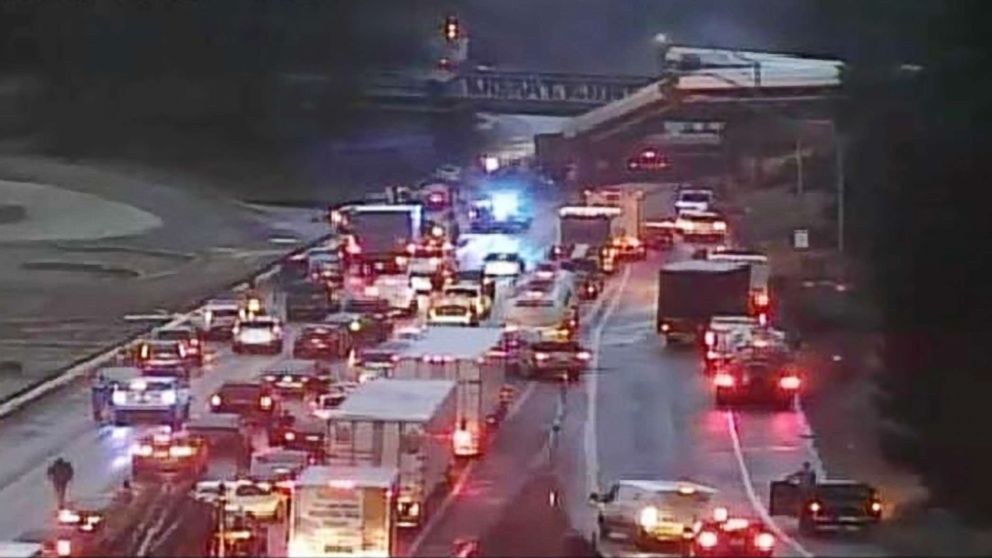 Daniel Konzelman told ABC News he was driving on I-5 when he saw the derailment and pulled over to help.
"I climbed into the train cars that were turned sideways on the bridge and there was people inside still. Some of them couldn't move with neck, head and back injuries, so we stabilized them and tried to find a ladder somewhere to help get them out... until the first responders could get there," he said.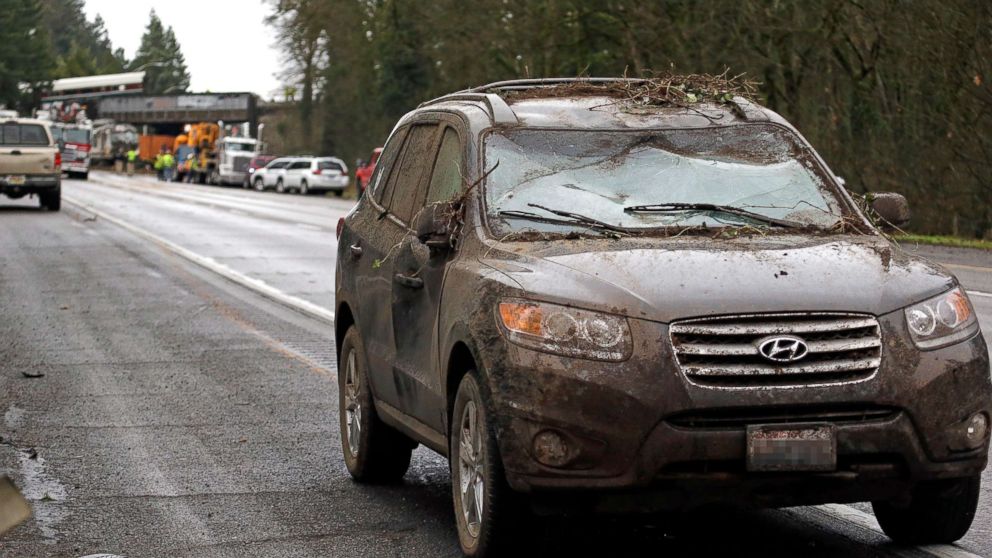 "Then we moved down to the trains that were more seriously damaged, that had flipped upside-down ... the trains were all dark, and there was a lot of wreckage, and some of them were upside-down or ... the roofs were caved in, and climbed inside the trains as best we could and moved wreckage out of the way to find anybody," Konzelman said.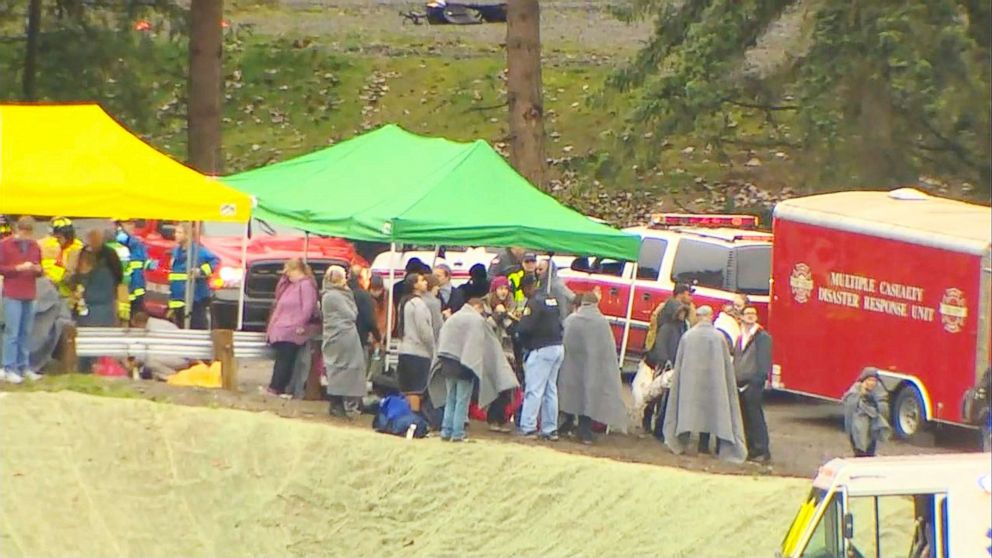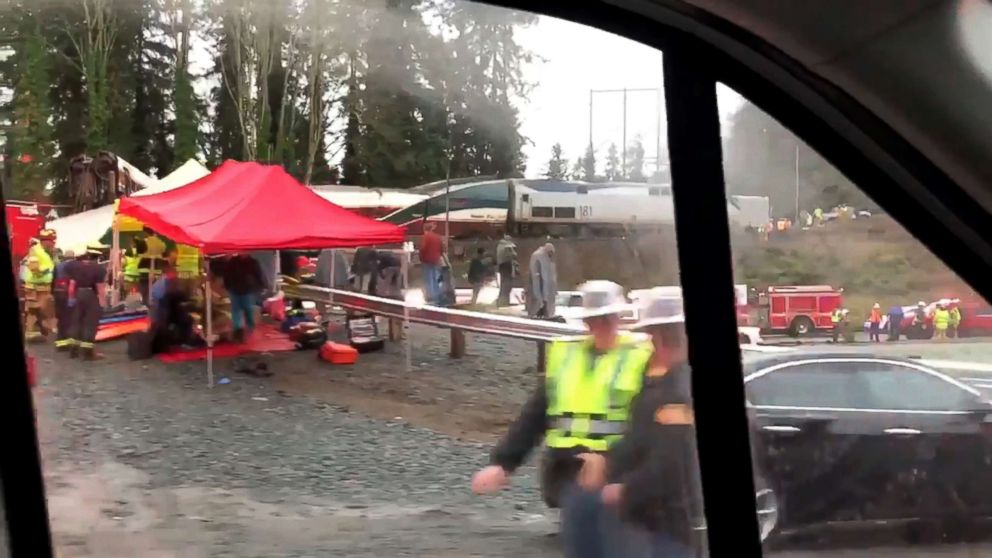 He said he "went through the trains one-by-one and found one of the train attendants who was badly injured with a back injury ... so we stayed with him. He was freezing cold, so we got blankets and kept him warm."
Konzelman said he later reached another car that had "flipped upside-down and burst open and pinned the occupants underneath the train. ... A lot of them were screaming and moaning, but there was nothing we could do to help them really, so we just stayed with them, we held their hands, we talked to them, we rubbed their backs, tried to get them to just relax and try to be a comfortable as they could."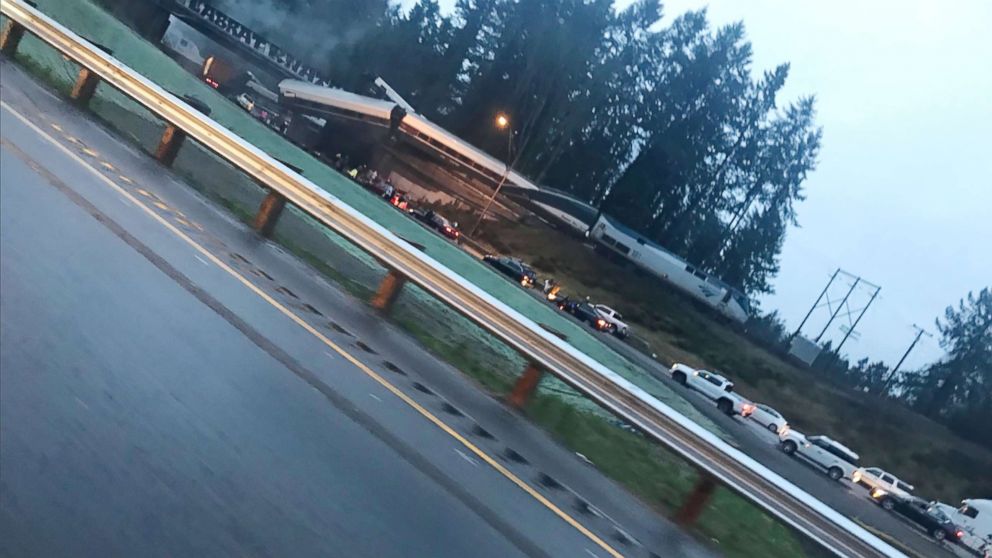 "There was some things that I hope nobody ever has to see," Konzelman said. "It just broke my heart, the people that were kind of pinned and stuck under the train tracks, and there wasn't anything you could really do for them but just be with them."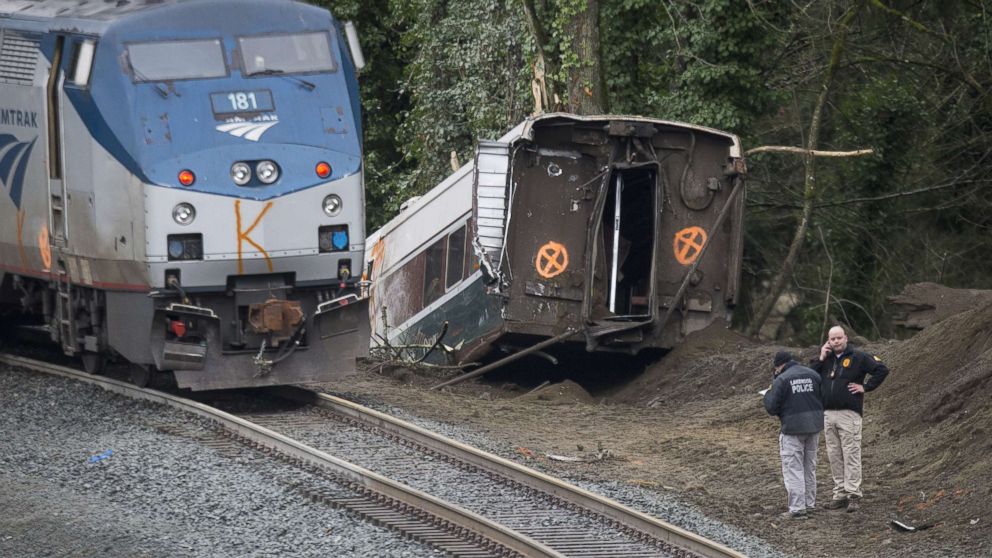 The Washington State Department of Transportation said the derailment was blocking all southbound lanes of Interstate 5 near Mounts Road in Pierce County. Officials said I-5 would remain closed on Tuesday due to the investigation.
Washington Gov. Jay Inslee declared a state of emergency in Pierce and Thurston counties.
He called the derailment "a serious and ongoing emergency," adding, "[Washington State First Lady Trudi Inslee] and I are holding in our hearts everyone on board, and are praying for the many injured."
Seattle Mayor Jenny Durkan said in a statement, "This catastrophic derailment is horrific. My thoughts are with the passengers, families and those injured as well as our first responders, firefighters and police who rushed to the scene."
Durkan also said Seattle has offered to help Pierce and Thurston counties.
"We are deeply saddened," Amtrak President and co-CEO Richard Anderson said in a statement, adding, "We will do everything in our power to support our passengers and crew and their families."
Amtrak said anyone with questions about family and friends on the train can call 800-523-9101.