— -- The murder trial began today for an undocumented immigrant accused of gunning down a young woman on a San Francisco pier two years ago.
Kate Steinle, 32, was shot dead while walking on a pier with her father on July 1, 2015. The suspect, Jose Ines Garcia Zarate, formerly known as Juan Francisco Lopez-Sanchez, claims he found the gun wrapped in a T-shirt under a bench and it went off accidentally, The Associated Press reported. But prosecutors argue he carelessly pointed the weapon at people. The Bureau of Land Management has said that the gun belonged to one of their enforcement rangers and was stolen from a federal agent's car.
Zarate, of Mexico, had been deported several times and has previous convictions for re-entry after deportation. He is charged with second-degree murder in Steinle's death and has pleaded not guilty.
Before the killing, he had been released from a San Francisco jail after a minor drug charge was dismissed. While U.S. Immigration and Customs Enforcement had issued a detainer for Zarate, he was released under the city's sanctuary laws. A sanctuary city is a municipality that limits its cooperation with the federal government's efforts to enforce immigration law.
Steinle's death became the center of a national immigration debate, and during the 2016 presidential campaign, now-President Donald Trump invoked the case as part of his justification for building a wall on the U.S.-Mexico border.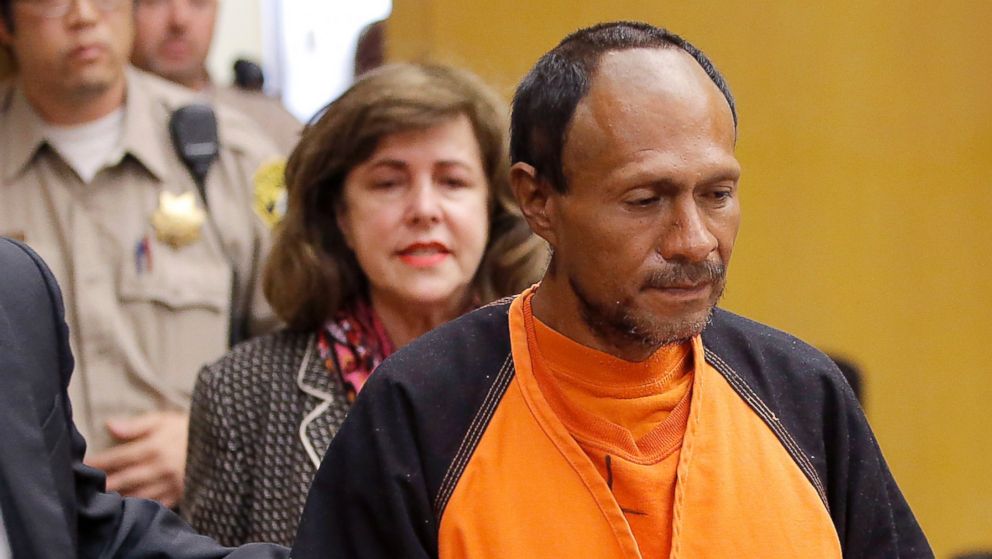 Steinle's father, James Steinle, who was with her when she was shot, took the stand for the prosecution today, and in emotional testimony, he described not understanding what happened initially. When he saw something was wrong, James Steinle said he grabbed and held his daughter, and when he turned her over he noticed what appeared to be a bullet wound. He said he provided CPR until paramedics arrived.
According to The San Francisco Chronicle, Assistant District Attorney Diana Garcia said in opening arguments that Zarate aimed the gun at either Kate Steinle or at the crowd.
"She's dead because this man ... pointed this gun in her direction and pulled the trigger," Garcia told the jury, according to the Chronicle.
Defense attorney Matt Gonzalez told the jurors "this was a tragedy and an accident," calling it a "freakish ricochet."
He said his client found the gun on the pier and that it discharged accidentally and unintentionally. Gonzalez said after the gun accidentally fired, Zarate threw it in the water to make it stop firing.
Gonzalez said Zarate did not realize he had shot somebody and he argued the gun was an "accident waiting to happen."
ABC News' Mark Stanoch contributed to this report.
The Associated Press contributed to this report.