— -- No day was more important in Little Toxey's world than April 2.
He could declare himself a big kid, moving into the big, double-digit age of 10. Twenty-one of his fourth grade classmates would witness the celebration over a bonfire of grilled hot dogs, smoked sausages, and of course, cake and ice cream.
Angela Andrews wanted the big day for her boy to be special. She spent about 30 minutes putting the invitations together, and she was sure Toxey's classmates would show up. She has met some of their parents before. Toxey has been attending the same school for three years and he even plays on the basketball team.
But trouble would show up early when Andrews received confirmations from only five parents. Three kids told Toxey they would attend.
"We thought there were at least five kids coming," Andrews told ABC News, "and once it came the day of the party, I actually only had a phone call from one parent."
That parent, unfortunately, called to say her son was very ill, and she might have to take him to the hospital. Andrews understands that things happen, and do happen. Hopefully, Toxey would too.
An hour and a half after the party started, Andrews was certain Toxey was in for a big disappointment. His sister was also celebrating her birthday, and all of her friends were showing up. The fire was a blazing, and the laughter of children filled the air. The party was certainly on, just not for Toxey.
"He just lost it, just started crying," Andrews said, explaining Toxey's grief.
"I just wanted people to come. I just wanted my friends to be here. I don't understand why my friends didn't come," Toxey reportedly told his mother.
But friends would come, friends he never knew he had, even if it was two days later.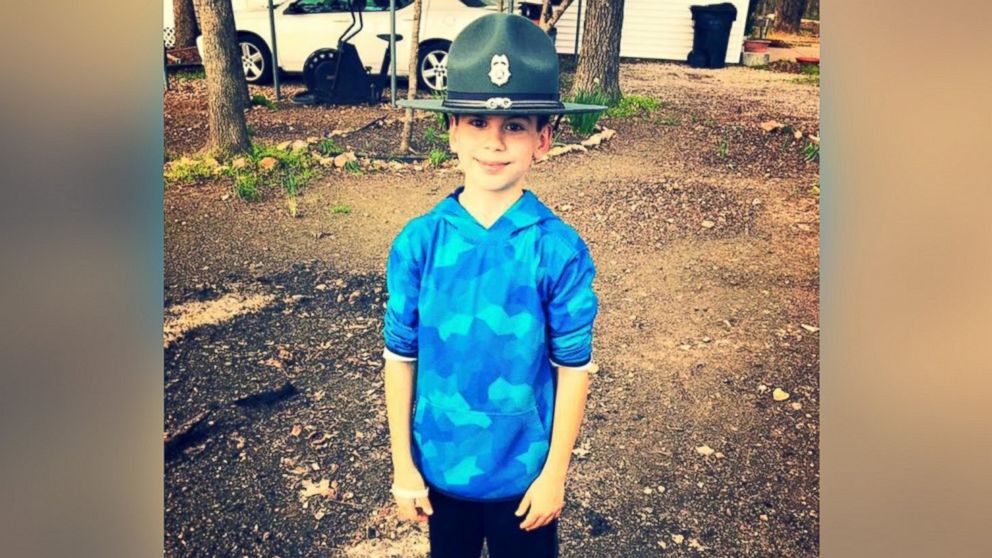 Cpl. David Forthman of the Arkansas State Police and troopers Terry Sawyer, Kyle Sheldon, Brandon Cook and Tim Callis heard about Toxey's bad day after Andrews wrote a post about it on Facebook. They decided to throw him a surprise party -- trooper style.
"This afternoon, after Toxey got home from school, a caravan of five state troopers pulled up at our house, K-9 included," Angela Andrews, Toxey's mom, wrote on the social media site on April 4. "Not only did they bring him a birthday cookie cake, but they also brought him all kinds of presents, let him play with Rhino, the K-9, and play with the sirens in their cars."
Andrews said Toxey was incredibly excited and shocked at the same time. His tenth birthday wouldn't be so bad, after all.
"We all want to make a difference, and these troopers showed today that '#kindnessmatters,'" the Arkansas State Police wrote in a Facebook post. "We are so proud to call them ours."
The troopers ate cake and played basketball with Toxey, according to Andrews. "They made my sweet baby's day, and his year!!" she said.