Lane remains a tropical storm on Sunday morning with sustained winds of 40 mph. Its current storm position is 255 miles west-southwest of Honolulu and moving due west at 8 mph -- slightly faster than it was Saturday morning.
Weakening will continue with forecasts predicting that Lane will be a post-tropical low on Monday.
Since Wednesday, Lane has dumped 45.8 inches of rain on the eastern side of the Big Island of Hawaii. On the western side of the island, rainfall accumulations total only around 1 inch. More than 16 inches of rain fell on the eastern side of Maui, with considerably less on parts of its western side.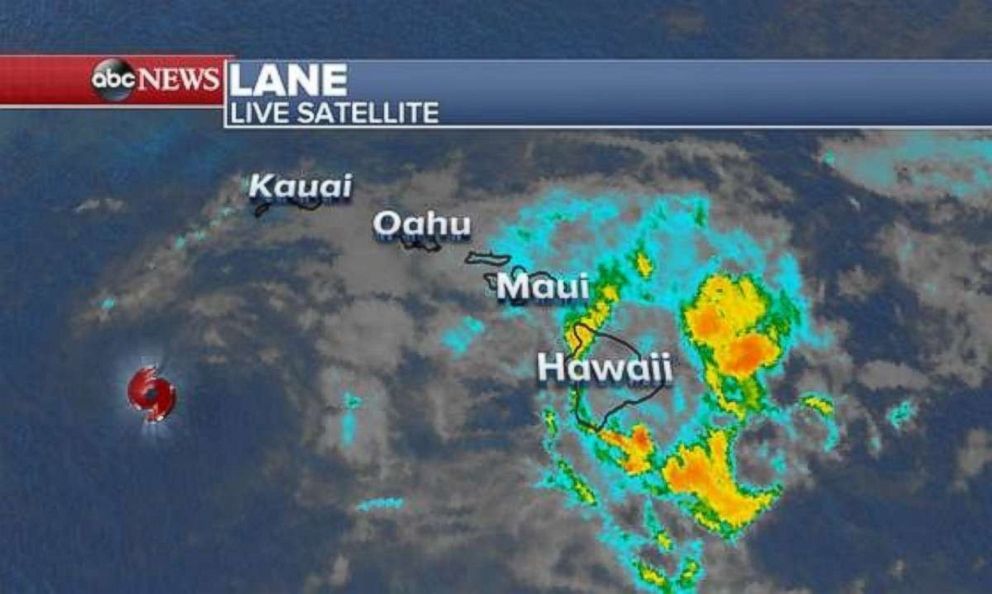 Some 24-hour rain totals from Tropical Storm Lane are as follows:
On the Island of Kauai:
Kilohana -- 6.24 inches
Mount Waialeale -- 3.53 inches
On the island of Oahu:
Nuuanu Upper -- 2.37 inches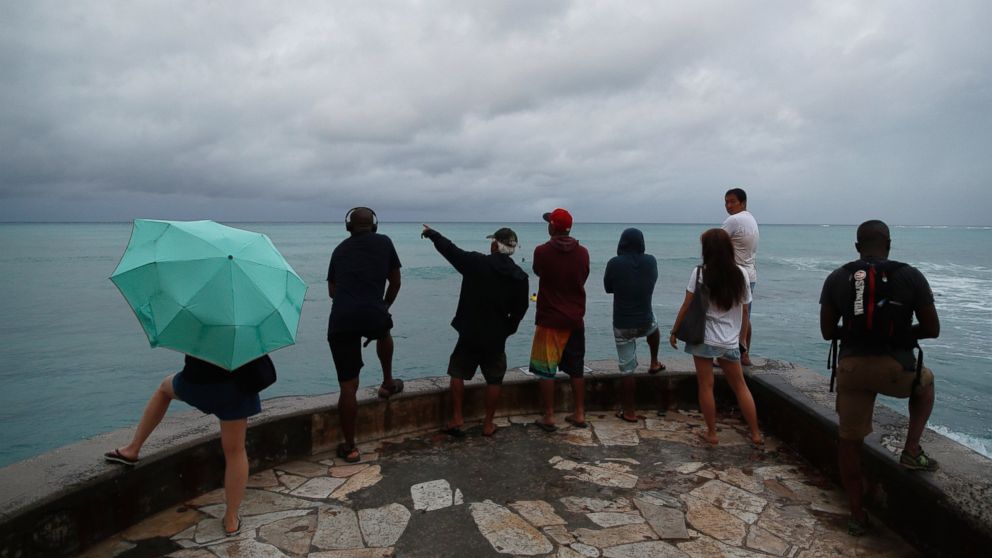 On the island of Maui:
Hana Airport -- 7.17 inches
Puu Kukui -- 4.90 inches
On the Big Island:
Saddle Quarry -- 8.25 inches
Waiakea Experiment Station -- 8 inches
Kulanu NWR -- 6.44 inches
These relentless downpours caused another round of flooding, erosion and landslides on Saturday.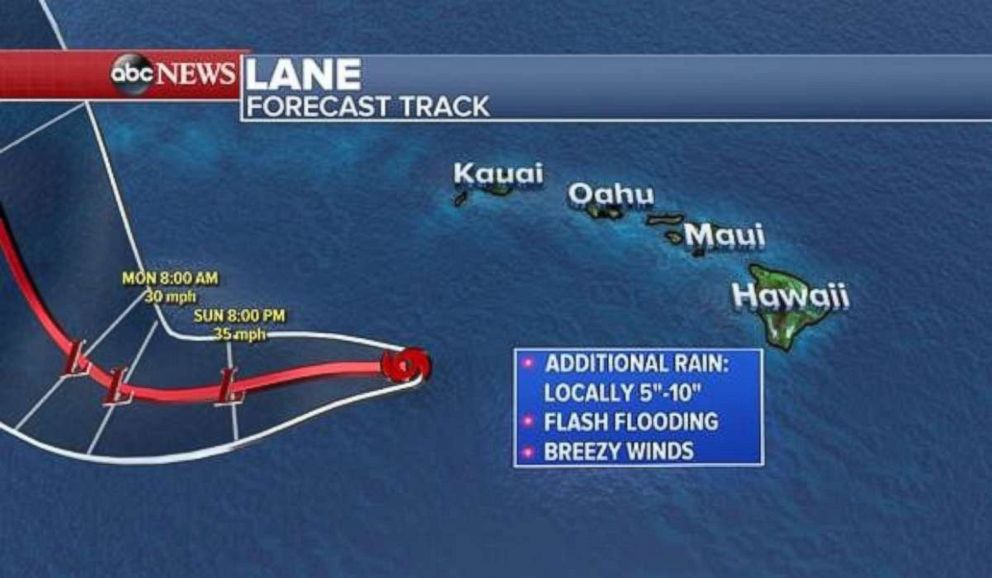 Even as Lane distances itself from the Hawaiian Islands, rain and flooding remain a threat. Widespread accumulations of an additional 3 to 5 inches is expected through the beginning of the week, with local rainfall amounts between 5 and 10 inches possible. Flash flood watches and warnings remain in effect through Sunday afternoon.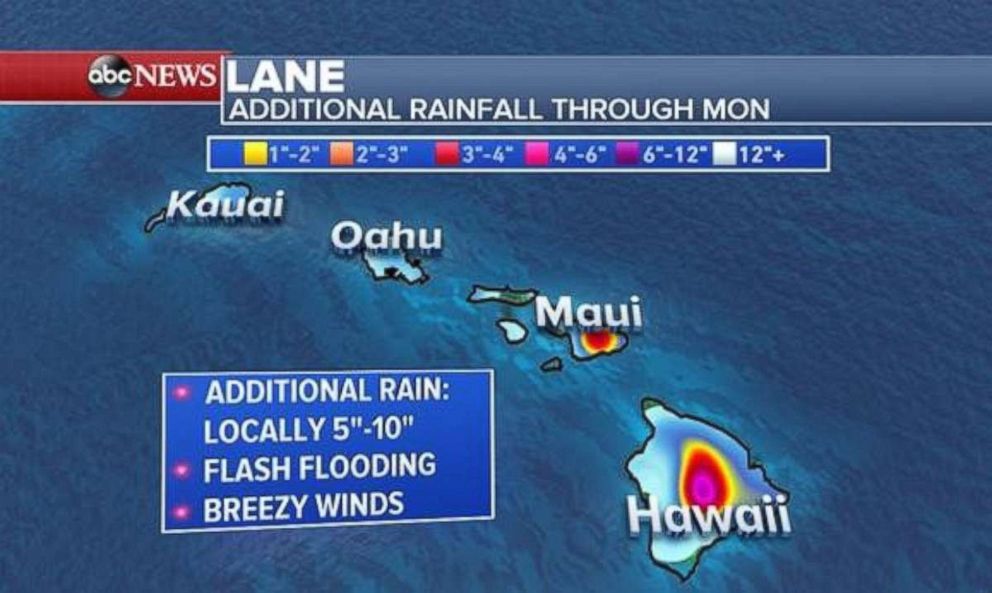 Heat is on in Midwest, East
A high centered over the eastern seaboard will steer hot and humid air into the Midwest on Sunday. Heat advisories are already in effect in six states, where heat indices are expected to reach into the mid-100s on Sunday afternoon.
Through the beginning of this week, the heat will creep east, bringing a warmup to the Northeast.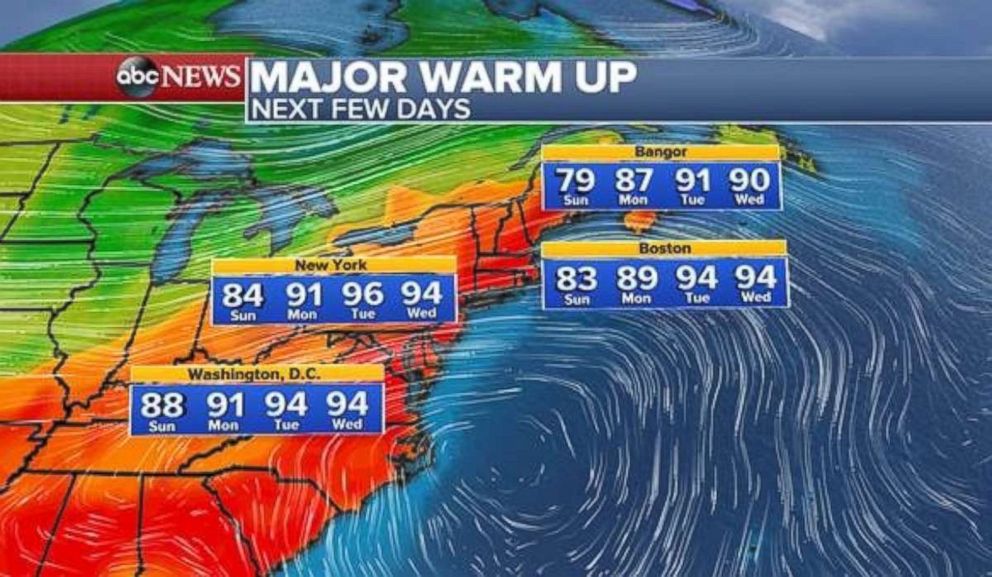 Locations as far north as Maine will reach temperatures into the 90s by Wednesday.
Severe risk in Great Lakes
Severe thunderstorms rolled through Indiana on Saturday producing gusty winds, baseball-size hail and even an unconfirmed tornado.
The risk of severe weather broadens in the area over the next few days.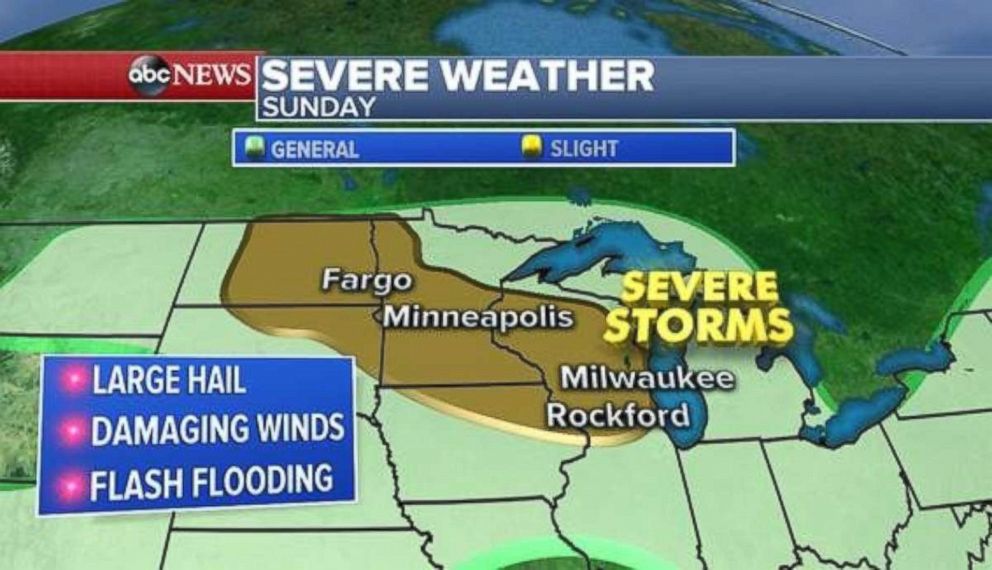 Behind the dome of heat and moisture is a cold front pushing its way through the Great Lakes region. Unsettled weather is expected along this frontal boundary. On Sunday, the threat of severe thunderstorms -- including heavy downpours, gusty winds and large hail -- spans from the Dakotas to Illinois.
Iowa, Minnesota and Wisconsin are in the firing line Monday. Isolated tornadoes cannot be ruled out of the forecast either Saturday or Sunday.