As Trump faces criminal charges, here are 27 people he's previously said should be indicted or jailed
From Clinton to Biden, Trump has said numerous foes should be behind bars.
Not too long ago, Donald Trump said both Joe Biden and Barack Obama should "be in jail for 50 years." He also wondered why Democratic Sen. Tim Kaine and Republican Sen. Marco Rubio hadn't faced criminal charges yet.
They are among at least 27 of Trump's apparent political foes that, since launching his 2016 campaign for president, Trump has explicitly stated or otherwise suggested should be indicted or jailed, according to an ABC News count.
Not one of them has been charged with any crimes.
"It's ironic that he often called for the prosecution of political opponents and now finds himself the defendant," said Tom Dupree, a former senior Justice Department official in the George W. Bush administration.
As Trump seeks another term in the White House, he is under indictment by the Justice Department for his recent handling of classified documents, and by state prosecutors in New York over his alleged role in a years-old hush-money scheme.
He is also facing another ongoing federal investigation and a state probe in Georgia tied to efforts to overturn the 2020 election results.
The former president has repeatedly insisted he "did nothing wrong."
Some experts say Trump's past calls for the indictment or jailing of others underscore the political challenges he now faces in his bid for reelection, as well as his legal obstacles -- and opportunities -- as he mounts a criminal defense.
"He could win this case in the courtroom, or he could win it at the ballot box," Dupree said.
'They put you in jail'
On the campaign trail before the 2016 election, Trump energized the crowds at his rallies by calling for the criminal prosecution of Democratic rival Hillary Clinton.
Clinton, he claimed, "should go to jail" for using a private email server as secretary of state and for allegedly deleting tens of thousands of emails after receiving a subpoena from a House panel investigating the deadly 2012 attack on the U.S. mission in Benghazi, Libya.
"The big key [is] 'after.' That's the key word: 'after' receiving a congressional subpoena," Trump said at a Nov. 4, 2016, rally in Wilmington, Ohio. "She's guilty."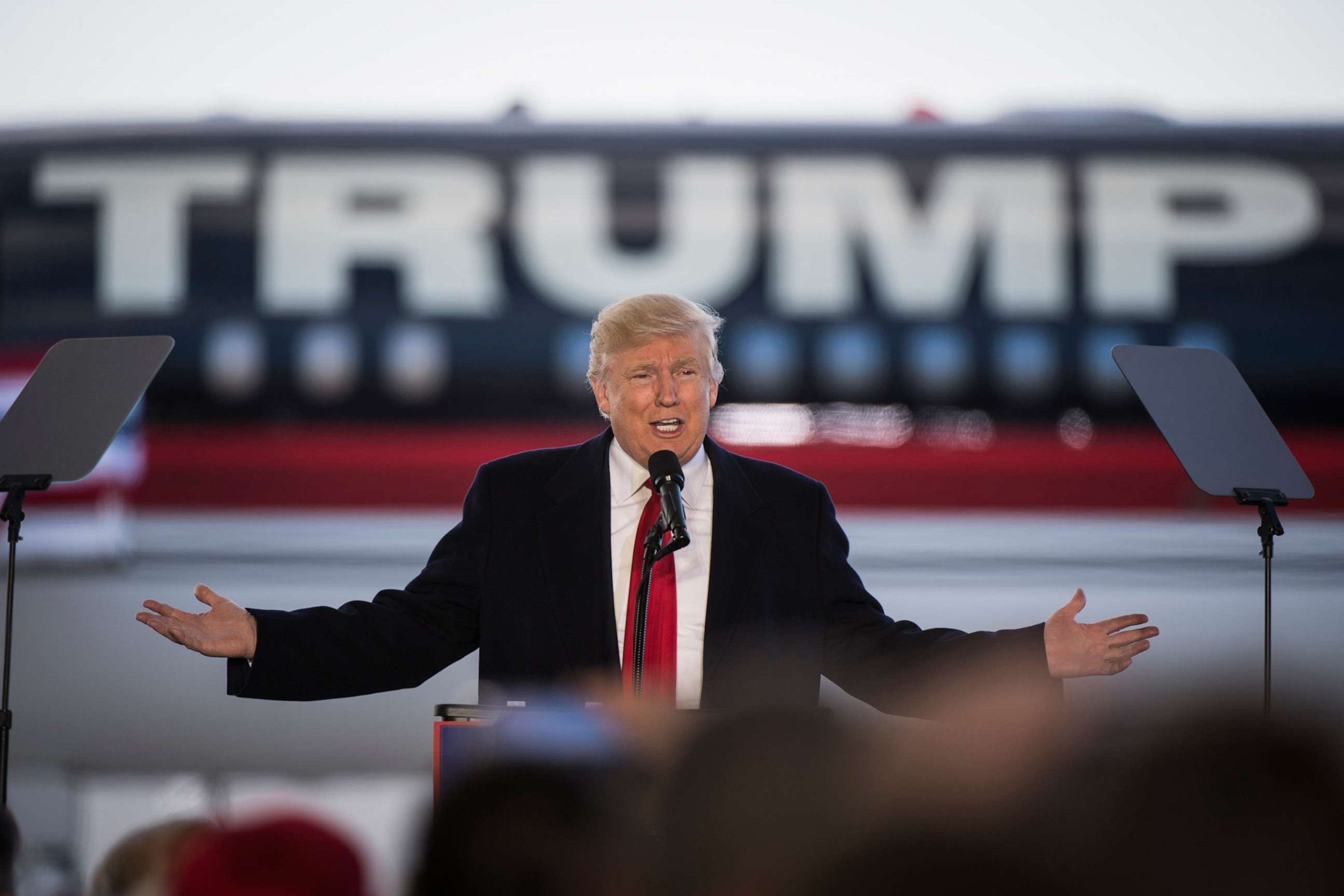 "Lock her up!" Trump's supporters often chanted at his campaign events.
In the federal indictment against him, Trump is accused of refusing to return a cache of sensitive documents even after receiving a court-backed subpoena for them -- and then taking steps to hide them from the government.
And Trump has mischaracterized key pieces of what prosecutors found in Clinton's case: Clinton's lawyers had deemed the emails personal in nature before they were deleted, and it was one of Clinton's aides -- not Clinton herself -- who later deleted the emails without Clinton's knowledge, she told the FBI, according to government documents related to the case.
In 2016, as he battled Clinton for the White House, this is what Trump said about court-backed subpoenas when he inaccurately accused Clinton of defying one: "It's a court order. You have to give them. Now here's what happens if you don't give them, if you get rid of them ... and do what she did: They put you in jail. They put you in jail."
Since Trump is charged with 31 counts of "Willful Retention of National Defense Information," such past comments could demonstrate how aware Trump was of his responsibilities under the law, according to Sarah Isgur, a Republican strategist and lawyer who served as the Justice Department's top spokesperson for the first half of the Trump administration.
"He seems to know exactly what you can and can't do with subpoenas," Isgur, an ABC News contributor, said.
Trump has claimed he didn't fully comply with the subpoena because he and his team were operating under the Presidential Records Act and that they were still "negotiating" with the National Archives -- two claims that the National Archives has strongly disputed, noting that the Presidential Records Act requires presidents to separate personal documents before leaving office and that "no history, practice, or provision in law" lets an outgoing president take official records with them.
According to the federal indictment against him, Trump, after leaving the White House, kept classified documents in a bathroom and shower, in his bedroom, and on a ballroom stage at his Mar-a-Lago resort, which "was not an authorized location." The indictment also alleges that Trump "showed and described" a document, which he called "highly confidential" and "secret," to a book writer and a publisher, and he allegedly showed someone else without a security clearance "a classified map related to a military operation."
Yet in recent years, Trump has said at different times that some of his critics should be jailed for allegedly exposing classified information -- including his own former national security adviser John Bolton, who wrote a searing book about his time in the White House. Bolton denied disclosing any classified information in the book, and though a federal judge was skeptical of that, no charges were ever filed.
Trump also claimed on Twitter in January 2018 that Clinton aide Huma Abedin should be imprisoned after "disregarding basic security protocols" by sending work-related messages to Clinton's private server.
"Jail!" he wrote.
Isgur said that split between rhetoric and reality is "core Donald Trump."
"Color me shocked that Donald Trump said something that now doesn't fit with his own narrative," she said.
A spokesperson for Trump did not respond to a request for comment from ABC News, but Trump has previously said he's been "unfairly treated" by a "deep state" that gives a pass to Democrats.
'Our country will continue to suffer'
In one of his final attacks on Clinton before winning the White House in 2016, Trump repeatedly warned that a president under felony indictment would "be a mess for many years to come" -- it would trigger "an unprecedented unconstitutional crisis" and "cripple the operations of our government," he said.
"Nothing will get done. Government will grind to a halt, and our country will continue to suffer," Trump declared in Grand Rapids, Michigan, on Oct. 31, 2016, a week before the election.
At the time, Trump suggested that Clinton would soon face indictment for a slew of supposed crimes. She "shouldn't be allowed to run" in the first place due to her alleged crimes, he told supporters.
Clinton was never charged with any crimes.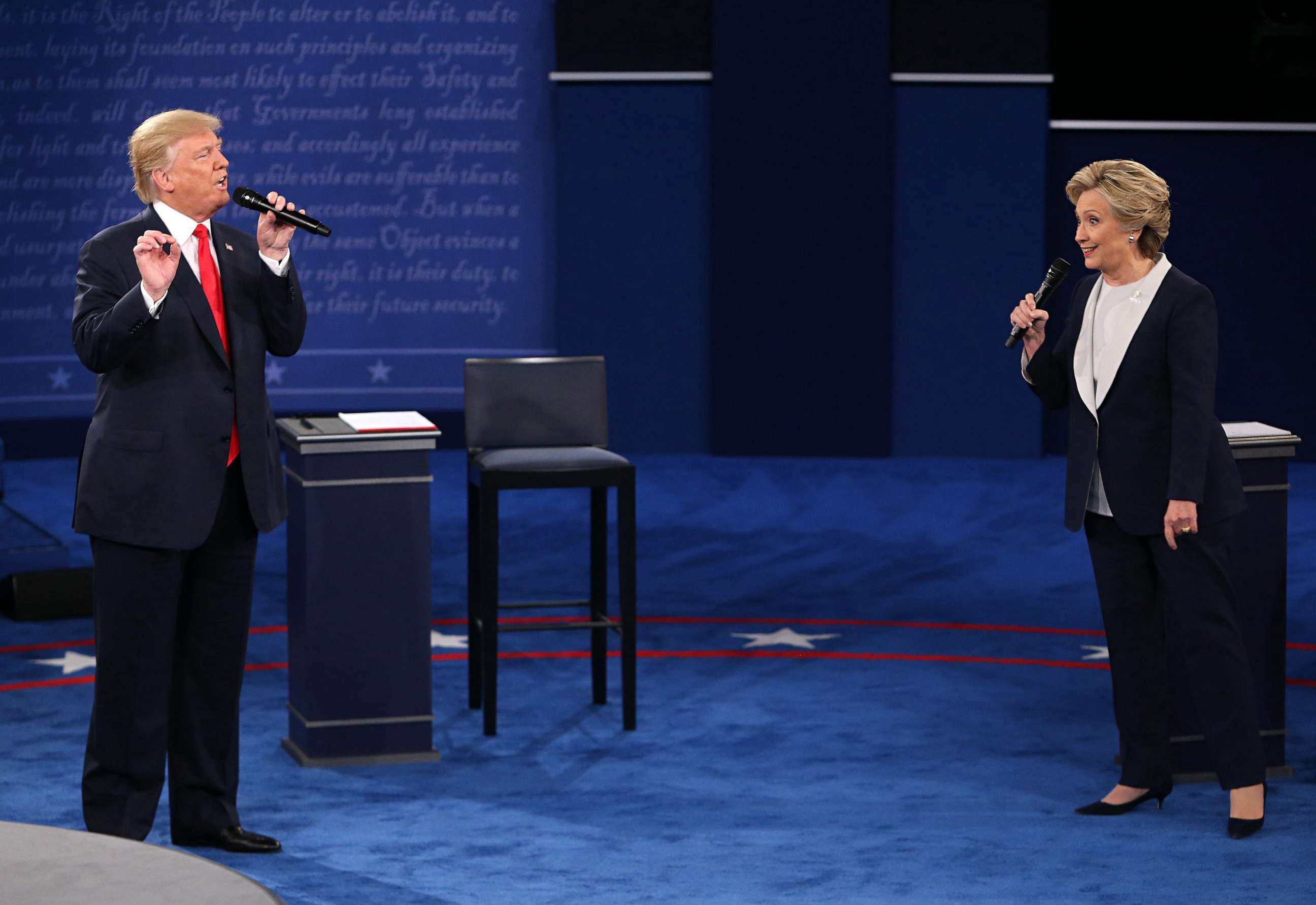 Political analysts say Trump's comments emphasize a core issue now facing his own campaign: his electability.
"If you're a Republican primary voter, this fits into a larger problem that you have," said Isgur said. "'[Trump] is a contradictory being."
But political and legal experts said Trump's comments also highlight potential ways for Trump to avoid conviction, at least in the federal case against him.
Long-standing Justice Department policy agrees with his stated concerns about an indicted president.
"The indictment or criminal prosecution of a sitting president would unconstitutionally undermine the capacity of the executive branch to perform its constitutionally assigned functions," the department's Office of Legal Counsel said in a 2000 memo reaffirming the policy, which was first memorialized in 1973.
The policy prohibits a sitting president from being indicted -- but it also prohibits a president from being put on trial because it would interfere with their presidential duties.
As a result, said Dupree and Isgur, if Trump is elected next year but hasn't gone to trial yet -- a completely conceivable scenario after in-court motions and appeals, they said -- then the Justice Department would almost certainly be compelled to drop its case or at least have it put on hold until the end of Trump's term.
There's also the practical reality that if Trump wins reelection, it would be a Trump-appointed attorney general deciding how to proceed, and they would likely "just abandon the prosecution," as Dupree put it.
It's unclear what would happen in the state-level case against Trump in New York.
'Thrown in jail'
As he sought the presidency in 2016, Trump accused numerous opponents of committing crimes.
While battling Sen. Marco Rubio, R-Fla., for the Republican nomination, Trump suggested Rubio should be indicted for using a state Republican Party credit card, years earlier, to pay for improvements at his home. Rubio later reimbursed the party.
When Clinton announced that Sen. Tim Kaine, D-Va., would be her running mate that year, Trump asked about Kaine, "Why doesn't he get indicted?" for accepting more than $160,000 in gifts while serving years earlier in the Virginia statehouse. Kaine's team defended the gifts as completely legal, and there was no evidence that Kaine performed any official act because of them.
Later, during the run-up to Trump's first impeachment in 2019, Trump said Rep. Adam Schiff, D-Calif., deserved to be "thrown into jail" for telling "lies" about Trump's phone call with Ukraine's president.
In August 2020, as controversy grew over government restrictions to stop the spread of COVID-19, Trump retweeted a post saying that then-New York Democratic governor Andrew Cuomo "should be in jail" for his handling of the pandemic.
And in September 2020, Trump said at a rally that Hillary Clinton's lawyer years earlier "should go to jail with her" for her alleged crimes.
But most of Trump's calls for imprisonment or indictment have stemmed from what he's called "the greatest political crime in the history of our country" -- the FBI's probe of alleged ties between the 2016 Trump campaign and Russia.
Trump has claimed that "100 people" should be "in jail right now" for the investigation, and among the specific people he's accused by name of committing crimes related to the probe are former special counsel Robert Mueller, former FBI Director James Comey, former Director of National Intelligence James Clapper, former CIA director John Brennan, former FBI deputy director Andy McCabe, former FBI agent Peter Strzok, former FBI attorneys Lisa Page and James Baker, Mueller team prosecutor Andrew Weissman, former Justice Department official Bruce Ohr and his wife, and FBI source Christopher Steele.
In late 2018, Trump suggested that former President Bill Clinton, Obama's former attorneys general Eric Holder and Loretta Lynch, Trump's former deputy attorney general Rod Rosenstein, and former Hillary Clinton aide John Podesta should be imprisoned too, retweeting a cartoonish image of them behind bars with a caption that read: "Now that Russia collusion is a proven lie, when do the trials for treason begin?"
Trump has also said that President Biden and former President Obama should be indicted for their roles in what he called the "Russia hoax."
"Obama was involved, and Biden was involved," Trump claimed at a rally on the eve of Election Day 2020.
In a recently issued report on the FBI's Russia probe, Trump-era special counsel John Durham concluded that at least some FBI officials working the case suffered from a politically-tinged "confirmation bias" that bordered on "negligence," leading to unnecessarily intrusive investigative steps. But, as scathing as the report was, it also said that -- other than a lower-level FBI attorney who altered an email submitted in court -- the evidence didn't support charges against anyone in the U.S. government. And it undercut claims of a massive scheme reaching into the White House and broader U.S. intelligence community.
Trump, in the meantime, faces upcoming court dates in the DOJ's classified documents case and the Manhattan's DA's hush money case.
"Politicians really need to be careful and mindful about calling for the widespread incarceration of their political opponents -- because the world changes and the shoe is on the other foot before you know it," Dupree said.